Four Shot Dead at Illegal Brooklyn Gambling Club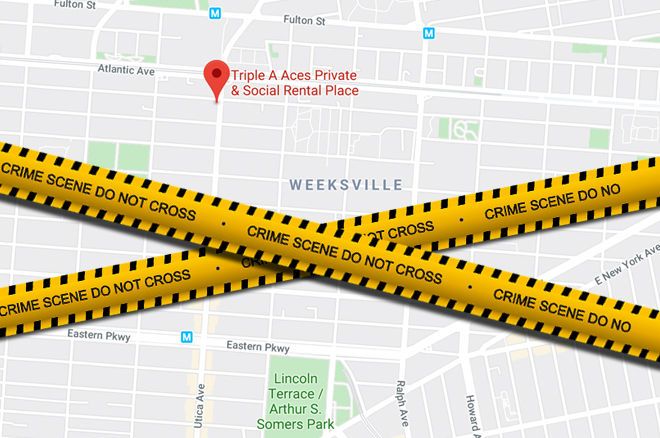 Table Of Contents
Four people have lost their lives and three more left wounded when a gunman opened fire at an illegal gambling den in Brooklyn, New York.
Triple A Aces catering hall is an unlicensed club operating from the first floor of a townhouse on Utica Avenue in Crown Heights. Police are currently piecing together what sparked the bloodshed that resulted in four men losing their lives, one man being wounded, and left a woman requiring hospital treatment.
The shooting started just before 7:00 a.m. on October 12th according to reports. Law enforcement officers recovered two handguns from the venue, one 9mm handgun and a revolver, when they entered the club. The New York Post and Yahoo! News reports three people were rushed to the hospital with gunshot wounds, although all are expected to survive their injuries.
Sources Name Three of the Deceased
One of the dead men has been named as Chester Goode who the New York Post labeled as the person who may have started the shootout. Goode is believed to have pulled the handgun and fired into the ceiling. Goode died from a single gunshot to the head.
Two of Goode's friends, Terrence Bishop and John Thomas, also died at the scene. The fourth death is said to be that of the venue's security guard who reports suggest shot Goode with a revolver as he tried to stop the violence.
Samuel "Sammy" Revells spoke to the New York Post and revealed both Goode and the security guard died with their guns in their hands.
"The cops told me they died with their guns in their hands. It's a real bad-ass situation we have here, bad for everyone," said Revells. "The three guys had been playing for more than an hour, and were losing money. There was some big money there, even though it was a crime scene, there were some hundred-dollar bills still lying on the floor," added Revells.
Dermot Shea, Chief of Detectives, said the gambling operation was unlicensed. Revells denied knowing about the club's extracurricular activities.
"I thought they were having birthday parties, things for funerals in there. In the two years since I leased it, we haven't had any problems, no police."
Previous Poker-Related Shootings
This is, sadly, not the first time a game of poker has ended in dreadful circumstances. In September 2016, a 77-year-old man shot three people, killing one, before turning the gun on himself and taking his own life. It was a feud about poker being played in the common area of the senior living facility where he resided.
Around the same time, two men accepted plea deals after an attempted robbery of a poker game left one man dead.
Of course, there was also the 2017 Las Vegas Strip Mass Shooting that did not directly target poker players but happened in poker's Mecca. Fifty-eight people lost their lives that day and another 422 were wounded as they enjoyed the Route 91 Harvest music festival.
More recently, in May 2018, a poker player was left with "serious, potentially life-threatening injuries" after being shot outside the members-only Texas Card House.