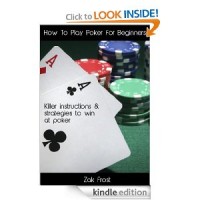 How To Play Poker For Beginners - Killer Instructions and Strategies to Win ay Poker - Special Edition [Kindle Edition]
Author: Zak Frost
Year: Jun 2012
Print house: Amazon Digital Services, Inc.
Buy
Are you looking to learn the basics of poker? Or are you looking to learn how to win!? There is a big difference between learning the basics and learning how to win, so if you're ready then this guide is for you. Whether you want to play in a friendly game or play in a tournament in How to Play Poker for Beginners you will discover:
- The basics: How to Bet, Check, Fold, Call and Raise
- The worst and best types of hands including the 'Ah, Nuts'
- How to Bluff like a champ
- How to manage your Chip Stack Management
- How to analyze your opponent's body language: Hand Analysis
- How to use your table position to your advantage
In this book you will learn the lingo and learn how to win. You deserve the best and it gets no better than How to Play Poker for Beginners.