How does Global Poker work?
One of the coolest aspects of Global Poker is there's no software to download and the poker games can be played directly from a web browser. That means no worries about getting viruses on your computer from downloading sketchy software.
Global Poker offers many fun and exciting social casino games, including traditional poker games, table games, and other slot machine options.
Global Poker FREE Sweeps Coins
Just like other social casino games that are part of the VGW family, Global Poker uses Sweeps Coins in order for players to enter the sweepstakes for their chance to win cash prizes.
What are Sweeps Coins in Global Poker?
Sweeps Coins are used in Global Poker Promotional Play to play in Sweeps Coins Games. Tournaments and ring games both use Sweeps Coins with tournament entries starting at SC1 and going up to SC1000.
Meanwhile, Sit and Go tournaments start at SC0.50+5 and go up to SC50+5.
How can you use Sweeps Coins in Global Poker?
When you play with Sweeps Coins in Promotional Play, you can redeem your winnings for cash prizes or gift cards.
You also have the option to purchase additional Gold Coins and will often receive FREE Sweeps Coins. There are different Gold Coin purchase options ranging from $5 on up. If you spend $20, for example, you'll receive 100,000 Gold Coins and 20 FREE Sweeps Coins!
How to get Sweeps Coins in Global Poker
Sweeps Coins cannot be purchased and are always free. You can receive Sweeps Coins in numerous ways from daily social competitions from Global Poker, mail requests or often by purchasing Gold Coins where you may receive FREE Sweeps Coins
How to redeem Sweeps Coins in Global Poker
Once you've played through and racked up at least 50 SC, you're eligible to redeem cash prizes. To do so, simply request a prize redemption and your cash prizes will be sent to the same method you used to purchase Gold Coins. Before the prizes will be submitted, however, you must first verify your identity for security reasons.
A minimum redemption threshold of SC50 applies to "Cash Prize Redemption" option, while a minimum redemption threshold of SC10 applies to "Prizeout a Gift Card" option.
Cash Prizes
Players on Global Poker can enjoy fun poker action completely for free using Gold Coins, or with Sweeps Coins also allowing players to win cash prizes or gift cards when Sweeps Coins winnings are redeemed.
Can you win cash prizes on Global Poker and what are they?
It's straightforward to win cash prizes by redeeming Sweeps Coins on Global Poker. One Sweeps Coin is redeemable for US$1, with the safe and secure redemption process sending cash prizes direct to your bank account.
How to win cash prizes on Global Poker?
By playing Sweeps Coins games, players can redeem their Sweeps Coins winnings for cash prizes. Whether you're a tournament player, a ring game player or you prefer casino games — there's something for everyone on Global Poker.
Make sure to check out the Jackpot Sit and Go's that offer you a chance of huge prize pools!
Global Poker - What poker games can you play?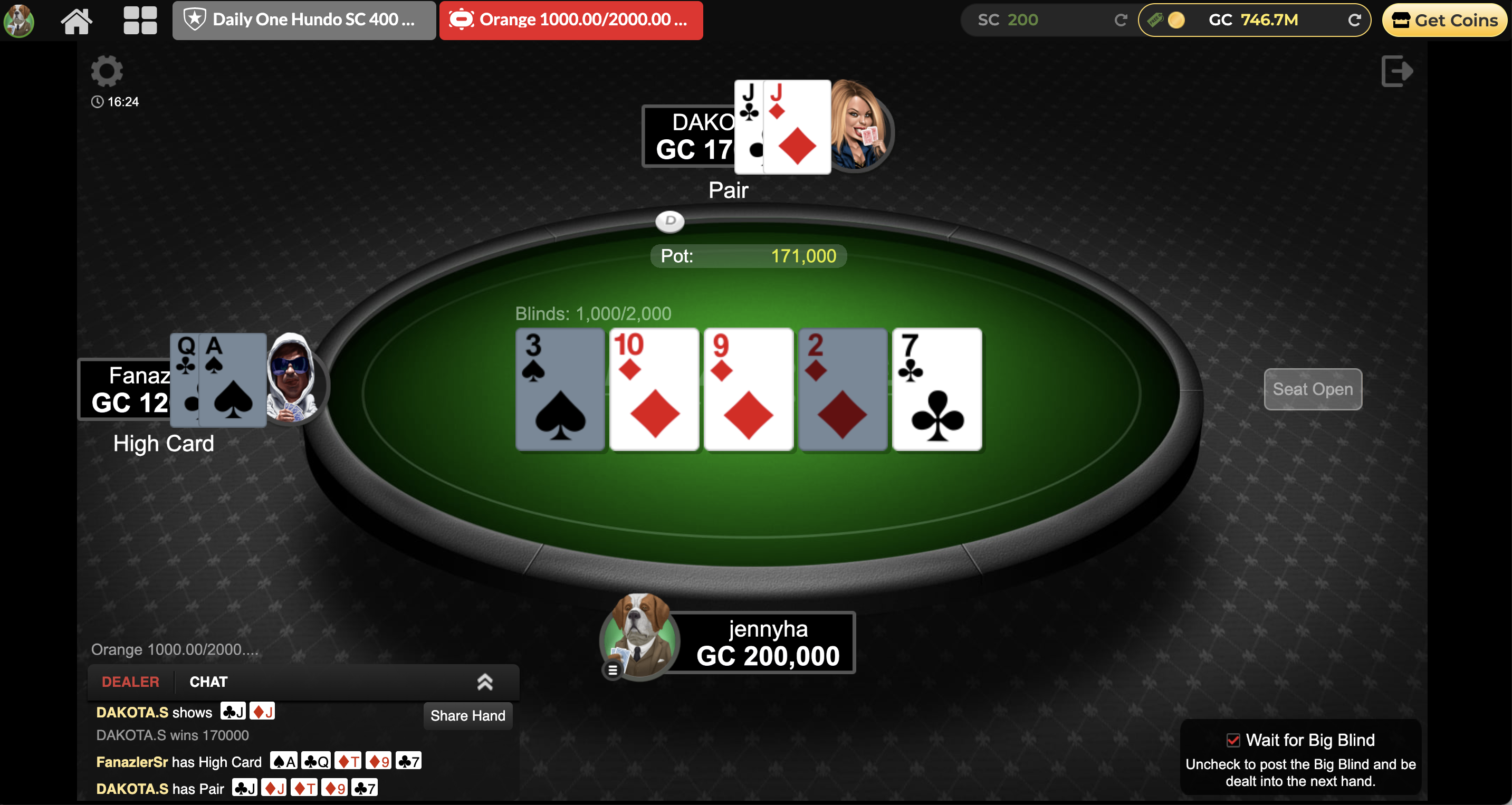 Global Poker is the place to be for any type of poker game, and many of the games are available for play without making any purchase. Take a look at the various tournaments and cash games offered at this exciting social poker site.
What tournaments can you play at Global Poker?
Global Poker is one of the best sites for tournament poker, especially if you enjoy major series and events. Take, for example, the Eagle Cup, which awarded some incredible prizes, swag, and trophies. The Eagle Cup VI took place in the fall of 2022 and awarded more than 1.8 million Sweeps Coins and 831 million Gold Coins.
Another epic event was the US Poker Open, which returned in Fall of 2022. The online poker version is a spin-off of the popular live US Poker Open that takes place in Las Vegas at the PokerGO Studio.
Major series such as the two already mentioned aren't the only tournaments at Global Poker. In fact, there are dozens of daily tournaments on the site, both for Gold Coins and Sweeps Coins players. You'll find a number of juicy events in various forms of poker, including no-limit hold'em, pot-limit Omaha and more.
What ring games can you play at Global Poker?
Tournament players aren't the only ones in luck on Global Poker. The social poker site is stacked with cash games for players at all levels, both on the Gold Coins and Sweeps Coins sides.
There are no-limit hold'em, limit hold'em, limit Omaha hi-lo, and pot-limit Omaha ring games spread on a daily basis, 24 hours a day. No matter what time of day it is, you'll have a seat waiting for you. The ring games are great for both low and mid-stakes players.
To enter a ring game, you must first sign up and then determine if you're going to play with Gold Coins (GC) or Sweeps Coins (SC). You can only enter a game if you have enough coins in your account. If you choose to purchase more Gold Coins, you may also receive FREE Sweeps Coins (SC). Gold Coin Games are games you play with for fun, while Sweeps Coins games are games you can play with for your chance to redeem your winnings for cash prizes or gift cards.
What variants can you play at Global Poker?
There are three main types of poker games — both in tournaments and ring games — available at Global Poker. They are no-limit hold'em, pot-limit Omaha, and limit Omaha hi-lo. Let's take a look at the differences between these poker variants.
No-Limit Hold'em: Each player is dealt two cards face-down. Following a round of plays, the dealer spreads three cards face-up referred to as the "flop," followed by another round of plays. The turn is then dealt, which is a fourth community card (Face up), which creates a third round of play. Lastly, the river is dealt, the final community card, which brings about the final round of play. At the end, the player with the best possible five-card poker hand from the seven cards — two hole cards and five community cards — wins the hand.
Pot-Limit Omaha: The betting structure is exactly the same as NLH, except players are dealt four cards face down and are required to play exactly two of those cards. One other difference in PLO vs. NLH is that in PLO, a player can't bet more than the size of the pot, whereas in NLH they can play up to the size of their stack.
Limit Omaha Hi-Lo: In this game, the rules are the same as PLO except that play sizes are predetermined based on the table stakes and there is a side pot for a low hand, which is awarded to the player who can make the lowest five-card poker hand.
Global Poker Games - Verdict
Our general consensus is that Global Poker has an impressive mix of games, both when it comes to the Sweeps Coins and Gold Coins options. Not only can you play exciting tournaments, there are consistent games running for the ring games players.
On top of that, there are games for players at all levels, which is a true bonus. Many poker sites either only have micro and low stakes games or they have too heavy of a concentration of high-limit games. Not at Global Poker, which features ring games and tournaments for just about anyone, whether you're a recreational player or a grizzled poker veteran.
Global Poker Casino Games Reviewed
On top of the wide range of poker games, Global Poker has an extensive casino with some incredible games. You're absolutely going to love the various games that are offered, which includes slots and table games. Let's take a look at the different offerings available.
What casino games can you play at Global Poker?
At Global Poker, beyond poker, there are slot machines and table games available for those who are looking for their chance to win some big cash prizes. Let's start with the slot machines. It should be noted that you won't find the same slot games you may be accustomed to at your local land-based casino. Instead, you'll find some creative variations that feature jackpots, and bonuses.
The slot machines are aesthetically pleasing and simple to play. As for the table games, there are four available — blackjack, premium blackjack, casino hold'em, and Caribbean poker. These are four fun games that can be played for free via Gold Coins or Sweeps Coins.
Global Poker Games - Verdict
Sometimes you just want to take a step away from the poker tables. That's totally understandable, and Global Poker provides a cool opportunity where you can play some different fun games without leaving your house.
There's no doubt that the mixture of games at Global Poker is one of the main reasons why this is such an enjoyable platform. They truly have a little something for everyone, whether you're a hardcore gambler, recreational poker player, or are attempting to make a living playing cards.
Global Poker Game Software Reviewed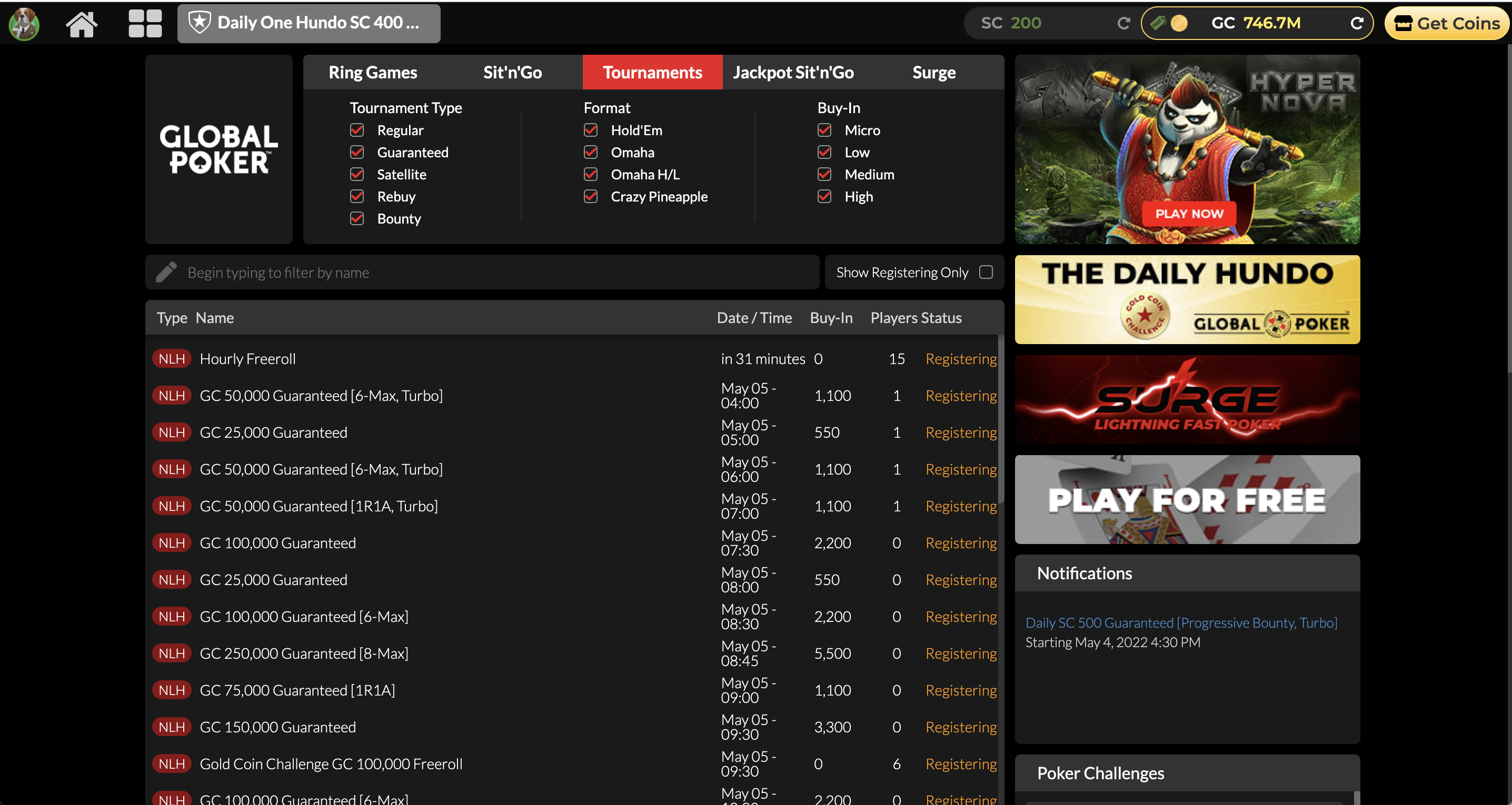 At Global Poker, the software is reliable, safe, secure, and quite aesthetically pleasing. It's easy on the eyes and simple to use. Most importantly, you can feel safe making transactions and won't have to worry about the site crashing down on you while playing.
What is the game software like at Global Poker?
If you've ever played poker online or on a mobile device, or used a casino app, the best way to describe the software is that it is very similar to many of the top sites out there. Global Poker is a top-notch social poker platform, and it wouldn't receive such rave reviews if the software wasn't reliable.
We can't stress this enough — when choosing an online poker site or social casino, it is extremely important that you find one that is trustworthy and has reliable software that is secure. This is even more important than the games , especially if you want to play with Sweeps Coins for your chance to redeem cash prizes or gift cards.
Global Poker Game Software - Verdict
The software is outstanding, and it's one of the top reasons we recommend Global Poker.
Global Poker App Reviewed
Global Poker features a mobile app that is similar to many of the top poker sites in the world. You can play it on an iOS or Android device from almost anywhere in the United States. It works quite well and is convenient for those who either don't have a computer or aren't always able to access their computer.
Global Poker for iPhone - iOS Mobile App
For those who use an iPhone or other iOS device, you're in luck — you can play on Global Poker without accessing your laptop or desktop. The iOS version of the Global Poker site allows players to play both the poker games (tournaments and cash games) and all the casino games we mentioned earlier.
You won't be able to play multiple games at a time on your iPhone, which is the major difference between playing on a computer where you can multi-table.
Global Poker for Android - Android Mobile App
The mobile app at Global Poker that can be downloaded for use on an Android device is actually quite similar in style to what you'll find on an iPhone. The same games are available and the app is quite easy to use and there are only rare occurrences where it freezes up or customers report any glitches.
Once again, just like with the iOS app, the Global Poker Android app doesn't permit players to multi-table, but that is common among poker apps.
Global Poker Mobile App - Verdict
Mobile poker apps are a convenient way to play online poker or casino games. At Global Poker you can get in on the action without even leaving the comfort of your own home. Not only is the mobile app convenient, it's also among the best in the world and is safe, secure, and highly reliable. You simply can't beat it.
Global Poker Customer Service and Support Reviewed
Global Poker customer service is next up for discussion in this exclusive Global Poker review. In this section, we're going to explain how you can contact their customer support team and what you should expect when you do so. Is this customer service at GP up to par? Let's take a look.
Global Poker Customer Service
From the main page on the Global Poker website, in the top right corner, you'll notice a "Support" tab. If you click on that, you'll see multiple options for ways to communicate with the customer service team should you have a question that needs to be resolved.
Select "Submit a Support Ticket" and choose the topic that best matches your question. Then fill out the information as best as possible, providing as much detail as you can, and then await a response. Answers to your questions are typically made within 24-48 hours, but of course more complicated problems could take longer. The customer service team at Global Poker is exceptional and they're great about getting back to customers reasonably fast.
Global Poker Customer Service - Verdict
We have nothing but good things to say about the customer service at Global Poker. There are many poker sites that have horrible customer service, but not this one. If you have any issues, need help signing up or purchasing Gold Coins, or are new to online poker and just have some basic questions to ask, you can rest assured that the customer support team will come through for you.
How to verify your identity at Global Poker
Global Poker takes website security seriously and wants to ensure that cash prizes you've redeemed. This ensures that someone else isn't signing up under your name or attempting to steal the cash prizes you've earned. The identity verification process is simple and pain-free. Here's how it works:
You first submit a photocopy (scanned into a PDF) of a government-issued photo ID. Passport, driver's license, or other state-issued ID will suffice.
Next, you'll scan a copy of a utility bill or bank statement that matches the address on your submitted ID. It's very important that the addresses match up or Global Poker won't be able to verify your identity. The best documents to submit along with your ID are bank statements, medical bills, internet bills, etc.
Global Poker - Bonuses, offers and free coins
There are many poker sites out there, so you have some choices to make. One additional thing that helps set this poker site out ahead of the rest is that they are generous to new and loyal players, which we are going to explain in this section of our Global Poker review.
Global Poker Bonus Codes
Global Poker Offers and Promotions
How to get free coins on Global Poker
There are many ways you can get free coins on Global Poker. Check out some of the following links to articles we've written here at PokerNews explaining this very topic:
READ: Global Poker: Play for Free & Win Coins
READ: How to 200X Your Buy-in & Win Real Prizes on Global Poker?
READ: Untold Tips & Hacks on Global Poker
Global Poker FAQs
Is Global Poker legal in the United States?

Yes, Global poker is legal in most of the United States and its sweepstakes model makes it the most widely accessible online poker site to almost all Americans.
How long does it take to receive prize redemptions in Global Poker?

Two business days is generally how long it takes to receive prize redemptions.
Who is eligible to play on Global Poker?

Most residents of the US and Canada are eligible to play at Global Poker. To find out if your state or province is eligible, read their Terms & Conditions available at the bottom of their website for more information.
What are the requirements for redeeming prizes at Global Poker?

In order to redeem cash prizes on Global Poker, you must first verify your identity
Is Global Poker free to play?

Yes, you can play on Global Poker for Free
Can I play Global Poker in the UK?

No, you cannot play on Global Poker in the UK
Can I play Global Poker in Washington?

No, you cannot play on Global Poker in Washington State
Can I play casino games at Global Poker?

Yes, there are a selection of casino and table games available to play on Global Poker.
Are there freerolls at Global Poker?

Yes, check the client for more information about Global Poker freerolls.