Global Poker's Eagle Cup VI to Award Over SC 1.8M Until Nov. 13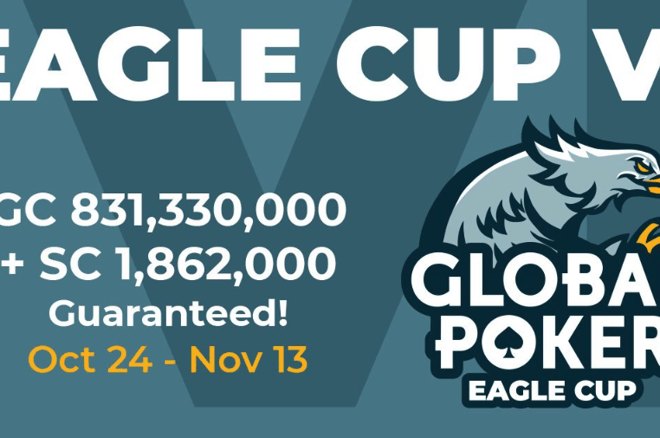 Table Of Contents
Global Poker, a US-facing online poker site, is in the midst of its epic Eagle Cup VI series, which promises to pay out some incredible prizes.
The series started Oct. 24, but there's plenty of time to get in on the action as it doesn't wrap until Nov. 13. In total, all events will award at least Sweeps Coins (SC) 1.86 million and Gold Coins (GC) 831,330,000. That's some great value and there are plenty of tournaments remaining for players at all skill levels.
For those who aren't familiar with the Global Poker platform, the highly rated site offers free play poker games via Gold Coins, and then membership-based purchases can be made to compete in the Sweeps Coins games, which can be transferred into cash prizes.
Global Poker PROMO CODE
Use our promo code POKERNEWS to play now at Global Poker.
Eagle Cup VI Series Details
The cards are already in the air and thousands in prizes have already been awarded to the lucky and skilled poker players on Global Poker. But the biggest events are on the horizon. There are a total of 216 trophy events between the GC and SC games up for grabs.
There are dozens of exciting tournaments left, none bigger than the SC 200,000 guaranteed Main Event, which kicks off Nov. 13. It takes SC 99 to enter and players can rebuy and add-on one time.
There are separate leaderboards for Gold and Sweeps Coins, with points being awarded throughout the series. At the end of the Eagle Cup, the top 10 will be awarded prizes. The winner of the SC leaderboard will take home $2,500 in cash and will have an opportunity to represent Global Poker in a live poker event. The GC leaderboard champion will receive GC 5,000,000, along with an Eagle Cup VI hoodie, two t-shirts, and a hat.
Remaining Gold Coins Schedule
| Date | Time (ET) | Tournament | Guarantee | Gold Coins |
| --- | --- | --- | --- | --- |
| Wed November 2 | 7:30 PM | GPC Eagle 14-L: NLHE GC 2,500,000 Guaranteed [Rebuy, 6-Max] | 2,500,000 | 3,300 |
| Wed November 2 | 8:30 PM | GPC Eagle 14-M: NLHE GC 8,000,000 Guaranteed [Rebuy, 6-Max] | 8,000,000 | 11,000 |
| Wed November 2 | 9:30 PM | GPC Eagle 14-H: NLHE GC 20,000,000 Guaranteed [Rebuy, 6-Max] | 20,000,000 | 33,000 |
| Wed November 2 | 10:30 PM | GPC Eagle 14-L: NLHE GC 2,000,000 Guaranteed [Rebuy, 6-Max] | 2,000,000 | 3,300 |
| Thu November 3 | 7:30 PM | GPC Eagle 15-L: NLHE GC 3,000,000 Guaranteed [Progressive Bounty] | 3,000,000 | 11,000 |
| Thu November 3 | 8:30 PM | GPC Eagle 15-M: NLHE GC 6,000,000 Guaranteed [Progressive Bounty] | 6,000,000 | 33,000 |
| Thu November 3 | 9:30 PM | GPC Eagle 15-H: NLHE GC 17,500,000 Guaranteed [Progressive Bounty] | 17,500,000 | 99,000 |
| Thu November 3 | 10:30 PM | GPC Eagle 15-L: NLHE GC 2,000,000 Guaranteed [Progressive Bounty] | 2,000,000 | 11,000 |
| Fri November 4 | 7:30 PM | GPC Eagle 16-L: NLHE GC 2,500,000 Guaranteed [6-Max] | 2,500,000 | 11,000 |
| Fri November 4 | 8:30 PM | GPC Eagle 16-M: NLHE GC 6,000,000 Guaranteed [6-Max] | 6,000,000 | 33,000 |
| Fri November 4 | 9:30 PM | GPC Eagle 16-H: NLHE GC 17,500,000 Guaranteed [6-Max] | 17,500,000 | 99,000 |
| Fri November 4 | 10:30 PM | GPC Eagle 16-L: NLHE GC 2,000,000 Guaranteed [6-Max] | 2,000,000 | 11,000 |
| Sat November 5 | 3:00 PM | GPC Eagle 17-L: NLHE GC 2,000,000 Guaranteed [Deep] | 2,000,000 | 11,000 |
| Sat November 5 | 4:15 PM | GPC Eagle 17-M: NLHE GC 3,500,000 Guaranteed [Deep] | 3,500,000 | 22,000 |
| Sat November 5 | 5:30 PM | GPC Eagle 17-H: NLHE GC 14,000,000 Guaranteed [Deep] | 14,000,000 | 99,000 |
| Sat November 5 | 6:30 PM | GPC Eagle 18-X: FLHE GC 5,000,000 Guaranteed | 5,000,000 | 33,000 |
| Sat November 5 | 7:30 PM | GPC Eagle 19-L: PLO8 GC 1,500,000 Guaranteed [8-Max] | 1,500,000 | 11,000 |
| Sat November 5 | 8:30 PM | GPC Eagle 19-M: PLO8 GC 4,000,000 Guaranteed [8-Max] | 4,000,000 | 33,000 |
| Sat November 5 | 9:30 PM | GPC Eagle 19-H: PLO8 GC 6,500,000 Guaranteed [8-Max] | 6,500,000 | 55,000 |
| Sat November 5 | 10:30 PM | GPC Eagle 19-L: PLO8 GC 1,500,000 Guaranteed [8-Max] | 1,500,000 | 11,000 |
| Sun November 6 | 3:00 PM | GPC Eagle 20-M: NLHE GC 15,000,000 Guaranteed [Deep] | 15,000,000 | 99,000 |
| Sun November 6 | 4:15 PM | GPC Eagle 20-L: NLHE GC 5,000,000 Guaranteed [Super Deep] | 5,000,000 | 22,000 |
| Sun November 6 | 5:30 PM | GPC Eagle 20-H: NLHE GC 27,500,000 Guaranteed [1R1A] | 27,500,000 | 99,000 |
| Sun November 6 | 6:30 PM | GPC Eagle 21-X: NLCP GC 3,000,000 Guaranteed [8-Max] | 3,000,000 | 33,000 |
| Sun November 6 | 7:30 PM | GPC Eagle 22-L: NLHE GC 1,500,000 Guaranteed [6-Max, Turbo] | 1,500,000 | 11,000 |
| Sun November 6 | 8:30 PM | GPC Eagle 22-M: NLHE GC 5,000,000 Guaranteed [6-Max, Turbo] | 5,000,000 | 33,000 |
| Sun November 6 | 9:30 PM | GPC Eagle 22-H: NLHE GC 13,000,000 Guaranteed [6-Max, Turbo] | 13,000,000 | 99,000 |
| Sun November 6 | 10:30 PM | GPC Eagle 22-L: NLHE GC 2,000,000 Guaranteed [6-Max, Turbo] | 2,000,000 | 11,000 |
| Mon November 7 | 7:30 PM | GPC Eagle 23-L: NLHE GC 3,000,000 Guaranteed [Rebuy] | 3,000,000 | 3,300 |
| Mon November 7 | 8:30 PM | GPC Eagle 23-M: NLHE GC 8,000,000 Guaranteed [Rebuy] | 8,000,000 | 11,000 |
| Mon November 7 | 9:30 PM | GPC Eagle 23-H: NLHE GC 20,000,000 Guaranteed [Rebuy] | 20,000,000 | 33,000 |
| Mon November 7 | 10:30 PM | GPC Eagle 23-L: NLHE GC 2,000,000 Guaranteed [Rebuy] | 2,000,000 | 3,300 |
| Tue November 8 | 7:30 PM | GPC Eagle 24-L: NLHE GC 2,500,000 Guaranteed [Ante Up] | 2,500,000 | 11,000 |
| Tue November 8 | 8:30 PM | GPC Eagle 24-M: NLHE GC 5,000,000 Guaranteed [Ante Up] | 5,000,000 | 33,000 |
| Tue November 8 | 9:30 PM | GPC Eagle 24-H: NLHE GC 9,000,000 Guaranteed [Ante Up] | 9,000,000 | 55,000 |
| Tue November 8 | 10:30 PM | GPC Eagle 24-L: NLHE GC 2,000,000 Guaranteed [Ante Up] | 2,000,000 | 11,000 |
| Wed November 9 | 7:30 PM | GPC Eagle 25-L: NLHE GC 3,500,000 Guaranteed [2x-Chance] | 3,500,000 | 11,000 |
| Wed November 9 | 8:30 PM | GPC Eagle 25-M: NLHE GC 8,500,000 Guaranteed [2x-Chance] | 8,500,000 | 33,000 |
| Wed November 9 | 9:30 PM | GPC Eagle 25-H: NLHE GC 20,000,000 Guaranteed [2x-Chance] | 20,000,000 | 99,000 |
| Wed November 9 | 10:30 PM | GPC Eagle 25-L: NLHE GC 2,500,000 Guaranteed [2x-Chance] | 2,500,000 | 11,000 |
| Thu November 10 | 7:30 PM | GPC Eagle 26-L: NLHE GC 3,000,000 Guaranteed [Super Bounty] | 3,000,000 | 11,000 |
| Thu November 10 | 8:30 PM | GPC Eagle 26-M: NLHE GC 7,000,000 Guaranteed [Super Bounty] | 7,000,000 | 33,000 |
| Thu November 10 | 9:30 PM | GPC Eagle 26-H: NLHE GC 15,000,000 Guaranteed [Super Bounty] | 15,000,000 | 99,000 |
| Thu November 10 | 10:30 PM | GPC Eagle 26-L: NLHE GC 2,000,000 Guaranteed [Super Bounty] | 2,000,000 | 11,000 |
| Fri November 11 | 7:30 PM | GPC Eagle 27-L: PLO GC 3,500,000 Guaranteed [2R1A, 6-Max] | 3,500,000 | 11,000 |
| Fri November 11 | 8:30 PM | GPC Eagle 27-M: PLO GC 10,000,000 Guaranteed [2R1A, 6-Max] | 10,000,000 | 33,000 |
| Fri November 11 | 9:30 PM | GPC Eagle 27-H: PLO GC 15,000,000 Guaranteed [2R1A, 6-Max] | 15,000,000 | 55,000 |
| Fri November 11 | 10:30 PM | GPC Eagle 27-L: PLO GC 3,000,000 Guaranteed [2R1A, 6-Max] | 3,000,000 | 11,000 |
| Sat November 12 | 3:00 PM | GPC Eagle 28-L: NLHE GC 2,000,000 Guaranteed [Deep] | 2,000,000 | 11,000 |
| Sat November 12 | 4:15 PM | GPC Eagle 28-M: NLHE GC 3,000,000 Guaranteed [Deep] | 3,000,000 | 22,000 |
| Sat November 12 | 5:30 PM | GPC Eagle 28-H: NLHE GC 12,500,000 Guaranteed [Deep] | 12,500,000 | 99,000 |
| Sat November 12 | 6:30 PM | GPC Eagle 29-X: NLHE GC 3,000,000 Guaranteed [Shootout, Heads-Up, Turbo] | 3,000,000 | 33,000 |
| Sat November 12 | 7:30 PM | GPC Eagle 30-L: NLHE GC 3,000,000 Guaranteed [2x-Chance, 6-Max] | 3,000,000 | 11,000 |
| Sat November 12 | 8:30 PM | GPC Eagle 30-M: NLHE GC 7,500,000 Guaranteed [2x-Chance, 6-Max] | 7,500,000 | 33,000 |
| Sat November 12 | 9:30 PM | GPC Eagle 30-H: NLHE GC 20,000,000 Guaranteed [2x-Chance, 6-Max] | 20,000,000 | 99,000 |
| Sat November 12 | 10:30 PM | GPC Eagle 30-L: NLHE GC 3,000,000 Guaranteed [2x-Chance, 6-Max] | 3,000,000 | 11,000 |
| Sun November 13 | 3:00 PM | GPC Eagle 31-M: NLHE GC 15,000,000 Guaranteed [Deep] | 15,000,000 | 99,000 |
| Sun November 13 | 4:15 PM | GPC Eagle 31-L: NLHE GC 5,000,000 Guaranteed [Super Deep] | 5,000,000 | 22,000 |
| Sun November 13 | 5:30 PM | GPC Eagle 31-H: Main Event NLHE GC 30,000,000 Guaranteed [1R1A] | 30,000,000 | 99,000 |
| Sun November 13 | 6:30 PM | GPC Eagle 32-X: NLHE GC 3,500,000 Guaranteed [Hyper-Turbo] | 3,500,000 | 33,000 |
| Sun November 13 | 7:30 PM | GPC Eagle 33-L: NLHE GC 2,000,000 Guaranteed [Progressive Bounty, 6-Max, Turbo] | 2,000,000 | 11,000 |
| Sun November 13 | 8:30 PM | GPC Eagle 33-M: NLHE GC 6,000,000 Guaranteed [Progressive Bounty, 6-Max,Turbo] | 6,000,000 | 33,000 |
| Sun November 13 | 9:30 PM | GPC Eagle 33-H: NLHE GC 15,000,000 Guaranteed [Progressive Bounty, 6-Max, Turbo] | 15,000,000 | 99,000 |
| Sun November 13 | 10:30 PM | GPC Eagle 33-L: NLHE GC 2,000,000 Guaranteed [Progressive Bounty, 6-Max, Turbo] | 2,000,000 | 11,000 |
Remaining Sweeps Coins Schedule
| Date | Time (ET) | Tournament | Guarantee | Sweeps Coins |
| --- | --- | --- | --- | --- |
| Mon October 31 | 7:30 PM | GPC Eagle 12-L: NLHE SC 8,000 Guaranteed [Progressive Bounty, Deep Turbo] | 8,000 | 11 |
| Mon October 31 | 8:30 PM | GPC Eagle 12-M: NLHE SC 20,000 Guaranteed [Progressive Bounty, Deep Turbo] | 20,000 | 33 |
| Mon October 31 | 9:30 PM | GPC Eagle 12-H: NLHE SC 30,666 Guaranteed [Progressive Bounty, Deep Turbo] - Pumpkin Smasher | 30,666 | 99 |
| Mon October 31 | 10:30 PM | GPC Eagle 12-L: NLHE SC 6,000 Guaranteed [Progressive Bounty, Deep Turbo] | 6,000 | 11 |
| Tue November 1 | 7:30 PM | GPC Eagle 13-L: NLHE SC 7,500 Guaranteed [Bounty, 6-Max] | 7,500 | 11 |
| Tue November 1 | 8:30 PM | GPC Eagle 13-M: NLHE SC 17,500 Guaranteed [Bounty, 6-Max] | 17,500 | 33 |
| Tue November 1 | 9:30 PM | GPC Eagle 13-H: NLHE SC 25,000 Guaranteed [Bounty, 6-Max] | 25,000 | 99 |
| Tue November 1 | 10:30 PM | GPC Eagle 13-L: NLHE SC 5,000 Guaranteed [Bounty, 6-Max] | 5,000 | 11 |
| Wed November 2 | 7:30 PM | GPC Eagle 14-L: NLHE SC 5,000 Guaranteed [Rebuy, 6-Max] | 5,000 | 3.3 |
| Wed November 2 | 8:30 PM | GPC Eagle 14-M: NLHE SC 15,000 Guaranteed [Rebuy, 6-Max] | 15,000 | 11 |
| Wed November 2 | 9:30 PM | GPC Eagle 14-H: NLHE SC 30,000 Guaranteed [Rebuy, 6-Max] | 30,000 | 33 |
| Wed November 2 | 10:30 PM | GPC Eagle 14-L: NLHE SC 4,000 Guaranteed [Rebuy, 6-Max] | 4,000 | 3.3 |
| Thu November 3 | 7:30 PM | GPC Eagle 15-L: NLHE SC 8,000 Guaranteed [Progressive Bounty] | 8,000 | 11 |
| Thu November 3 | 8:30 PM | GPC Eagle 15-M: NLHE SC 17,500 Guaranteed [Progressive Bounty] | 17,500 | 33 |
| Thu November 3 | 9:30 PM | GPC Eagle 15-H: NLHE SC 30,000 Guaranteed [Progressive Bounty] | 30,000 | 99 |
| Thu November 3 | 10:30 PM | GPC Eagle 15-L: NLHE SC 7,000 Guaranteed [Progressive Bounty] | 7,000 | 11 |
| Fri November 4 | 7:30 PM | GPC Eagle 16-L: NLHE SC 7,000 Guaranteed [6-Max] | 7,000 | 11 |
| Fri November 4 | 8:30 PM | GPC Eagle 16-M: NLHE SC 15,000 Guaranteed [6-Max] | 15,000 | 33 |
| Fri November 4 | 9:30 PM | GPC Eagle 16-H: NLHE SC 25,000 Guaranteed [6-Max] | 25,000 | 99 |
| Fri November 4 | 10:30 PM | GPC Eagle 16-L: NLHE SC 6,000 Guaranteed [6-Max] | 6,000 | 11 |
| Sat November 5 | 3:00 PM | GPC Eagle 17-L: NLHE SC 6,000 Guaranteed [Deep] | 6,000 | 11 |
| Sat November 5 | 4:15 PM | GPC Eagle 17-M: NLHE SC 10,000 Guaranteed [Deep] | 10,000 | 22 |
| Sat November 5 | 5:30 PM | GPC Eagle 17-H: NLHE SC 25,000 Guaranteed [Deep] | 25,000 | 99 |
| Sat November 5 | 6:30 PM | GPC Eagle 18-X: FLHE SC 7,000 Guaranteed | 7,000 | 33 |
| Sat November 5 | 7:30 PM | GPC Eagle 19-L: PLO8 SC 3,500 Guaranteed [8-Max] | 3,500 | 11 |
| Sat November 5 | 8:30 PM | GPC Eagle 19-M: PLO8 SC 6,000 Guaranteed [8-Max] | 6,000 | 33 |
| Sat November 5 | 9:30 PM | GPC Eagle 19-H: PLO8 SC 10,000 Guaranteed [8-Max] | 10,000 | 55 |
| Sat November 5 | 10:30 PM | GPC Eagle 19-L: PLO8 SC 3,000 Guaranteed [8-Max] | 3,000 | 11 |
| Sun November 6 | 3:00 PM | GPC Eagle 20-M: NLHE SC 40,000 Guaranteed [Deep] | 40,000 | 99 |
| Sun November 6 | 4:15 PM | GPC Eagle 20-L: NLHE SC 20,000 Guaranteed [Super Deep] | 20,000 | 22 |
| Sun November 6 | 5:30 PM | GPC Eagle 20-H: NLHE SC 80,000 Guaranteed [1R1A] | 80,000 | 99 |
| Sun November 6 | 6:30 PM | GPC Eagle 21-X: NLCP SC 5,000 Guaranteed [8-Max] | 5,000 | 33 |
| Sun November 6 | 7:30 PM | GPC Eagle 22-L: NLHE SC 5,000 Guaranteed [6-Max, Turbo] | 5,000 | 11 |
| Sun November 6 | 8:30 PM | GPC Eagle 22-M: NLHE SC 13,000 Guaranteed [6-Max, Turbo] | 13,000 | 33 |
| Sun November 6 | 9:30 PM | GPC Eagle 22-H: NLHE SC 20,000 Guaranteed [6-Max, Turbo] | 20,000 | 99 |
| Sun November 6 | 10:30 PM | GPC Eagle 22-L: NLHE SC 5,000 Guaranteed [6-Max, Turbo] | 5,000 | 11 |
| Mon November 7 | 7:30 PM | GPC Eagle 23-L: NLHE SC 4,500 Guaranteed [Rebuy] | 4,500 | 3.3 |
| Mon November 7 | 8:30 PM | GPC Eagle 23-M: NLHE SC 15,000 Guaranteed [Rebuy] | 15,000 | 11 |
| Mon November 7 | 9:30 PM | GPC Eagle 23-H: NLHE SC 30,000 Guaranteed [Rebuy] | 30,000 | 33 |
| Mon November 7 | 10:30 PM | GPC Eagle 23-L: NLHE SC 4,000 Guaranteed [Rebuy] | 4,000 | 3.3 |
| Tue November 8 | 7:30 PM | GPC Eagle 24-L: NLHE SC 6,000 Guaranteed [Ante Up] | 6,000 | 11 |
| Tue November 8 | 8:30 PM | GPC Eagle 24-M: NLHE SC 10,000 Guaranteed [Ante Up] | 10,000 | 33 |
| Tue November 8 | 9:30 PM | GPC Eagle 24-H: NLHE SC 12,000 Guaranteed [Ante Up] | 12,000 | 55 |
| Tue November 8 | 10:30 PM | GPC Eagle 24-L: NLHE SC 4,000 Guaranteed [Ante Up] | 4,000 | 11 |
| Wed November 9 | 7:30 PM | GPC Eagle 25-L: NLHE SC 8,000 Guaranteed [2x-Chance] | 8,000 | 11 |
| Wed November 9 | 8:30 PM | GPC Eagle 25-M: NLHE SC 20,000 Guaranteed [2x-Chance] | 20,000 | 33 |
| Wed November 9 | 9:30 PM | GPC Eagle 25-H: NLHE SC 30,000 Guaranteed [2x-Chance] | 30,000 | 99 |
| Wed November 9 | 10:30 PM | GPC Eagle 25-L: NLHE SC 6,000 Guaranteed [2x-Chance] | 6,000 | 11 |
| Thu November 10 | 7:30 PM | GPC Eagle 26-L: NLHE SC 7,500 Guaranteed [Super Bounty] | 7,500 | 11 |
| Thu November 10 | 8:30 PM | GPC Eagle 26-M: NLHE SC 15,000 Guaranteed [Super Bounty] | 15,000 | 33 |
| Thu November 10 | 9:30 PM | GPC Eagle 26-H: NLHE SC 25,000 Guaranteed [Super Bounty] | 25,000 | 99 |
| Thu November 10 | 10:30 PM | GPC Eagle 26-L: NLHE SC 5,000 Guaranteed [Super Bounty] | 5,000 | 11 |
| Fri November 11 | 7:30 PM | GPC Eagle 27-L: PLO SC 6,000 Guaranteed [2R1A, 6-Max] | 6,000 | 11 |
| Fri November 11 | 8:30 PM | GPC Eagle 27-M: PLO SC 12,000 Guaranteed [2R1A, 6-Max] | 12,000 | 33 |
| Fri November 11 | 9:30 PM | GPC Eagle 27-H: PLO SC 17,500 Guaranteed [2R1A, 6-Max] | 17,500 | 55 |
| Fri November 11 | 10:30 PM | GPC Eagle 27-L: PLO SC 5,000 Guaranteed [2R1A, 6-Max] | 5,000 | 11 |
| Sat November 12 | 3:00 PM | GPC Eagle 28-L: NLHE SC 6,000 Guaranteed [Deep] | 6,000 | 11 |
| Sat November 12 | 4:15 PM | GPC Eagle 28-M: NLHE SC 8,000 Guaranteed [Deep] | 8,000 | 22 |
| Sat November 12 | 5:30 PM | GPC Eagle 28-H: NLHE SC 20,000 Guaranteed [Deep] | 20,000 | 99 |
| Sat November 12 | 6:30 PM | GPC Eagle 29-X: NLHE SC 6,000 Guaranteed [Shootout, Heads-Up, Turbo] | 6,000 | 33 |
| Sat November 12 | 7:30 PM | GPC Eagle 30-L: NLHE SC 7,500 Guaranteed [2x-Chance, 6-Max] | 7,500 | 11 |
| Sat November 12 | 8:30 PM | GPC Eagle 30-M: NLHE SC 13,000 Guaranteed [2x-Chance, 6-Max] | 13,000 | 33 |
| Sat November 12 | 9:30 PM | GPC Eagle 30-H: NLHE SC 23,000 Guaranteed [2x-Chance, 6-Max] | 23,000 | 99 |
| Sat November 12 | 10:30 PM | GPC Eagle 30-L: NLHE SC 6,000 Guaranteed [2x-Chance, 6-Max] | 6,000 | 11 |
| Sun November 13 | 3:00 PM | GPC Eagle 31-M: NLHE SC 50,000 Guaranteed [Deep] | 50,000 | 99 |
| Sun November 13 | 4:15 PM | GPC Eagle 31-L: NLHE SC 20,000 Guaranteed [Super Deep] | 20,000 | 22 |
| Sun November 13 | 5:30 PM | GPC Eagle 31-H: Main Event NLHE SC 200,000 Guaranteed [1R1A] | 200,000 | 99 |
| Sun November 13 | 6:30 PM | GPC Eagle 32-X: NLHE SC 10,000 Guaranteed [Hyper-Turbo] | 10,000 | 33 |
| Sun November 13 | 7:30 PM | GPC Eagle 33-L: NLHE SC 6,000 Guaranteed [Progressive Bounty, 6-Max, Turbo] | 6,000 | 11 |
| Sun November 13 | 8:30 PM | GPC Eagle 33-M: NLHE SC 15,000 Guaranteed [Progressive Bounty, 6-Max, Turbo] | 15,000 | 33 |
| Sun November 13 | 9:30 PM | GPC Eagle 33-H: NLHE SC 30,000 Guaranteed [Progressive Bounty, 6-Max, Turbo] | 30,000 | 99 |
| Sun November 13 | 10:30 PM | GPC Eagle 33-L: NLHE SC 5,000 Guaranteed [Progressive Bounty, 6-Max, Turbo] | 5,000 | 11 |