Global Poker: Play for Free & Win Coins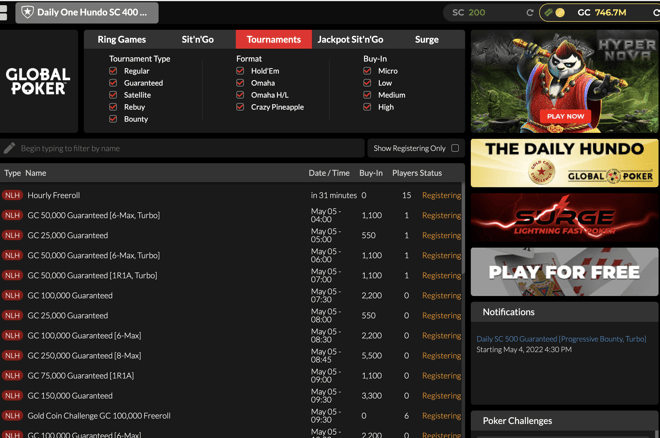 Continuous slots, tournaments, and various games, through the ability to play everything for free, you can win Gold Coins and Sweeps Coins!
Being able to play Global Poker for free, for each element which you can play, these are the best ways you can win coins and continue the free excitement!
Tournaments
Whether it's Sit and Go's or Multi-Table Tournaments, from no-limit hold'em and pot-limit Omaha, through the tournaments, this is one of the ways which you can win coins.
When you're playing in Sweeps Coins tournaments, with varied buy-ins, you can use your skills and strategies when participating to win free Sweeps Coins.
Through the Sweeps Coins usage in tournaments, depending on your winning positions, you can redeem Sweeps Coins to obtain and redeem for real prizes!
Action-packed tournaments keep you busy, whether it's the weekly tournaments, the major tournaments series, or the additional special promotions, you can have the potential to win millions of free coins!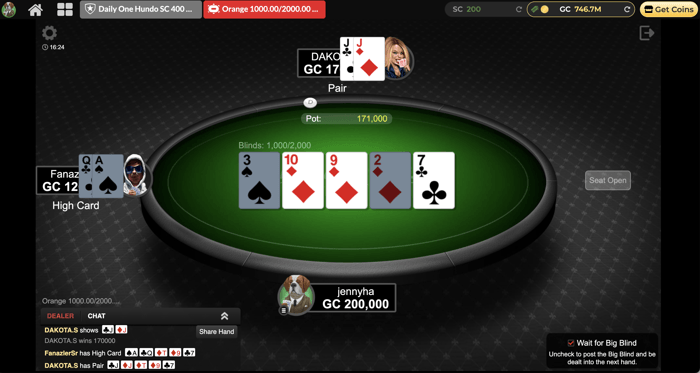 Winning 50,000 Sweeps Coins every week to limited edition merchandise, with the weekly tournament you have the chance to be able to win a range of amazing prizes!
Regardless of the events which you wish to play – you can have fun at Global Poker, creating online poker through the tournaments at its best.
As an alternative, if you want to want to get involved with big guarantees, great prizes, and a whole bunch of fun, you are able to join the Major Poker Tournaments!
Through over 2 billion gold coins and 11 million Sweeps Coins being previously won, you could be the next winner, so why not get involved?
Slot Games
With a click of a button, Global Poker features over 20 custom-made slots games that you can indulge yourself in. Features some in-house slots such as Hypernova, Dragon's River, Triple Double Fever, Wild Roads, and many more amazing slots games!
With a little base knowledge, whether you're spinning for your first time, or you're an experienced slot player – everyone has the same chance to be the next winner! Providing hours of entertainment, you can continuously slot with an endless amount of fun.
Whether it's a few quick spins to pass the time or wanting to have a few more slots games for a longer session, with the potential for big wins and a range and slots to choose from, you can have endless enjoyment.
With the variance of slot games, you can choose from, this means that you can win a range of prizes, Gold Coins and Sweeps Coins are on offer for you to win! Depending on the slots, there are many multipliers included which gives you the added potential to win even BIGGER PRIZES!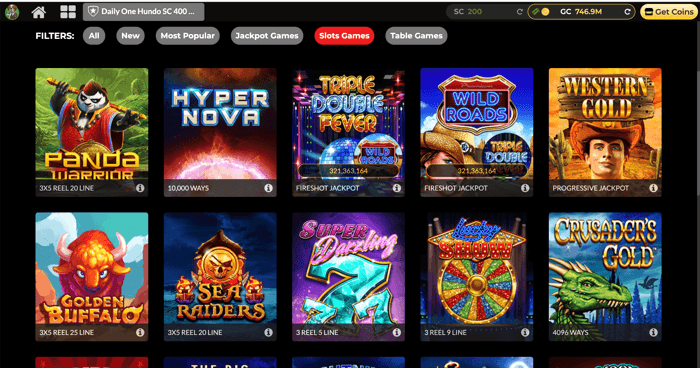 Table Games
Whether it's a game of Blackjack, Caribbean Poker, or Casino Texas Hold'em, try out your table skills with these top casino picks on Global Poker.
Whether you're looking for a classic Blackjack game or wanting to swing more into the style of Casino Hold'em – with every game covered, you can get involved now more than ever!
Starting with Gold Coins, to test your skills and improve your abilities and win even more Gold Coins to practice your abilities! When you're more confident in your skills and strategies, you can then move to Sweeps Coins, put your winning strategies in play to beat the dealer, and redeem cash prizes!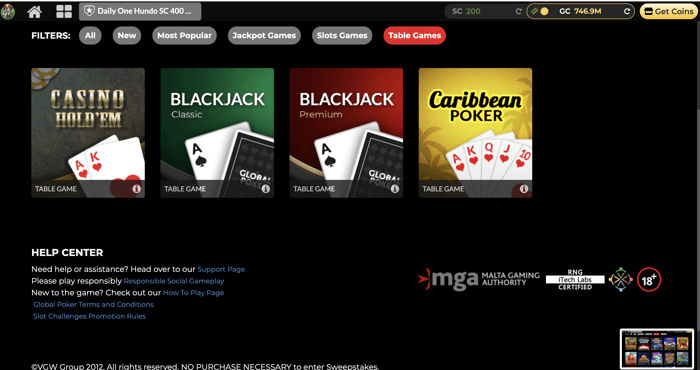 Through the different variations of Table Games, whether it's Blackjack, Casino Hold'em, or Caribbean Poker, you are able to bring your skills to the table and enable the chances of you winning more Sweeps Coins.
Once you've won more than 50 Sweeps Coins, you are able to redeem your Sweeps Coins into real prizes! From the choice of a gift card or cash, you can claim your prizes from the winnings of your Coins – all for free from playing within-the-table games!
Global Poker PROMO CODE
Use our promo code POKERNEWS to play now at Global Poker.
Things You Should Know About Global Poker
Offering a plethora of fun and exciting social casino games, one of the best elements of Global Poker is that there is no software that you need to download – which includes that all poker games, ranging from tournaments to slots can be played from your web browser.
As all the games can be played from the web browser, you are able to play wherever you are, whether you're at home or on the move, desktop or mobile – there are so many options for you to be able to play Global Poker!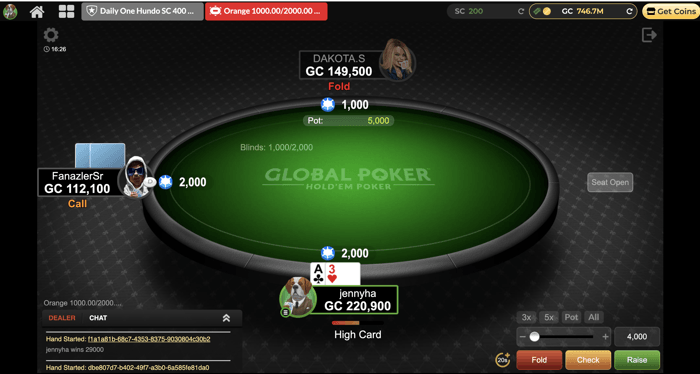 Despite the game of 'Global Poker', Poker isn't the only game of choice, especially with the offering choice through the full social casino experience.
For use through your Gold Coins and Sweeps Coins, you can find a huge range of slots and table games, in addition to all the poker games from which you can choose!
Although real money online poker isn't legal in most US States, this still doesn't limit you from playing poker. But, how? As Global Poker is an online social casino and not a real money gambling, this is the reason it is available in most US states and Canadian Provinces – with the benefit of being able to always play for free!
As one of the best benefits of the social casino Global Poker, when you're playing the variance of games through the use of Sweeps Coins you are able to win additional Sweeps Coins which can be redeemed for real prizes.
In addition to the other variations of winning Sweeps Coins, for the chance to gain more Sweeps Coins, you are able to gain them through the purchase of Gold Coins. As an example, if you spend $20, you'll receive 100,000 Gold Coins, and receive a free bonus of 20 Sweeps Coins!
Through various games and choices for your mood, Global Poker has fun and exciting games, backed by a safe and easy to use website, this is enabled for all players.
Whether you've got hours of time playing online poker or you're playing for your first time, Global Poker has the options for you!
Global Poker Frequently Asked Questions
How to Cash Out on Global Poker?

By definition, you are unable to 'cash out', this is because you are unable to deposit within your Global Poker, so you have no money within your account to be able to withdraw or cash out.

However, through Global Poker, you can win Sweeps Coins which can be redeemed for cash prizes and gift cards, but how?

Through the many ways of obtaining Sweeps Coins, one being the ability to gain Sweeps Coins as you purchase Gold Coins, you can use them at games and tournaments offered at Global Poker.

Similarly, when you play with Gold Coins, as you win a prize in a tournament or other games your balance will increase.

Once you have obtained over 50 Sweeps Coins; you are able to convert the coins to cash at a 1:1 ratio – this money will then be sent to your bank. Within the Sweeps stakes model, this is to redeem into something of actual value, rather than Sweeps Coins having actual value themselves.

On Global Poker, inside the store, navigate to the "Redeem Prize" tab and select one of two available options; redeem your prize as a Gift Card or Cash Prize Redemption.
What are Gold Coins on Global Poker?

In addition to Sweeps Coins, there are gold coins, these are the main coins within the Global Poker games.

When you're playing games, whether it's a table game, slots, or jackpots, you can use these coins to play and possibly win additional gold coins too.

Although the gold coins have no monetary value, you can have awarded them by Global Poker or choose to purchase them (where you have the chance to win Sweeps Coins).

You can use these gold coins for more gameplay through slots, table games, and jackpots!
What Are Sweeps Coins on Global Poker?

One of the two possible in-game currencies which you can obtain whilst interacting with Global Poker and the many games to choose from, Sweeps Coins can be stored into your balance with the chance to redeem cash prizes and gift cards.

With this currency, once you've obtained over 50 sweeps coins, you can take advantage of being able to redeem the coins for real prizes. In addition, you can gain the coins, all for playing for free!