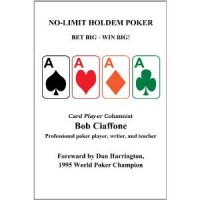 No-limit Hold'em Poker: Bet Big - Win Big!
Author: Bob Ciaffone
Year: Oct 2012
Print house: Bob Ciaffone
Buy
No-Limit Hold'em Poker is an instructional poker book by a leading professional player and writer, Bob Ciaffone. It offers top-quality advice on how to play better at the card game that is now the favorite form of poker throughout the world. It has over 400 pages full of information on the various techniques you can use to get better results. The book is a blend of theory and practice, so the reader can both learn the underlying strategic ideas and see the way they are applied on actual hands. There are 63 chapters on poker strategy, hundreds of hands taken from actual play, and many discussions with the author's friends and students about various aspects of the game. The book is aimed at the player who already has a fair amount of familiarity with no-limit play and wants to take his or her game up to the expert level. It discusses both cash games and tournament play. You will love it!