Da Vinci Diamonds Slot: A Classic Game You Should Play at Least Once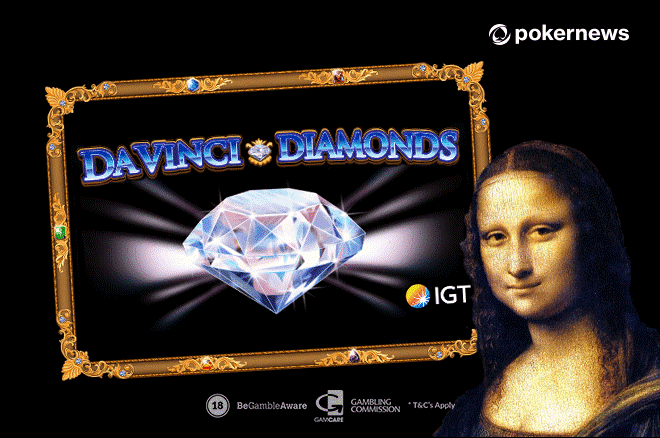 The Renaissance was one of the most significant periods in human history, and who better to represent it than Leonardo?
The Da Vinci Diamonds slot offers a fantastic tribute to this inventor, immortalizing him in a modern way.
Now, you can enjoy art and gambling in the same game. So, jump on one of the biggest bandwagons in history and give Da Vinci slots a try.
International Game Technology brought the insanely popular Da Vinci Diamonds slot machine.
It provides engaging features and chances to win big with exciting bonuses.
Potential RTP of this slot is 96.7%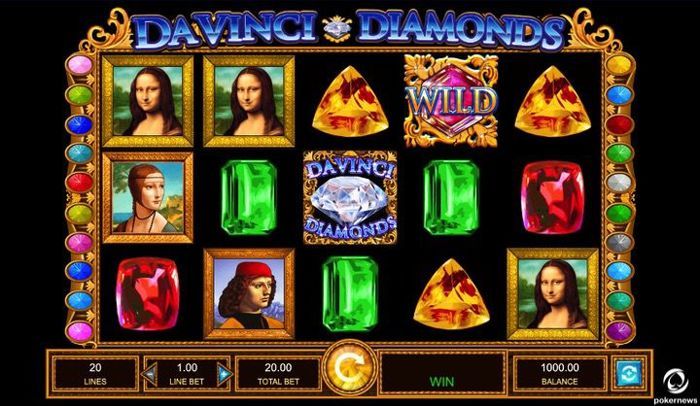 Da Vinci Diamonds Review
Let's now take a look at how this slots machine fares across various aspects.
Basic Features
From a technical standpoint, this online slot game is no different than many other slots out there.
However, it stands out with its unique presentation, beautiful design (which we will discuss in a second), and smooth operation.
With these features, it provides both high quality and a lot of fun to its players.
How to Play
The gameplay for this slot is, again, no different than what you got accustomed to with regular playing. Still, it manages to keep you playing with its straightforward style and generous awards.
In this game, you bet with coins. First, you set the coin value, then bet a certain number of coins, and spin away. That's it.
You just learned how to play Da Vinci Diamonds.
The pay lines are all fixed, so there's no need to tackle that yourself.
There are nine different symbols in the game - seven paintings, and Wild and Scatter symbols. So, you don't need to remember a lot to enjoy and profit from this game.
Game Design
The visuals deserve some praise. Leonardo's art does not inspire them - they ARE this art.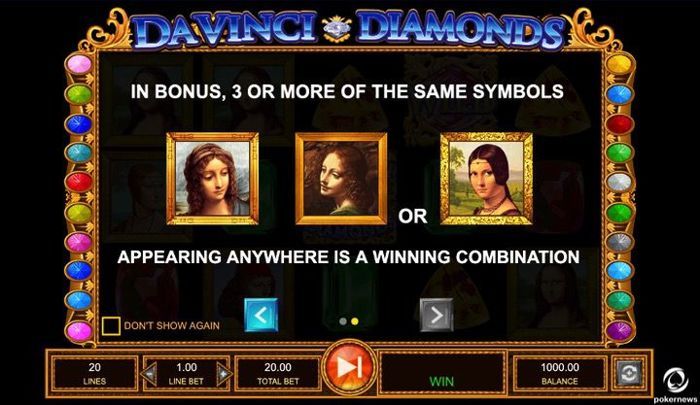 All symbols are mini versions of the most famous paintings - so, you get to delight in the Mona Lisa, Lady with an Ermine, Portrait of a Musician and more while you play.
Besides them, you will find - as the name suggests - diamonds in all shapes and sizes imaginable.
The design is so good that you may wish to play Da Vinci Diamonds for fun, but let's not forget many bonuses that make it worth your time even if you don't enjoy Renaissance painting.
Bonus Offers
There are several exciting bonuses in the Da Vinci Diamonds slot game. Let's take a closer look.
Tumbling Reels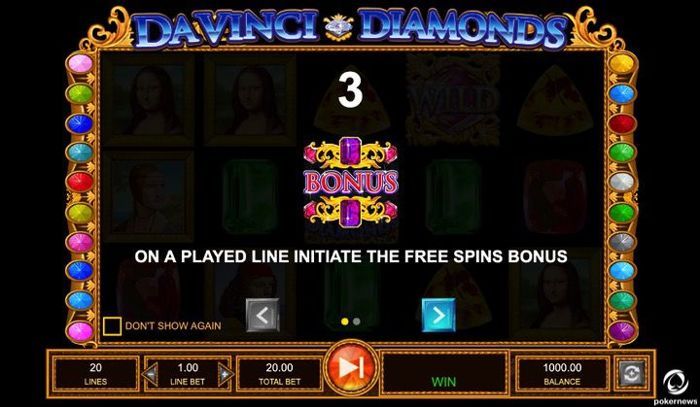 This one is slightly innovative and resembles the way some puzzle games work. You see, as soon as you hit the winning combo, which means at least three symbols, the combination disappears and gets replaced by new symbols. This way, you can keep winning over and over again.
Free Spins
There are plenty of gems and diamonds throughout the game, but the one that matters most is the bonus, or Scatter, symbol.
If you get three Scatter symbols at the same time, you will get six free spins. Six spins don't sound like much, but the Tumble feature is still active, adding another free spin to every win. Also, by collecting more Scatter symbols while enjoying your free spins, you may win extra free spins.
You are allowed to hold up to 15 Scatters at a time.
Getting three Scatters spins gives you two to four extra free spins.
Four of them award you with anything from four to ten spins.
Rewards for five range from six to fifteen free spins on top of the one you got already.
Remember: If you earn extra bonus spins after your first bonus, each win will use what you wagered at first as a bonus to calculate your profit.
Possible Wins
Remember, slots are straightforward when it comes to profitability. Your winning depends on your luck and - more importantly - what you invest.
The highest winning you can get when spinning the historical symbols is five Mona Lisas, with the profit as high as 1000 times what you wagered.
The lowest, which consists of three Ladies, allows you to break even. In between lay diamonds and different pictures which get you between 10 and 100 times what you bet. Not bad for a 20 pay line slot.
Bet Limits
Da Vinci Diamonds isn't the most affordable of the slots out there. The minimum bet is one coin per pay line, at £1 per coin. Being a 20 pay lines slot, this effectively means that the least you can pay for a spin is £20.
However, it does provide large winnings if you're ready to invest - wins happen frequently, and unlocking the free spins feature is more accessible than in other similar slots. Once you activate it, you might end up multiplying your bet at least 50 times.
Free Da Vinci Diamonds Slot Machine
Due to its high cost, there's also an option of playing with virtual coins without investing real money.
Although the beauty of Slots is the exhilaration of winning or losing, Da Vinci Diamonds Slot Machine free play gives you a taste of what's out there before you consider investing real money into the game. If gambling is a casual hobby for you, this might even be the best option.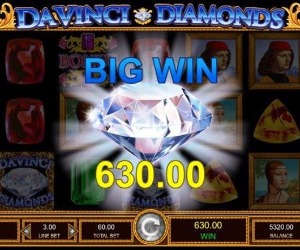 Play Da Vinci Diamonds Online!
Travel back in time to meet the smartest man who ever lived.
Use the demo credits and the bonus to play Da Vinci Diamonds online for free...and win real money!
Play Now
Final Thoughts
Da Vinci Diamonds is a relatively old game, but with its mix of simplicity and quality, it still holds up in the age of online slots.
The design is pleasant and fascinating to look at, the bonus features fun and full of opportunity, and the background music is also quite enjoyable. Overall, it provides a fantastic slots experience.
So, if you like slots, you should give this game a try. If you find it above your means to play for real money, you'll at least get to discuss it with its vast fandom. Give it a shot and who knows; it may pay off so much that one day, you return to it with your credit card.
The promotion presented on this page was available at the time of writing. With some Casino promotions changing on daily basis, we suggest you to check on the site if it still available. Also, please do not forget to read the terms and conditions in full before you accept a bonus.