Double Exposure Blackjack: All You Need to Know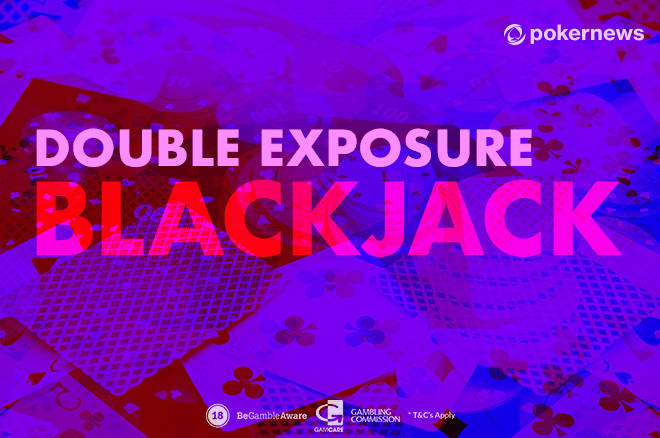 Double Exposure Blackjack is a variant of the Classic Blackjack (21) game
In Double Exposure Blackjack, both dealer's cards are face-up
A few other rules compensate this advantage for the players
This is a complete guide to playing Double Exposure Blackjack in 2019.
Whether you are a complete beginner or a seasoned player looking for new Blackjack games to try, this page has something for you.
In this in-depth guide you'll learn:
How to play Double Exposure Blackjack
What are the difference between this game and classic Blackjack
How to use a bonus to play Double Exposure Blackjack online
And a lot more
So if you're ready to go "all in" with this great Blackjack variant, this guide is for you.
Let's dive right in.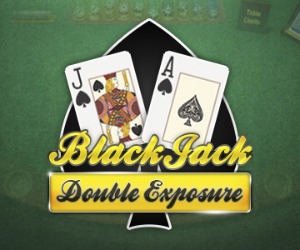 Double Exposure Blackjack
If you're a fan of the game, I'd guess, a lot.
There are many great Blackjack games available. And one of the main differences between them is how the cards are dealt for the dealer.
In standard Blackjack, the dealer gets one card face-up and one card face-down. In some variants, one card is face-up and the other card is dealt only after the players make their moves.
What's the catch in Double Exposure Blackjack?
The dealer gets both cards face-up.
When you know your Blackjack odds, that sounds pretty good.
And it would be - if the rest of the gameplay would follow the classic Blackjack rules.
But Double Exposure Blackjack doesn't.
What rules does Double Exposure Blackjack follow? Is there a way to reach optimal play in Double Exposure Blackjack? Continue reading to find out.
Or register a gaming account here and use your welcome bonus to play your first games.
Double Exposure Blackjack 101
Even if you think you can nail all Blackjack variants by now, Double Exposure Blackjack may surprise you.
It has differences in all possible aspects:
Rules
Card-dealing
Payouts
House edge
And more
Don't panic, though -
I'll explain every single one of those aspects in a minute.
Double Exposure Blackjack vs Classic Blackjack: Main Differences
Recently, I wrote an article about European Blackjack. The main difference of that game is how the cards are dealt for the dealer.
I'm telling you that because that's also where the differences between Double Exposure Blackjack and regular Blackjack begin.
Dealing Cards
Instead of getting one card face-up or one card face-up and another face-down, in Double Exposure Blackjack the dealer gets both of their cards face-up.
Hence, the name.
And while that would balance the odds to your favour, Casinos needed to make sure they won't lose their edge.
Thus, more differences follow.
Payouts
It starts with the payouts.
In other Blackjack games, having a blackjack pays 3 to 2. In Double Exposure Blackjack, it pays 1 to 1.
There is no insurance option either, making the payouts all equal - 1 to 1. No matter how or with what hand you win.
Push (Tie)
Remember the push, the saviour of your bet when you and the dealer have a tie?
Forget about it.
The dealer wins on every push except when you both have a blackjack (a natural).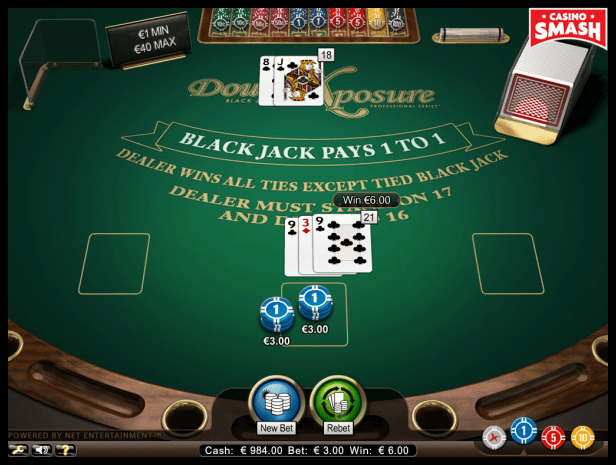 Other Differences
Other differences can vary between the platforms. If you take NetEnt's version of Double Exposure Blackjack, you can double down only if you have a hard 9, 10, or 11.
Then, if you split Aces, you can get only one extra card for each of the freshly made hands.
Plus, you cannot get a natural once you split your hand. It won't be counted as blackjack if you'll have an Ace and a 10-value card, it will be a simple 21-value hand.
Thus, if the dealer gets a natural, it wouldn't win/tie against it.
Double Exposure House Edge and Return to the Player
Comparing to other Casino games, most of the time Blackjack will have better odds.
Double Exposure, being a variant of Blackjack, will have, too.
Usually, Double Exposure Blackjack game has a house edge of 0.67 percent. Thus, the return to the player* of 99.33 percent.
It's a very low house edge if you compare it with Roulette (house edge 2.70 percent) or some Video Slots with house edge at 7 percent or higher.
But I'd lie if I said Double Exposure Blackjack is the Blackjack game with the best odds.
Because it's not.
If you want to play Blackjack only for the odds, try American Blackjack (house edge 0.35 percent) or Blackjack Surrender (house edge 0.38 percent).
But even with slightly worse odds, Double Exposure Blackjack is an exciting game to play.
You'll see why.
How to Play Double Exposure Blackjack
If you kept reading until now, I'll go ahead and assume you want to give Double Exposure Blackjack a try.
To make it as enjoyable as possible, let's get out the rules out of the way.
Double Exposure Blackjack Rules
Double Exposure Blackjack game starts like any other Casino table game. You choose to play by placing your bet on the table.
While the bets may differ depending on the platform, usually the minimum bet is €1. Maximum bet can be €40, €100, or sometimes even thousands.
After you place your bet, press Deal and you'll get your initial cards. The dealer will get theirs.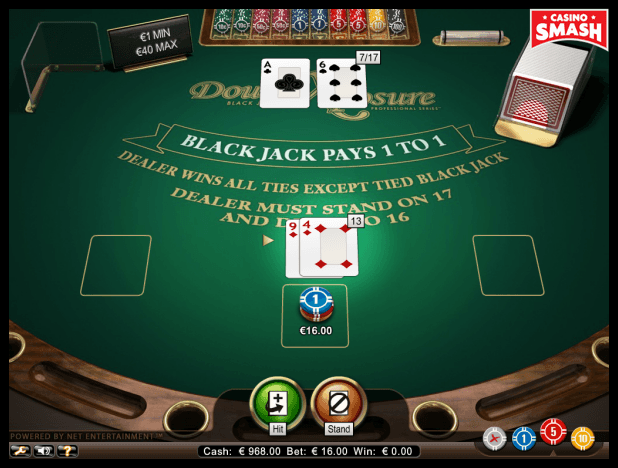 Unless you have a natural (also known as a blackjack) - a 21-value hand consisting of an Ace and a 10-value card - you have to make your next move:
hit if you think you could use one more card for your hand
stand if you think your hand is good enough or one more card would make you bust
double down if you have an initial hand that's a hard** 9, 10, or 11 and you think you need only one more card to win
split (optional) if you have two cards with the same value
The split option requires an extra wager and divides your one hand into two separate hands. The rest of the gameplay follows as usual.
If you split Aces, you'll be able to get only one extra card for each of the new hands.
Remember: Your goal is to have a hand with value 21 or as close to it as possible. Without going over, of course.
What happens next?
You win if at the end you have a hand that's higher in value than the dealer's but not higher than 21.
You lose if it is higher than 21 or if you and dealer have the hands of the same value (unless it's a natural blackjack).
It's a push (you get your wager back but don't win anything extra) if you and the dealer tied blackjacks.
Basic Strategy for Double Exposure Blackjack
Congratulations, now you know how to play Double Exposure Blackjack.
You can head to this online Casino and practice what you've learn for free.
Then, you'll need a strategy.
1. Always Hit when you have an 11 or lower hand
It's impossible to lose with one extra card. But it's very likely to happen if you stand with 11 or lower.
2. Always Hit when the dealer has a 20.
When the dealer has a 20-value hand, you can only beat it with a blackjack or 21.
Thus, the only time you shouldn't hit is when you reach 21 - and that's an automatic stand anyway.
3. Always Double Down when you have an 11 or lower while the dealer has 14 to 16.
The dealer will have to hit and it's a high chance they will bust.
4. Always Stand when you have 17 to 20 unless the dealer has an exact same value or higher hand.
Remember, the dealer wins all ties.
If both you and the dealer has a 17, the dealer has to stand. If you stand, too - you lose.
Even if the dealer has 20, by hitting you can still get 21. While it's a guaranteed loss to stand. Same goes for the hands that are higher than yours.
5. Don't Split a 10-value hand unless the dealer has a hard 13 to 16 hand.
You're more likely to win with a 20-value hand than to make winning hands out of two 10-value hands.
6. Always Split Aces unless the dealer as an 11, 17, or higher hand.
Think about it.
You have good chances of getting your single Ace a company of a 10-value card.
Maybe not perfect, but most of the time better than building up from 12 to a winning hand. Especially with only one extra card available.
These are the main things to remember if you want to avoid amateur bets.
But there are even more moves you can make with a Double Exposure Blackjack cheat sheet.
Save the pictures below and consider making these bets to maximize the chances of winning.
When You Have a Hard Hand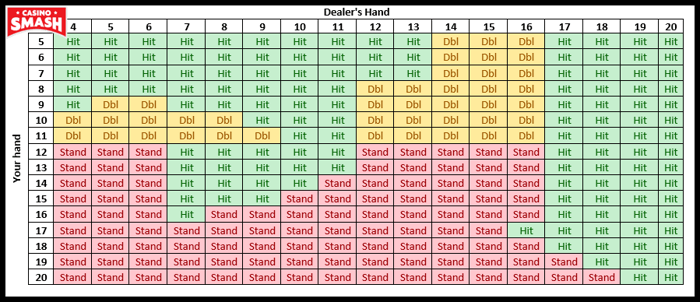 When You Have a Soft Hand (an Ace)

When You Have an Option to Split

Practise Double Exposure Blackjack Online
Now that the strategy is out of your way, you can play Double Exposure Blackjack online.
There are three ways to do so:
All three ways are fun. Some are obviously more rewarding than others.
Which one is your way?
Double Exposure Blackjack: Too Long; Didn't Read Version
Let's sum up Double Exposure Blackjack real quick.
Double Exposure Blackjack is a fun card game but some other Blackjack variants have better winning odds.
The game follows the classic Blackjack rules but every win pays out 1 to 1.
The dealer wins on all ties except tied Blackjacks.
There are no Insurance or Surrender options.
Double Exposure Blackjack has a more explicit basic strategy because you know both of the dealer's cards from the get-go.
| | |
| --- | --- |
| Suggested platform | Double Exposure Blackjack |
| House edge | 0.67 percent |
| Payouts | All wins 1 to 1 |
| Min/Max bet | €1/€40 |
| Decks used | Six |
| Extra bets | Double down, Split |
| RTP | 99.33 percent |
*Return to the player (RTP) is a percentage of all wagered money that theoretically goes back to the players.
**A hard hand is a hand that doesn't include an Ace. Unless that Ace cannot have the value of 11 anymore.
The promotion presented on this page was available at the time of writing. With some Casino promotions changing on daily basis, we suggest you to check on the site if it still available. Also, please do not forget to read the terms and conditions in full before you accept a bonus.