Game of Thrones Slot Online: Which Version Should You Play?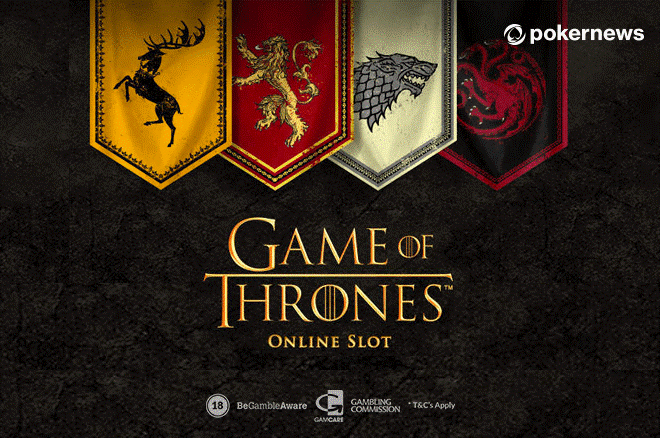 'A Song of Ice and Fire' is a hit among fantasy fans, but 'Game of Thrones' is what made the story a cultural milestone.
Now, you've already watched and rewatched the show, and read and re-read the novels. All that's left is to await the last book eagerly.
Meanwhile, why not jump into the world of Westeros with Game of Thrones slots?
The background music alone will excite you enough that you'll keep coming back for more.
Microgaming released two types of Game of Thrones slots in 2014, one with 15 pay lines and a second one with 243 ways to win.
The RTP of both Game of Thrones slots is set at 96.04%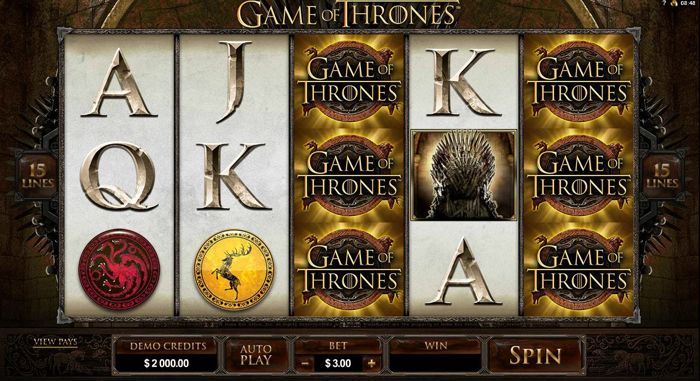 Game of Thrones Slot Review
Today, you will learn everything you need to know about the most advertised (thanks to HBO) slot machine on the Internet.
This game is a video slot made by Microgaming. There are two versions of it - the 15 pay line version, and Game of Thrones 243 ways to win.
The former comes with the lowest bet requirement of €0.15, while the latter asks for a minimum of €0.30.
The 15 version allows for more substantial wins and smaller wagering, but otherwise, both come with the same art, bonuses, and play style. Let's take a look at those.
How to Play
In general, slots come with simple mechanics that don't ask for too much thinking.
You select the coin size, choose the number of coins, and check your final bet.
Several different coins determine your winnings. Also, this particular slot is even more straightforward, as it shows you what you've won and what you could win in cash, not coins.
Game Design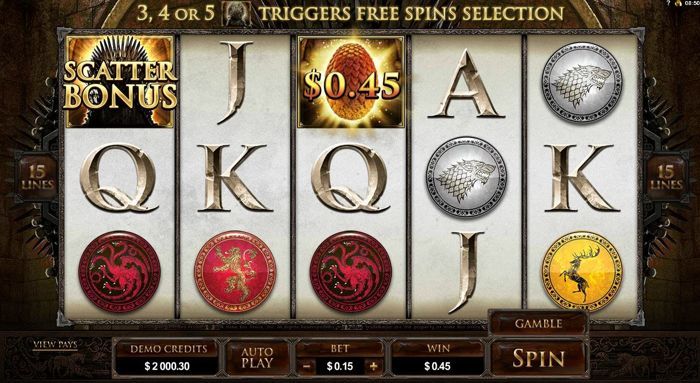 The GOT Slot Machine looks as you would expect it to - medieval, chilling, and familiar.
You will get to see sigils of your favourite houses and listen to the soundtrack while you play - the consistency makes for an epic slot experience.
Besides, this slot works the same as any other one. It makes itself different by personalizing the framework of slots and adding your much-loved characters in the game.
Speaking of personalization, you will get to choose one of the four great houses of Westeros.
Each comes with its own free spins feature and a unique type of play.
Perks Per House
In these slots, you get to play as a Lannister, Stark, Baratheon or Targaryen.
If you don't already have a personal preference, here's what you get with each:
Targaryen - 18 free spins, 2x multiplier (doubles your winnings), and an astounding six stacks of the three-headed dragon.
Stark - 14 free spins, as well as a 3x multiplier and five stacks of the direwolf sigil.
Lannister - 10 free spins, 4x multiplier, and four stacks of the roaring lion symbols.
Baratheon - 8 free spins, and a multiplier of 5, as well as three-stack symbols with the crowned stag.
Depending on your playing style, some houses will suit you better than others. However, the Baratheons seem most rewarding due to their 5x multiplier.
Bonuses and Free Spins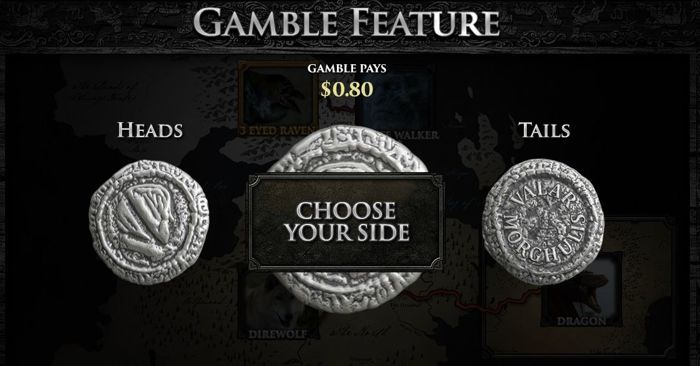 The Gamble Trail
One of the exciting features GOT slot brings is that you can flip a coin to increase - or lose - your winnings.
If you're feeling extra lucky, you may double your winnings four times in a row - that's 16 times what you bet! Victories also unlock various bonuses.
Free Spins
If you get three, four, or five Scatter symbols with the image of the Iron Throne, you unlock the Free Spins round.
The smaller the number of free spins, the larger the multiplier, and that depends on your house.
Once you get to the Free Spins, choose whether you want to spin for longer with smaller rewards, or go for large multipliers and few spins.
Scatter Bonus
If you fail to get three Iron Throne symbols, there's a consolidation in the form of a Scatter Bonus for two of them. Here, you win a cash prize according to your stake.
Also, there will be some significant scenes from the show to make you feel better about not winning.
Possible Wins
Even if you lose everything on the luck of the coin, worry not. The free spins and coin flipping can get retriggered each time you spin.
Slots are simple in terms of winning - they want you to win, but you need to invest in doing so.
Unfortunately, there is no progressive jackpot in this game, but it simplifies it to the general rule of - the more money you stake, the bigger the payout.
There will be free spins and multiplying symbols every step of the way. So work on developing your strategy and invest as much as you feel okay with.
When it comes to winnings, you are most likely to win between 20 and 30 times your stake, but if you're persistent enough, you may get to up to 500!
Again, go for 15 pay lines for more significant payouts. Also, if you're looking to win big, Baratheons are the way to go.
Bet Limits
All in good fun, but bet limits matter when you're gambling real money. Your strategy will depend on it, and perhaps even whether you play the game in the first place.
As we mentioned before, the minimum deposits you need to make are €0.15 and €0.30, depending on the type you play.
The maximums correspond, with€15 and €30 in the two kinds of the slot, respectfully.
Final Thoughts
If you're a fan of the show or the novels who enjoys slots in their free time, you will fall in love with the Game of Thrones slots.
It boasts terrific graphics, a vibrant colour palette, music, and video clips which entice you to keep going.
However, there are many ways to play Game of Thrones online, and we're speaking of gambling here.
The final verdict is that the game focuses more on having fun than on big wins.
Of course, massive money wins are possible, but you will have to spend a good deal of time playing it or be very lucky.
However, it still provides frequent small-time winnings that keep you going and make it more than a hobby and a way to spend money.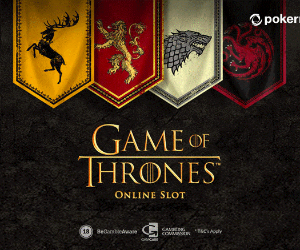 The promotion presented on this page was available at the time of writing. With some Casino promotions changing on daily basis, we suggest you to check on the site if it still available. Also, please do not forget to read the terms and conditions in full before you accept a bonus.