Let it Ride (Card Game) – Play Online for Free or Real Money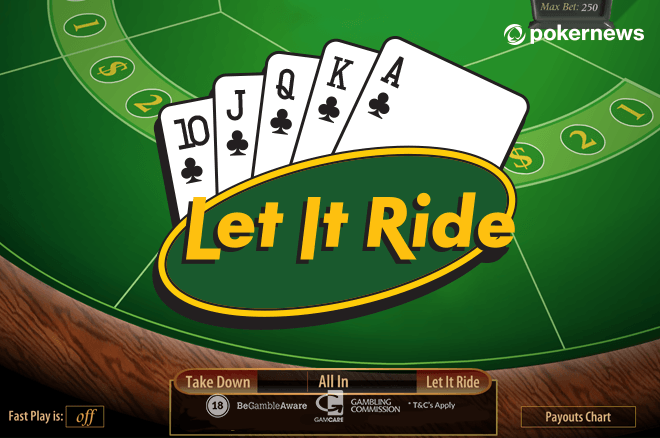 Important Notice:
The offer described on this page may no longer be available. This article was published November 06, 2018 and the offer was available as the page went live on our site. At present, however, we can't guarantee the offer is still running. For more information about the latest promotions available to you, please
visit this page
.
Let It Ride is the least competitive form of poker you can play at a Casino
The payout schedule is the same at all online and live Casinos
If you play with the correct strategy the house edge is 3.5%
There's a new game that is crushing it right now.
Let It Ride is a Casino poker variant invented by Shuffle Master Gaming in 1993. The game is available at brick-and-mortar Casinos as well as at online Casino sites (like this one) and is extremely popular amongst Slots and Keno players.
The fast-paced action and the high payouts make it the ideal card game to transition from Slots to table games.
In this guide, you will learn:
How to play the Let It Ride card game
How to apply the optimal strategy to win
How to avoid the most common beginners' mistakes
At the end of this article, you find a bonus to play online. It's not a huge one, but it's good enough to get you started and to let you practice Let It Ride online.
How to Use This Article
If this is the first time you read an article about Let It Ride poker, you are going to need to read all of it. From the rules to the gameplay, from the odds to the payout table, this guide to the game covers everything you need.
If you are not a complete beginner, you can use the menu above to jump right to what matters to you. Again - from the basics of the game to the Let It Ride payout, I've got you covered.
So - let's start and see how to play Let It Ride Poker.
Introduction
I recently spoke about some players about Let It Ride and we all came to the same conclusion:
Let It Ride is one of the most relaxed and fun Casino games you can play.
The action is fast, the payout is always the same (that's because it's a proprietary game), and you don't play against anyone. Although you might share the table with other players, each game is treated as a separate one.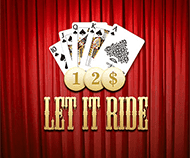 You don't need to beat the dealer or to fight against the other players: everything's about you, your cards, and your ability to pull out when the time is right.
Let It Ride Rules
The game of Let It Ride uses a standard 52-card deck. The Let It Ride poker table can accommodate up to seven players, although you will not share the action with any of them.
The goal of the Let It Ride card game is to build a winning poker hand using three private cards and two community cards.
Winning poker hands begin with
. Any lower pairs do not qualify for a winning hand.
The game consists of different moments when you need to decide if you want to forfeit (Pull) your bets or you want to continue aka. Let It Ride.
How to Play Let It Ride
Before the action begins you need to place three bets, one on each of the circles on the table right in front of you.
Each bet needs to be of the same size, meaning that if you place $5 on the first circle, you'll need to place $5 also on the second and third, respectively.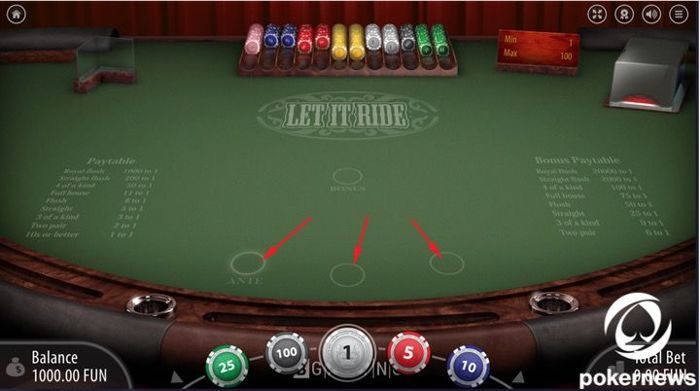 The First Action of the Play
As soon as the bets are on the table, the dealer deals three cards face down to each player and two cards face down to himself. The dealer cards are the community cards.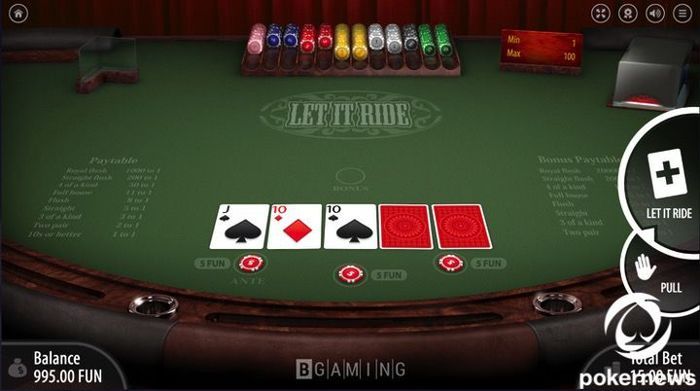 You are allowed to look at the cards but you can't show them to the other players (if you are playing a live game).
At this point, you need to decide whether you want to forfeit the first bet or you trust your cards enough to commit to it and to continue to play (you "Let It Ride").
You take this decision based on your three cards alone, with no knowledge of the value of either community card.
If you decide to pull your first bet, you get it all back. You don't need to pay any fees to the dealer for that.
Playing Online? When you play Let It Ride online, you receive three cards face up (your cards) and two cards face down (the community cards).
The Second Action of the Play
Right after that, the dealer exposes one of the community cards.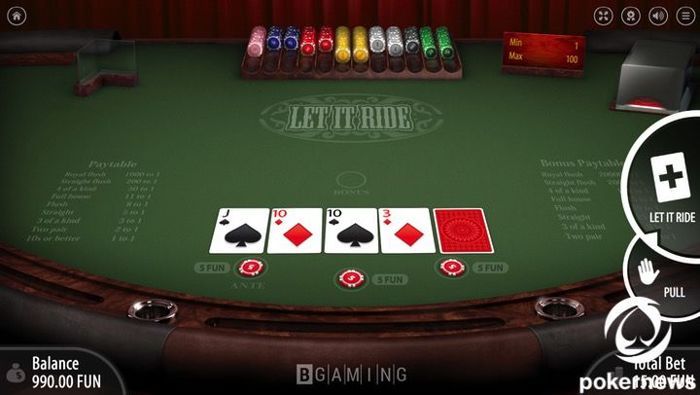 Here you need to make a decision on your second bet: you can forfeit it and get the whole bet back or you can Let It Ride and keep it in the game.
This choice is relatively easier for you. You base it on your three cards plus the fourth community card, meaning you already know ⅘ of the cards.
The Third Action of the Play
The dealer reveals the second community card and you complete your five-card hand.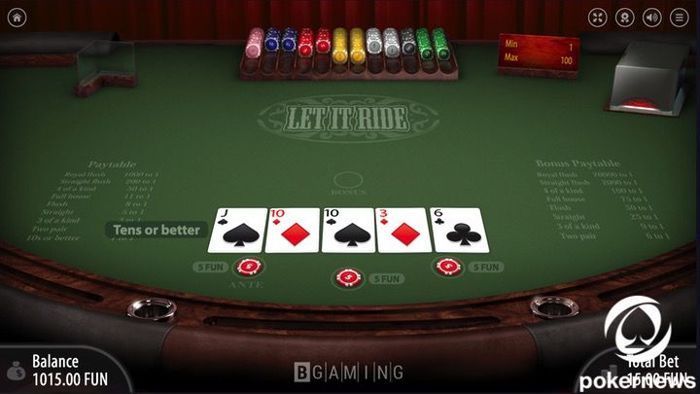 Differently from the earlier stages of the game, you can't withdraw your third bet - meaning you are stuck with it and you either win it or lose it.
How to Beat Let It Ride
As we have seen earlier, to beat Let It Ride you need to use the cards on the table to build a five-card card hand that features at least a pair of 10s.
Like in the video below:
**Spoiler Alert: I WON!**
Being Let It Ride a poker game, the hand ranking is the same as in traditional poker games like Texas hold'em and Caribbean Stud, a game that is said to have inspired the creation of Let It Ride.
In case you are far from being a poker pro and you need some help to remember what-is-what in poker, here's a table to recap all the winning poker hands in Let It Ride.
| | |
| --- | --- |
| Royal Flush | |
| Straight Flush | |
| Four-of-a-Kind | |
| Full House | |
| Flush | |
| Straight | |
| Two Pair | |
| One Pair | |
| High Card | |
Let It Ride Official Paytable
Let It Ride is a proprietary game owned by Shuffle Master Gaming (the same company that manufactures most of the shuffling machines you find at Casinos), so the game comes with the same payout schedule regardless of where you play it.
Whether you play Let It Ride at a Casino in Las Vegas, at the glamorous Monte-Carlo Casino, or on a Let It Ride site online, the game pays always the same.
Here's the full Let It Ride pay table:
| Hand | Payout |
| --- | --- |
| Royal Flush | 1,000-1 |
| Straight Flush | 200-1 |
| Four-of-a-Kind | 50-1 |
| Full House | 11-1 |
| Flush | 8-1 |
| Straight | 5-1 |
| Three-of-a-Kind | 3-1 |
| Two Pair | 2-1 |
| Pair of 10s (or Better) | 1-1 |
Understanding the House Edge
People who play Slots and Craps love to play Let It Ride for two reasons: it's an easy card game to learn and it promises huge payouts.
While the simplicity of the game is real, I believe something more need to be said about the winning odds in Let It Ride and the possibility you have to beat the game and put together one of the massive wins the pay table seems to suggest
Let It Ride is a card game that gives you the illusion to be in control (you can forfeit two bets out of three) - but it also forces you to keep one bet on the table regardless of the cards you are dealt. And that is not always a good thing.
In terms of house edge, Let It Ride gives you better winning odds than Caribbean Stud, Craps and American Roulette - but it's not as good as Blackjack, Baccarat, and the best Video Poker machines.
Best Games of Let It Ride Online (Real Money and Free)
Wild Tornado is, hands down, the best casino site to play Let It Ride online in 2018.
You can play Let It Ride for free (with no registration required) as you can also opt for some exciting real money games if you decide to try the real deal.
This is the only online Casino where you can play Let It Ride to win bitcoin, meaning you get to add the excitement of the world of cryptos to one of the best and most rewarding card games you can play.
Click here to visit Wild Tornado (link opens in a new page)
Need a Bonus to Play Let It Ride?
If you don't have an account at Wild Tornado yet, you can play Let It Ride online with a bonus of up to €300 / BTC 0.03.
This offer is available only to new players and includes also 150 free spins to play real money Slots on the site.
>> Click on this link to claim the bonus.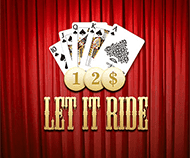 Finding a trustworthy room to play online poker can be a monumental burden. That's all the more true if you're just looking for a place to play poker for free. We've listed five of the best play-money poker sites to enjoy and help hone your skills.
The promotion presented on this page was available at the time of writing. With some Casino promotions changing on daily basis, we suggest you to check on the site if it still available. Also, please do not forget to read the terms and conditions in full before you accept a bonus.