Mega Moolah Slot Machine: How to Win the Jackpot

Ruta Rimkiene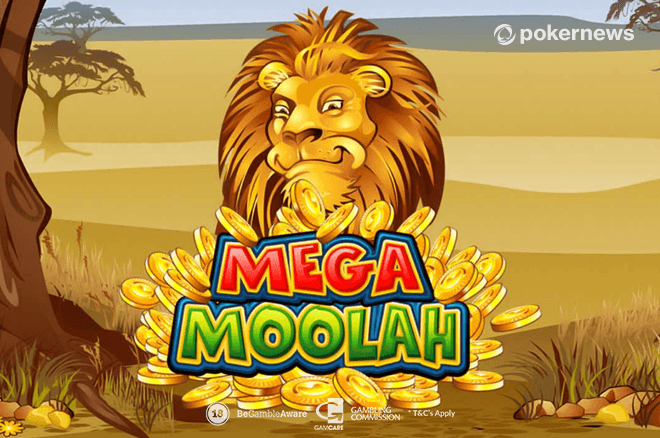 Mega Moolah is one of the most popular Slot machines of all time
Thousands of players try to win the progressive Jackpot every day
The largest win in the history of the Mega Moolah Slot is a €18,9m Jackpot
An all-time classic Casino Slot doesn't always come loaded with a massive progressive Jackpot, but when it does… it's Mega Moolah.
In fact, this gem of a Slot offers four progressive Jackpots that you can hit anytime.
Read this Mega Moolah Jackpot game review to find out, whether this is the Slot you'd like to try out for yourself.
Mega Moolah Slot: The Review
I want to get one thing off my chest as soon as possible:
Mega Moolah is one of the ugliest Slots I've ever seen. It's on par with another artistic disaster, Bush Telegraph.
Both were created by Microgaming way back in the early 2000s, and it shows.
However, this didn't prevent Mega Moolah from becoming one of the most popular Slots of all time.
It only means that this Slots game was good enough to withstand the test of time despite its simplistic looks.
And that's more than impressive.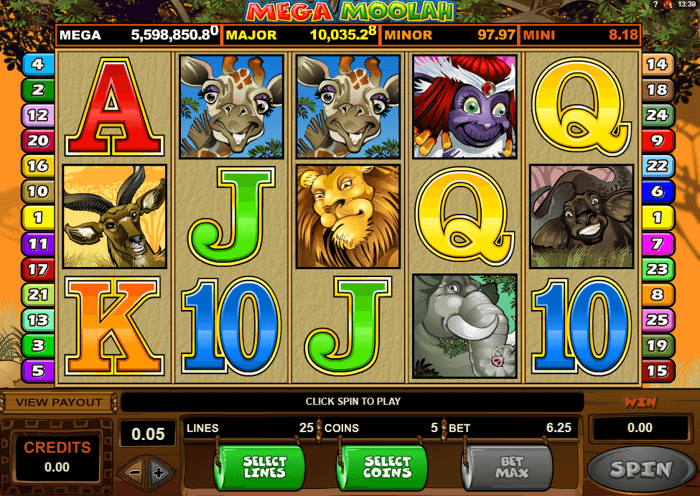 How to Play Mega Moolah Progressive Jackpot Slot
Even though you can find a demo version of nearly every Slot machine on the internet, it's not the case with the Mega Moolah game.
You have to play it for real money, and there's no way to go past it.
Luckily, the bets of Mega Moolah start from a single penny, so you don't have to spend a fortune just to see, whether you like the game or not.
So, open the Slot right here, and do this:
Set the coin value (0.01-0.05)
Adjust the number of lines (1-25)
Set the coin number per line (1-5)
Then, all you need to do is to check the total bet and click the Spin button. It's that easy.
Keep in mind that the lowest possible bet on the Mega Moolah Slot is €0.01.
However, this is only possible if you bet on a single payline, which, in my opinion, is just a waste of time (unless all you want to do is to try out the game for a little).
So, the minimum actual bet is €0.25 - you will get this number if you set the coin value to 0.01 and leave the lines at 25. This way, you are much more likely to trigger the bonuses.
Now, the maximum bet of this progressive Slot is €6.25, which is quite a low one in comparison to other Slot machines online.
But that's a good thing even if you're a high-roller. Because the more times you spin the reels, the bigger the chances to trigger the Jackpot.
And who wouldn't want that?
Let's Check Out the Mega Moolah Bonus Features and Payouts
Even though the Jackpots are the main attraction of the Slot, let's not forget that the regular symbols can also give you some satisfying payouts.
Below, you can see a table with all the payouts in their coin value.
Here, the animals will give you the highest rewards, while the letter symbols will result in more moderate wins.
The lion here is the Wild symbol, and it can substitute for all the other symbols except the Scatter.
And here's the best part:
All the wins that contain the lion Wild are doubled. That's quite an unusual feature, and I like it a lot.
Then, we have our Scatter symbol - the wise monkey.
Collect three, four, or five of them and enjoy your round of 15 free spins.
Oh, by the way -
The game triples all the wins that result from the free spins.
The creators of Mega Moolah really love their multipliers, don't they?
The Jackpot Bonus of Mega Moolah
Now, let's discover the best Slots bonus of all time -the progressive Jackpots of Mega Moolah.
The most important thing you should know is this:
The Jackpot bonus can be randomly triggered with any spin.
When this happens, you get a mini bonus game with a Jackpot Wheel. Spin the wheel to find out, whether you've won the Mini, Minor, Major, or Mega Jackpot, with the highest one being guaranteed at a minimum of 1,000,000 coins.
And the reason so many players keep returning to Mega Moolah is very simple: the money keeps going up.
Each time a player does not win the progressive Jackpot, it increases - until, at some point, someone scoops an amount that can often result in millions of coins.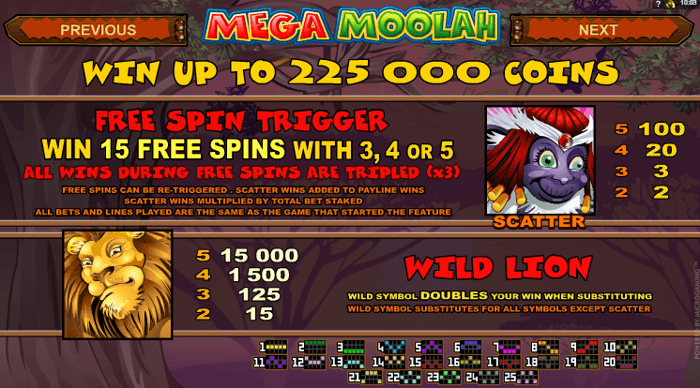 Are There Any Tips to Win the Progressive Jackpot on Mega Moolah?
First things first:
Keep in mind at all times that Slots are pure games of chance, and it's impossible to predict the outcome of a spin, no matter what you do.
That being said, it's possible to maximize your chances of hitting the Jackpot at Mega Moolah.
How?
By betting higher.
You see, even though the Mega Moolah Jackpot can be won at any random spin, your chances to do so increase together with the bet.
However, I'm not telling you go to over your budget. Quite the contrary.
You must stick to your bankroll when playing any Casino Slot, but this is especially true with Mega Moolah.
The cash incentives to keep on playing until the bitter end are huge, but Slots are not just about chasing the wins - they're about doing it in the right way.
If you have €50 to spend on Casino gaming in a week, or €500, or whatever, be tough with yourself - don't go above this amount.
Remember that with Mega Moolah, you're playing a high-volatility Casino Slot, and so if you pump in more than your budget, you're being played, rather than playing.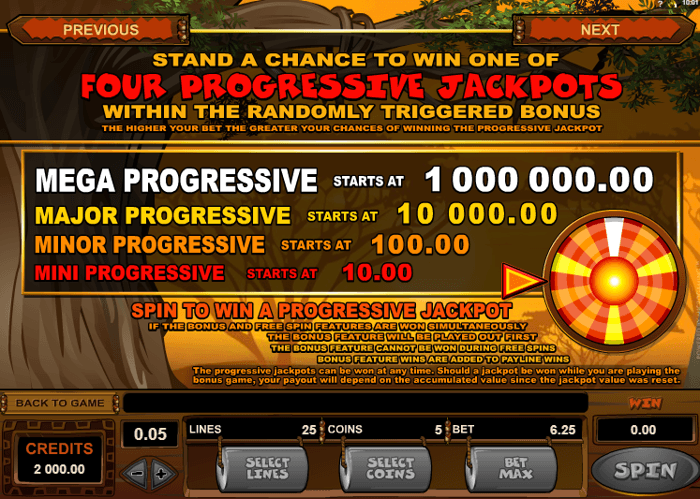 Summary
In 2015, Jon Heywood decided to check what the Mega Moolah Slot machine had to offer, and he got back a heart-stopping amount - €17,880,900!
And all of this came from a bet of €0.25.
This, obviously, is a particularly huge win, and you shouldn't expect it to be so easy for you to win the progressive Jackpot, but it does quite clearly illustrate that it is possible and that this progressive Jackpot is not, by any means, a scam.
However, there is an RTP of 88.12 percent on the base game of Mega Moolah, and this isn't especially high when you look at other rival Casino Slots.
Why is it still worth playing, then?
Because you can't tell everything from looking at the RTP.
Some high-RTP slots offer a string of smaller prizes to players to keep them coming back, and while this gives us all the rush of adrenaline from knowing that winning is possible - even likely - it isn't always the most constructive use of your time if you're trying to win the major prizes.
A lower-RTP Slot like Mega Moolah may not deal out winnings on such a regular basis, but when it does, they're often significant.
| | |
| --- | --- |
| Name | Mega Moolah |
| Developer | Microgaming |
| Year | 2006 |
| RTP | 88.12% |
| Coin size | 0.01-0.05 |
| Lines | 25 |
| Coins | 1-5 |
| Min. bet | 0.01 |
| Max. bet | 6.25 |
Finding a trustworthy room to play online poker can be a monumental burden. That's all the more true if you're just looking for a place to play poker for free. We've listed five of the best play-money poker sites to enjoy and help hone your skills.
The promotion presented on this page was available at the time of writing. With some Casino promotions changing on daily basis, we suggest you to check on the site if it still available. Also, please do not forget to read the terms and conditions in full before you accept a bonus.