Odin Slots: Play Slots with the God of War!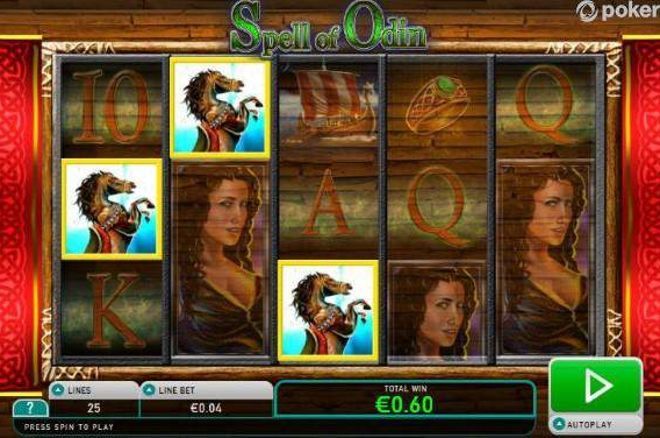 These Odin Slots are an excellent way to dive deep into an exciting Nordic adventure
The games RTPs are of 95% (Spell of Odin) and 95.5% (Odin and Frigg)
Who doesn't love the epic atmosphere and powerful narrative of Norse mythology?
Spell of Odin by 2By2 Gaming and Odin and Frigg by ReelINRG embrace some of the most enchanting stories of 'the Cold North' and bring you to a exciting adventures in a world where only the bravest and strongest survive.
Both these Odin Slots feature the powerful and mighty God of War, which, as you'll see, is represented by the slot's overall design, especially in its weapon-wielding symbols.
Expect to see many of the symbols found in Nordic mythology in the process, from beautiful demi goddesses to viking longboats and horses.
Free Spins and other special features are hidden away- it's up to you to catch them. Enter the dark reels and begin your journey through the smokey paylines to find out which charms await you.
Spell of Odin Slot Review
Five reels support three rows of symbols
25 paylines across the reels
Wager from £0.01p to £100
Developed by 2by2Gamning and made available by casino provider Microgaming, the 25-payline, five-reel slot comes with duplicating stacked wilds, along with a bonus of up to 24 free spins with three modifier extras.
Enter this exciting world with a minimum bet of £0.01p per spin, and if you're up for some real adventure, that per-spin wager goes right up to £100.
The game is more than simply an ode to Nordic mythology, however. With numerous bonus features and high potential, you can turn your luck into an increased account balance with the spell of Odin on your side.
Oh, and there's a thunderous soundtrack spurring you on, providing an epic feel that's appropriate to the action on the reels.
Special Features
The reels' symbols include playing cards ranging from Ace to 10, as well as a Viking longboat, a gold ring, a bucking horse, and three warrior women, with the latter each taking up multiple symbol spaces.
These women are fighting on your side, though, as you need just two to win. The blonde warrior is particularly lucky for you- if you land her five times, your payout is 800x that of your line wager.
As you might have guessed, the powerful Odin represents the wild.
Odin appears only on reel three, but when he does appear, the stacked symbol duplicates and turns another reel entirely wild.
The bonus is represented by the sword and shield. If you land three of these on any reels, you'll activate the Spell Free Spin Bonus feature.
You'll be rewarded for it in the form of 12 bonus spins that come with one of three modifier extras.
The three modifier extras are:
Multiplier – Each win is trebled and comes with a 3x multiplier
Easy re-activate and wild – Free spins played via new reels, with much-improved odds of landing the Odin symbol and re-activating those free spins
4x multiplier
No matter the option you choose, there will be opportunities to re-activate those free spins, which mean that you could find yourself with a generous 24 free spins to play with.
You'd just need to land the scatter again to re-activate those spins.
The easy re-trigger might be the best one when you're new to the slot, but there's not much in it, as there are advantages to each of the three options.
Odin and Frigg Slot Review
Seven reels support four rows of symbols
25 paylines across the reels
Wager from £0.01p to £40
The Norse theme continues with the introduction of Odin's wife, Frigg the Queen of Asgard in this second story-driven slot.
Spin those ice-cold reels and find out if luck is on your side in the seven-reel, 25-payline Odin and Frigg.
You'll be able to bet from as little as £0.01, so you can literally start as low as you want while you're getting your Nordic feet wet.
Once you feel confident to increase your bet, you can increase it all the way up to £40.
Special Features
If it's special features you like, you won't be disappointed in Odin and Frigg. Besides the Free Spins, there's the Odin Goes Wild Feature, Frigg's Generosity Gift, and Wild Substitutions.
The Frigg can be featured randomly at any time. The same goes for the Odin feature, which can see any wilds on the reels be replaced by sticky wilds, and which only increases your chances of winning.
If you get full free spin symbols (either 3x3 or 4x4) on the reels, you'll trigger the bonus round, which guarantees either nine or 16 free spins.
Which one you get depends on which symbol triggered the free spins. You can also acquire additional free spins if symbols appear partially or wholly on the reels during the round.
The Main Special Features:
Fee Spins
Odin Goes Wild
Frigg's Generosity Gift
Wild Substitutions
Final Thoughts
The realistic graphics and energetic soundtrack both fit perfectly with the Nordic theme and complement the action well, putting you firmly in the middle of the action.
Spell of Odin is full of atmosphere and drama, the entertainment is spot on, and there are some nice opportunities to win throughout.
And you'll get used to the random bonuses in Odin and Frigg, for sure; especially seeing as they give you a good chance of success, as will the free spins bonus.
Now whether it's Spell of Odin or Odin and Frigg you like the sound of the most, head over to this gaming site and start spinning the reels of these exciting Odin slots.
Countless people love Norse mythology, so join them and see what all the fuss is about. The power of Odin is on your side.
The promotion presented on this page was available at the time of writing. With some Casino promotions changing on daily basis, we suggest you to check on the site if it still available. Also, please do not forget to read the terms and conditions in full before you accept a bonus.