Treasured-Themed Slots for Free: Which are the Best for Fortune Hunters?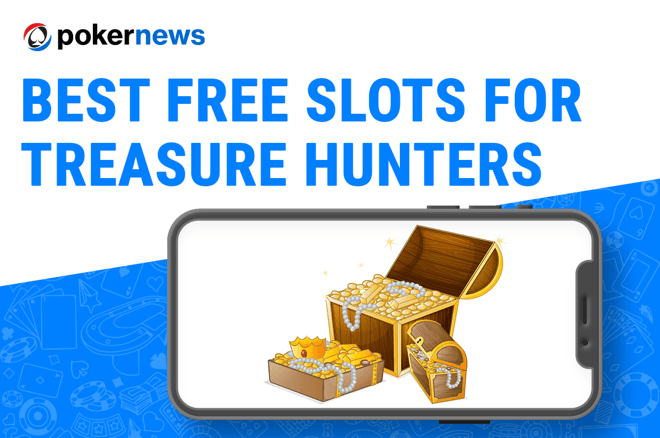 Ancient civilisations are endless sources of fascination for modern-day people, and it's interesting to look back at how our ancestors of thousands of years ago lived.
The mysterious times have been represented in entertainment regularly over the years and are often used as inspiration for slots. Indeed, ancient themes that involve artefacts and treasure are among the most popular genres on the reels.
There are plenty of treasure-themed slots out there for you to choose from if you're in search of some free online games, and the one you pick may depend on what your favourite era is. For example, there are games about the Aztecs, the Egyptians, and many more.
Check out this guide for some of our top recommendations of treasure slots free online.
Aztec Treasure
Aztec Treasure free slots are one of the standout treasure-themed games at social casinos, and it features the iconic style of the architecture and culture of the time. It's a simple offering, and it won't take long for you to get used to spinning the reels and racking up wins across the 20 winning play lines.
Mighty Montezuma
If Aztec themes are your thing, Mighty Montezuma is another title that takes you back to that period of Mesoamerican history. You'll see all the classic architecture on the reels, along with gold and treasure. This is one of the games advertised on the home page, so it clearly is a major draw for players.
Fu Man Fortune
If eastern ancient civilisations take your fancy, you'll want to have a go at Fu Man Fortune. This is a Chinese-themed game with treasure adorning the whole playing area. It even gives you the chance to win progressive jackpots.
Mayan Gold
The Maya civilisation is one of the oldest and most mysterious of all the ancient peoples of the Americas. The ancient Mayans were known for their grandiose buildings that included palaces and pyramid temples.
The Mayan Gold slot game reflects the opulence of the time, and you'll enjoy spinning the reels in search of their ancient treasures.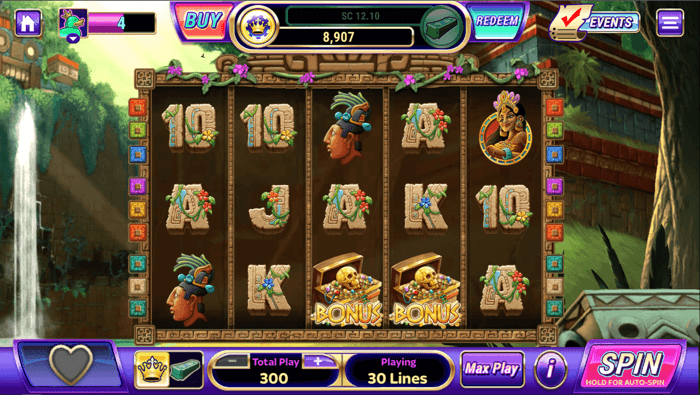 Glorious Egypt
There are loads of free slots of Egyptian treasure out there for you to choose from, and it may be a case of trying a few out to see which one is your favourite. One of the best pharaoh treasure-free slots is Glorious Egypt, which is a simple 10-winning play lines offering. The main appeal of this game is the famous historical figures on the reels, including the legendary Egyptian queen Cleopatra.
Where to Play the Best Treasure Slots for Free
If these treasure-themed slots sound fun, there are plenty of places to check them out for free. At the sites listed below, you'll also find several other slot games that fit with these ancient themes. You don't need to use any of your own money to play either, with each of these sites using its own in-game virtual tokens.
Slotomania
The number one place to enjoy slots like these, among many others, is Slotomania. If you join using our link, you'll get one million free Gold Coins, which is a great way to get started. You'll also be awarded daily bonuses to use on the myriad games on the site.
There are millions of players on this site, which was established more than ten years ago. It always gets the newest games first, so this is a top spot to look for all your favourite genres.
House of Fun
House of Fun is a social casino that's booming in popularity in 2022. It's modern and sleek and home to an incredible team of its own slot developers. That means that some of the games found here are completely exclusive to the site. You'll find numerous treasure-themed options, and the vast amount of choice means you'll never be bored.
LuckyLand Slots
LuckyLand Slots is a retro-themed social casino with plenty of great incentives for you to play. One of the biggest draws here is the fact that you'll be eligible to redeem real prizes by using your Sweeps Coins. We've given this one a high rating thanks to its superb selection, along with all the games being free to play.
Chumba Casino
Chumba Casino is one of our top-rated social casinos, thanks to the sheer variety on offer. Along with slots, it has video poker and roulette, which appeals to a wide range of players. There are more than 100 games to choose from, including some gold-laden ancient themes for treasure hunters.