LA Poker Classic - Event #10 - $1,000 No Limit Holdem - Final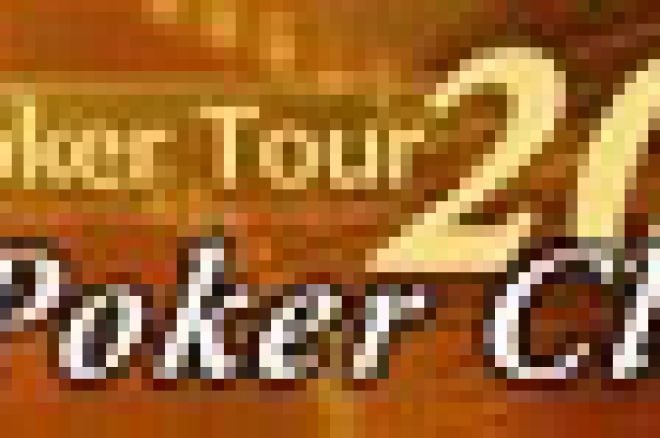 With the biggest crowd on hand yet for an La Poker Classic Event, and poker's # 1 celebrity fan Tobey Maguire watching from inside the ropes, this was the first event of the LA Poker Classic that felt like, well, an 'event'. A first place prize of $146,000 helped to add a feel of importance to the event.
Ten players had hacked their way through 397 other opponents to make it to this final table. The combatants had been up to 7:30 this morning fighting to get to the final table. Red Bull, and coffee were prevalent at the table, and many a yawn was seen, but the play was anything but boring.
The exits began with Amir Vahedi getting lucky to win a smaller pot (Amir would get lucky to save himself with a chop for all his chips later – more on that in a while), when Kin Y Lee was left asking why(?) after he moved in with 10 9 into a board with 7K9 on board, all three diamonds. Amir had a 7, and the 10 of diamonds and called. The turn was a 7, giving Amir trips, and tripping up Kin. The river was no help, and Kin Y Lee finished 10th place, and collected $4,737.
The next unlucky fellow was Aram Zerouanian. Aram called Airy Phanhyaseng's early position raise from the button with…2 5. After the turn, the board read 2992, and Aram had made a full house. Aram moved his chips in, only to find out that he had made the 'sucker' end of the full house if you will as Airy called immediately with A9. Aram was dead to a single deuce, which was not the next card off, and Zerouanian had zero chips in front of him. Zerouanian did, however, now get to go to the desk, and pick up his $6,317 for 9th place.
Some gamesmanship followed, as Airy, and Chuck Pacheco got into it. Pacheco, the founder of Castle Rock Entertainment (Tobey Maguire was here to cheer him on) was not entertained at Airy coming over the top of him a couple times. On the next hand that the two tangled in, Pacheco actually moved in dark before the turn, causing Airy to fold just as the turn card was hitting the felt.
The next exit belonged to Mike Lee. Mike has had a good week, as this is his second final table of the LAPC. Mike opened with a raise with not a lot of chips left. Airy re-raised Mike all in, and Mike felt pot committed, and called with A6. Airy had JJ, and there was no three outer for Mike, who left dreaming about what might have been, and taking home $7,896 for 8th place.
We have all seen the 'All in specialists' at work in No Limit tournaments. These are the guys who have one move, and one move only, which is to move all in. "One Move" Wayne Chang had moved in four or five times throughout the course of the final table, and you could see it was getting to some of the other players. Finally, Wayne moved all his chips in, and Russ Hendricks woke up with 99 in the big blind, and called him. In the prior days play, Russ had called one of Wayne's moves with KK, only to be crushed for 2/3 of his chips as Wayne out drew him with an Ace. But, there were no Aces, or Jacks for Wayne this time, as his next move was out the door. Wayne Chang finished 7th place, and picked up $9,870 for his all out efforts…actually, make that his 'all in' efforts.
Charlie Huynh had not had a lot of luck this day. So, it was no surprise when he raised with Q9 into a board of K 10 4 J, that Amir moved in on him. Charlie knew what was coming, but reluctantly called Amir's raise. Indeed Charlie had made the sucker straight, and Amir was sitting on Broadway with AQ. No Ace for a chop, and Charlie was sent packing, with a paycheck of $13,818 for 6th place.
There were two pots that really shaped this final table, and the next pot was one of them. Russ Hendricks had been playing really well the whole day, and had picked "One Move" Wayne off, and built himself quite a stack. He got into a pot with Loi Phan where all that positive momentum came crashing down. Russ, holding J8 (no hearts) made two moves into a board of J 10 4, all hearts. Russ had re-raised Loi a couple times, and there was a massive amount of money in the center. Loi moved in after the turn was a 10 of clubs. Russ must have put him on a bluff, or a flush draw, as he called Loi. Loi had QQ, with the Q of hearts, and only a miracle Jack could save Russ. No Jack came, and Russ was out in a flash. Russ Hendricks finished 5th place, and collected $17,776. The really scary part about this for the other players is this was a 210,000 chip pot, with only 600,000 chips in play. Down to four, and Loi Phan had almost half the chips in play.
Once down to four the players spoke briefly of deal, and then decided to play on. Next came the hand of the tournament. Loi Phan was holding A 7, Amir A 4, the board read A 10 A, each man was trying to extract maximum chips out of his opponent, and I must say Loi played the hand brilliantly. Especially when the turn was a 7, Loi had made A's full of 7s, bet out, and got Amir to move in. Loi called in a flash, and turned over A7…….but this IS poker, and the river was a 7, giving Amir a chop pot (the best thing he could have hoped for), and sending Loi into a flying rage. Shoes, cups, and several choice words were flying around the table, as Loi could not believe the poker gods would treat him this way. A wry smile is all Vahedi could manage, knowing that the river card probably saved him $40,000, or more. If the river was a blank, Loi would have had over 400,000 of the 600,000 chips in play.
Once Loi had calmed down, talk of a deal resumed, as all the men realized their fate wasn't necessarily in their own hands. The talks of deal got heated at times, as Amir had a figure in mind that the others did not. Finally, after being warned twice to resume play (and actually putting blinds, and antes out twice), the four remaining players struck a deal.
As always happens in these things, once the deal was struck, things loosened up a lot, even though part of the deal included playing the tournament out for the trophy, and a significant amount of cash. At the end of the day, the guy who was hiding in the weeds all along, Airy Phanhyaseng took home the trophy, and the extra cash. The final results are below, and cash figures take into account the deal that was struck. We will just see which top players, or top Hollywood executives are at the final table of the $500 buy in NL event, where the winner will walk with over $125,000…for a $500 investment.
Final Results
1st – Airy Phanhyaseng $65,000
2nd - Loi Phan $88,000
3rd – Amir Vahedi $80,000
4th – Chuck Pacheco $47,000
5th – Russ Hendricks $17,776
6th – Chong 'Charlie' Huynh $13,818
7th – Wayne Chang $9,870
8th – Mike Joon Lee $7,896
9th – Aram Zerounian $6,317
10th – Kin Y Lee 4,737