LA Poker Classic - Event #13 - $1,000 buy in 7 card Stud Hi/Lo - Final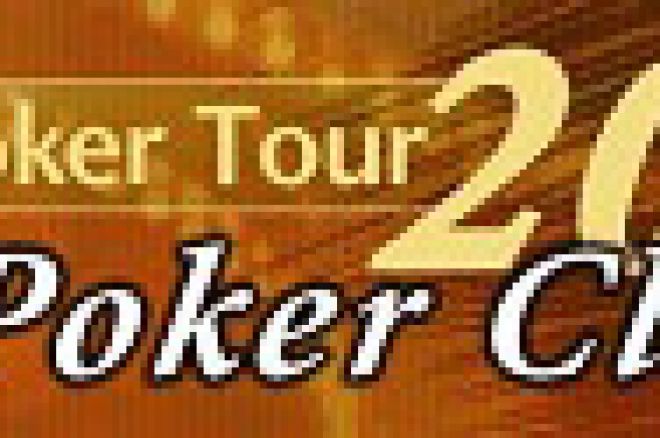 The Stud/8 final table was placed right in the eye of the storm. The final table for event 13 of the LAPC was wedged in between the tables for the PPT event, and the overflow tables for Event # 14 ($1,000 Limit Holdem – read about it tomorrow) and near the area where the Super Satellite for the main event was being held.
With players from three different events, dealers, floormen, media, and WPT production people swirling around this final table, I was actually impressed that the participants could keep their focus. This will be hard to believe for anyone who had been in the massive ballroom at the Commerce Casino, but there literally was no other place to put this final table. Any kind of barrier, velvet rope, or security boundary was being used to rope off the PPT area from the spectators, so the Stud/8 players had no choice but to grin, and bear it.
This didn't seem to bother the participants, two of whom were in the PPT event also. Both Paul Darden, and Scott Fishman were multi tasking, and playing in both events. Darden would spend his breaks, and any downtime at his PPT table. In fact, the PPT event would have a big influence on how this tournament would end.
On to the actual game play though...Alex Papachatzakis was the first one to leave us at this final table as he was the second short stack, and had to make a stand early. Alex found a pair early, and chose to ride it out. Unfortunately, Paul Darden made two pair, and Alex P. made a hasty retreat. Alex Papachatzakis finished 8th place, and picked up $2,408.
Steven Metzger, who was actually a couple minutes late because he couldn't figure out where the final table was being held (totally understandable in the chaos) was the next player to leave. Steven paired up on 6th, and 7th street and was left standing in the street after Scott Fishman scooped Metzger's remaining chips with a flush. Steven Metzger finished 7th, picked up $3,608, and fought his way through the crowd to go cash it in.
At one point, Brian Goddard, an...um....let's say "amped up" former Marine doubled through Scott Fishman, and went to high five Fishman so hard, he about knocked Scott out of his chair. Goddard was so...um.... "amped" that the floorman actually came over, and tried to calm the situation.
When things calmed down a bit, it was time for Ken Steinberg to leave. Steinberg was sitting next to Goddard, so while he wasn't happy about busting out…he wasn't completely unhappy either. Steinberg's demise happened at the hands of Goddard. Brian made trip sevens, and all Ken could manage was two pair. Ken Steinberg finished 6th place, got quickly away from the table, and went and picked up his $4,811 for sixth.
Next out was George Shahrezay. It should be noted that George started the day with only 2,400 chips, and was outchipped by the average stack 10 to 1, and outstacked by the chip leader over 25 to 1. So, I think George should be happy with the rally he put on. George was not happy, however, when Darden and Goddard both stayed in with him all the way to the river, and shut him out by chopping a very large pot. George Shahrezay finished 5th place, and picked up $6,016.
The next hour could be called the Paul Darden show. Paul played brilliantly, and really was running the table. There was a point when Paul had close to 100,000 of the 185,000 chips in play, with three other players still at the table. Paul was making all the right moves, and showing why he is regarded as one of the top Stud players in the world. But, Paul's mind was beginning to wander. During a break, he played some hands over at his PPT seat, and realized that he couldn't keep doing both, and if he wanted to survive in the PPT event he was going to have to cut a deal (something he generally doesn't do).
Scott Fishman was not into the idea of a chip count deal, so the table played on. But, play lasted for only about another 15 minutes. Scott was soon sent to the rail as his trip deuces were no match for Darden's flush. Without hesitation, Scott left the table, and ran for his PPT seat. Scott didn't even bother to pick up the $7,938 he made for finishing 4th place, though I'm sure he will come back.
In a flash Darden looked at the other players, and proposed a chip count deal. The way the Darden had been playing, the other two players leapt at the chance. Final results are below. The top three figures come pretty close to where the deal was, but when I tried to find the floorman to get the exact figures, he had gone off to solve a PPT problem, or maybe it was a problem with the limit event, or maybe it was the super satellite, or....
Check in for tomorrow's event, which is $1,000 No Limit Holdem. As I left, players still in the event included TJ Cloutier (who busted out of the PPT in time to play in the event), and Spiderman himself, Tobey Maguire.
Final Results
1st – Param Gill $34,000
2nd – Paul Darden $29,000
3rd – Brian Goddard $12,028
4th – Scott Fishman $7,938
5th - George Shahrezay $6,016
6th - Ken Steinberg $4,811
7th – Steven Metzger $3,608
8th - Alex Papachatzakis $2,408