LA Poker Classic - Event # 16 - $1,000 buy in No Limit Hold Em - Final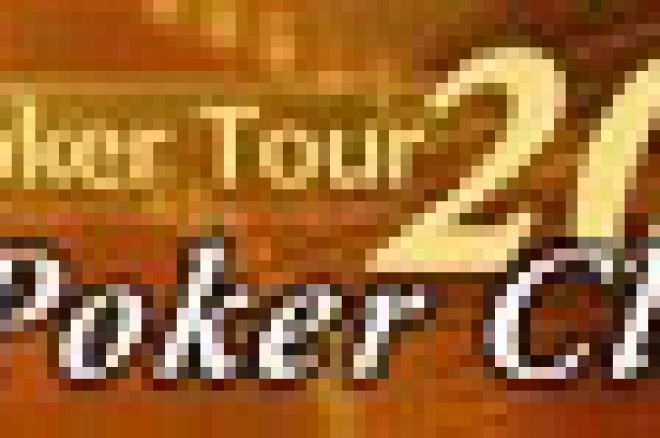 With over $350,000 in prize money to be paid to the players at the final table of event #16, it is understandable that play would be tight, if even a bit nervous at the start. Most of these players had never played for this type of money, and as a result, I think we saw two flops in the first 30 minutes of play.
Two players that had played for this kind of money, and been under this pressure before were Dennis Waterman, and Mark Seif. Seif, who recently was named as one of the announcers for the PPT, was in town to do his TV gig, but tonight he had a different job. Seif had done well for himself thus far, and was the chip leader at the start of play.
Eventually, we did see some flops, and that means some eliminations. The first out tonight was Bob Fulop. Bob moved in with AQ. Frank Sinopoli thought his A6 was good enough to call with. Bob really hated the Fulop, uh, make that the flop when it came 226, giving Frank a pair of sixes. The sixes held up, and Bob was headed for the door, finishing 10th place, and collecting $4,736.
Next up was Andy 'Coach' Lambo. Nick Mao opened the pot from under the gun. Coach looked down, and found A5, and chose to re-raise all in. Nick went in the tank for a while and called an audible on the Coach. Nick flipped over the 67 of hearts, and was behind until a river 6 sent coach to the showers. Andy Lambo finished 9th place, and picked up $6,301.
Steve Simmons started the day with 1/2 the chips of anyone at the table. He survived a couple all ins, and wound up having about 6,000 chips, and on the next hand he would have had to post a big blind of 3,000. So A9 looked pretty good to give it a try under the gun. Frank found a pair of 7s, and decided to call. Steve lost his coin flip, and got up, having survived two other players, and collected $7,876 for his 8th place finish.
Much like an earlier event, one thing notable about this tournament were some of the eliminations happened when the SB moved in on the BB after it had been folded around. The next elimination occurred in that exact manner. Paul Pirrone thought his K8 of hearts would buy him the blind if he moved in, and move in he did. The flaw in his plan was that Chris Fargis woke up with AJ, and called. The first card off the deck was an Ace, and Pirrone was off the table. Paul Pirrone finished 7th place, and garnered $9,846.
The next pot proved to be the pot of the tournament. Mark Seif opened from early position for $12,000. Chris Fargis re-raised the bet to $36,000 from the SB. Seif, who had Fargis covered immediately announced all in. The words all in were barely out of Seif's mouth when Fargis uttered 'call'. Seif knew he was in trouble when he flipped over AQ. Fargis had AK of clubs, and Seif was drawing slim. Slimmer by the minute as the first card off was a K, and Seif got no help from the rest of the board. Chris Fargis at this point took down a $210,000 pot, and was the clear chip leader at the table. This left Seif pretty short, and pretty angry.
At this point, Waterman started needling Fargis about the fact that Fargis literally looked 17. Fargis produced an ID, and threw it across the table at Waterman. To everyone's surprise, not only was Fargis not 19, he was 26. Ironically, Shant Shahkarami spoke up and said 'he's older than me'. Shant was 23, and looked 28. The table knew they now weren't going to get out on a technicality, and play resumed.
Not long until the inevitable happened for Seif, as he moved in from the SB with 67 of spades. Oops, Dennis Waterman woke up with KK in the BB, and put Seif to sleep. Mark Seif finished 6th, and picked up $13,784.
At this point, Captain Tom Franklin came in to assume the announcing duties from tournament director Cheri Dokken. Tom made a few cracks, but didn't have much time to announce.
Because several hands later, Nick Mao made a button move with K10 of diamonds. Frank Sinopoli thought for a while, and called with A2. The board was all little guys, and Nick Mao was free to go. Nick Mao finished 5th place, and picked up a nice payday of $17,722.
At this point it was clear the tournament was going to end. All four players knew that with $281,000 left to split, and 4th place money only being $23,000, a deal probably made sense given that there were no super short stacks. Less then ten minutes later, everyone was smiles, shaking hands, and congratulating each other. The only burning question remaining was whether chip leader Sinopoli would take his photo with the trophy wearing sunglasses, or not. He chose to take one both ways, and we were done for the night. Final results are below. Check back tomorrow, as another $400,000 final table prize pool will be up for grabs. Also, today starts the $1,000,000 guarantee $1,500 rebuy limit event. Get down there!
Final Results
1st - Frank Sinopoli $84,000
2nd - Chris Fargis $79,000
3rd - Shant Shahkarami $66,000
4th - Dennis Waterman $52,579
5th - Nick Mao $17,722
6th - Mark Seif $13,784
7th - Paul Pirrone $9,846
8th - Steve Simmons $7,876
9th - Andrew Lambo $6,301
10th - Robert Fulop $4,726