WPT - World Poker Challenge, Reno - Day One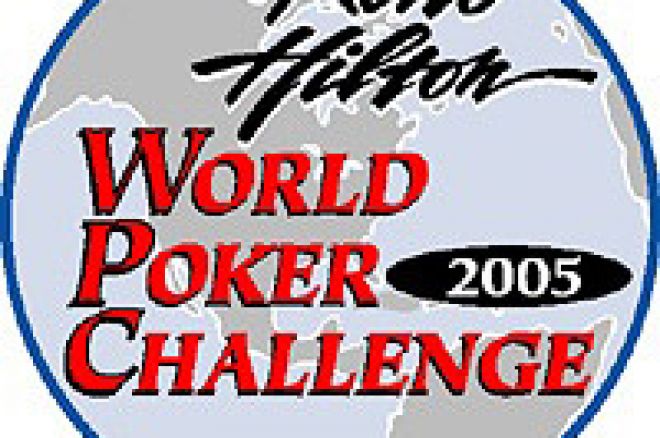 I have had this date marked on my calendar for a couple months. Why, you ask? Because I like Reno? Don't be silly. Actually, before you write the e-mail….Reno is fine…biggest little city in the world, Y'know.
Anyway, I marked this event on my calendar, because I felt this would be a good indicator of where the top players heads were at with respect to the 'glamour' events, and how many of them would make it out. The fact that Reno is "only" a $5,000 event, and not the most central place in the US made me wonder how many of the top guns we would see at this event. It is a WPT event, so there is the lure of TV coverage, yet still I wondered how many faces I would see.
My curiosity lasted about thirty seconds as I spotted Hellmuth upon walking into the hotel lobby. Forty-five seconds later, there's Phil Ivey. OK, obviously my concern that this would not be a star-studded event with its share of Phils was unfounded.
The event got off to the usual start of highly organized chaos. I was pleasantly surprised to see & hear something I haven't heard in years at a poker tournament…the national anthem. Everyone was into it, and it was nice to see, and to hear…
All in all this year 361 players put their $5,000 down to compete in this event. This is up only slightly from the 344 figure from last year. The prize pool is $1,725,000, and the winner will get a cool $638k, plus the WPT Championship seat, worth $25,000.
Time to get down to poker, though as the "my seat isn't warm yet" award AND the bad beat of the day award goes to the same guy…Paul Darden. Paul got all his money in with KK, and was out flopped by a gentleman holding 66. The six on the flop meant Darden didn't even have to unpack his bag, as he was on his way back to the airport.
Another candidate for bad beat of the day goes to Jennifer Harman, who after flopping two pair was called, and her caller proceeded to hit running sixes for a set, despite being dead to runner runner on the flop. Jennifer took it with a smile, and actually did an interview upon her departure.
"Oops, I did it again" moment of the day. At Phil Laak's table, a very nice but very confused dealer burned a card, then rolled off an 8 9 10 flop with two clubs. One player barked out "All in", every other player at the table said "CALL". One problem. The dealer hadn't dealt anyone any cards prior to flopping the cards. The best part was the dealer actually looking out to the chips to start figuring side pots before she realized her mistake.
Speaking of Phil Laak…On the very next hand after the dealers "premature flopulation", Phil was out as his AQ out flopped his opponents 77, but a 7 on the turn sent Laak, and his hoodie home.
This tournament is moving along at a crazy pace, as we have well over half the field out by the end of level five. That's an average of one player out every four minutes or so…Or to put it another way, if each table is playing an average amount of hands per hour…its about one player out per hand. Think about that.
The crowd favorite was the table that held both David Williams, and Phil Ivey. Both men were in excess of 40,000 chips, and were tangling once or twice an orbit. So many spectators came over to watch, they had to be moved back by security after players at neighboring tables complained. Dan Harrington was also at this table, and staying well away from the Ivey/Williams battle, thank you very much.
Current POY leader Michael 'Grinder' Mizrachi lost his last longer bet…to his wife Lily. Something tells me diaper changing was involved in the bet (they have a baby…don't get any weird ideas). Grinder ran into Barry Greenstein's AA, and was sent to the parking lot, and off to diaper duties.
Notable exits on day one…Hellmuth, Daniel N, Esfandiari, Erick Lindgren, Kathy Liebert, TJ Cloutier, Josh Arieh, Ted Forrest, Juanda, Surinder Sunar.
Speaking of exits, the battle of David Williams vs Phil Ivey is over as Ivey hits a three outer with just a few minutes to play. Williams AQ, Ivey AJ…Ivey flops a Jack, and has a huge stack going into tomorrow. David doesn't get a Queen, and has tomorrow off.
Gavin Griffin, who was one of the biggest stacks on the board, as lost it all in the last few minutes, and is out. Wow.
So, going into tomorrow, we have 100 of the original 361 left. It was a crazy, fast paced day as players were busting out left, right, and center. 261 players out in 560 minutes of play….which means about an elimination every two minutes…consider that.
Here are the top ten, and selected known players chip counts....There are a lot of names I don't recognize in the field. Should be interesting from here on out.
Ken Ford 145,200
David Sax 120,000
Phil Ivey 99,000
Mike Kenney 98,600
Nemad Medic 95,700
Bill Duncan 92,600
Erik Alps 84,300
Steve Friedlander 82,100
Senthil Kumar 76,500
Eric Stovall 73,900
Allen Cunningham 66,200
Andy Bloch 55,100
Chris Tsiprailidis 54,800
Matt Matros 47,800
Dan Harrington 44,000
Susie Isaacs 42,600
Joe Awada 38,100
"Miami' John Cernuto 38,100
Tony Ma 35,800
Barry Greenstein 34,400
John Murphy 33,400
Harley Hall 33,300
Ted Lawson 33,100
Minh Nguyen 30,200
Shawn Rice 27,200
Noah Jefferson 26,000
Blair Rodman 21,600
Toto Leonidas 21,100
Stan Goldstein 21,000
Peter Costa 20,600
Hung La 19,600
Steve Brecher 17,900
Casey Kastle 15,300
Robert Williamson III15,200
Chris Grigorian 13,700
Chris Hinchcliff 10,900
Please visit our online poker room directory to see the best bonuses on the web!