Shaq At The 2005 World Series of Poker?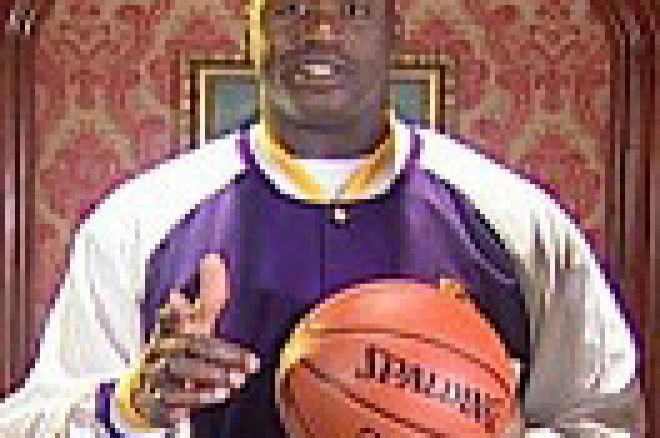 What do you do when you turn to the player who just raised you on your right and he is seven feet tall and weighs three hundred and fifty pounds?  Come this year's Main Event at the World Series, someone will find out.
Shaquille O'Neal celebrated his 33rd birthday in style last Friday night with a star studded bash in Miami.  Among the billionaires (Donald Trump), actresses (Vivica A. Fox) and other sports superstars (baseball's Sammy Sosa and Mike Piazza as well as O'Neal's Heat teammates Dwayne Wade and Alonzo Mourning) in attendance was current World Champion Greg Raymer and WSOP Director of Communications, Nolan Dalla.
The Miami Heat superstar and three time NBA Champion was given a year of poker tutelage from Raymer as well as a complimentary $10,000 seat at the Main Event of the World Series of Poker, courtesy of PokerStars, once he completes his "boot camp" under Raymer's tutelage. "We were thrilled to be invited to join Shaq's friends and family for this intimate gathering," said Dalla during the festivities. "It was a great way for us to come together with many of our celebrity poker fans and wish someone who continues to give us truly memorable basketball a very happy birthday."
The bash also included poker games for the guests, complete with prizes.  Some of the prizes were $500 and $200 donation certificates that were awarded to several charities, including the American Humane Society and the United Way, among others.  It all added up to a gala celebration of the life of one of the National Basketball Association's 50 Greatest Players.
Poker continues to show up in the mainstream more and more each day. Whether it is the increase in poker broadcasts on television, the multitude of poker books or the increase in the sale of gaming equipment, the great game continues to be at the forefront.  How much
longer will it be before there is the proper respect given to the game, its players and its promoters?
Last year's World Series was populated by the professionals and the amateurs, as well as the celebrities of the acting world and the sports world.  This year's will likely be the same among the estimated
5,000 players expected to show up.  Unless he is tied up with his Miami Heat making the NBA Finals, you can count that Shaquille O'Neal will be there in Las Vegas for the World Series of Poker.  If you are the player that Shaq will be raising into at this year's World Series Main Event, what will you do?