World Poker Tour Championship - Day Four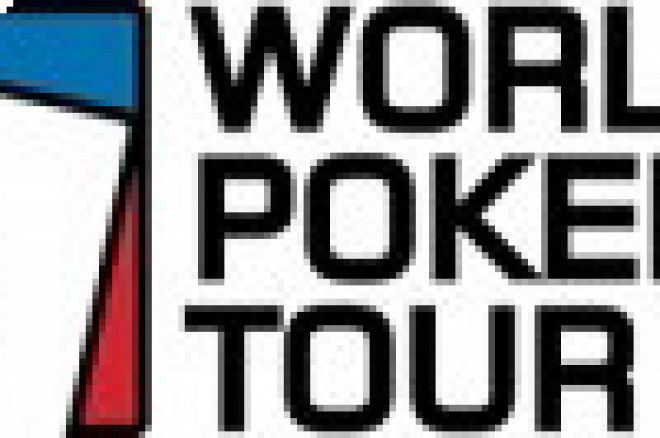 I knew things would be less relaxed, and more tense than they were last night, when things loosened up pretty significantly after the players reached the money. The tension reared its head before the cards were even in the air, as Alan Boston walked into play in a tank top, and was told sleeves were mandatory in the Bellagio poker room. Boston voiced his complaint in a booming voice, only to be told by Jack McClelland that there were no exceptions, and Boston would have to change. Boston persisted, and to calm the situation, Jack bought Alan a Bellagio T-shirt. Order was restored, and cards were in the air.
The funny thing about tournaments like this is 90% of the people left are going to walk out with a nice check, but nothing life altering. The top two or three will have their lives significantly impacted, and it is possible the winner could be a top player, or a complete unknown...that is the beauty of poker.
There were several top players in the field, and some of them, like Phil Ivey, were at the top of the field, chip wise.
The action was surprisingly fast and furious, and indeed we lost 9 players in the first level. Those victimized in the first level were Alex Todd, Bernie Collins, Dave Colclough, Paul Kraus, Jesse Jones, Alan Goehring, Peter Costa, Brad Wyatt (who qualified for $8 online, and picked up a nice $47,180 for his troubles), and Alan Boston, who wore his new T-shirt out the door with his newfound winnings.
You have to be lucky in poker tournaments, and the lucky early guy is Joe Beevers. Joe moved in with a pair of 9s on a board that was 6 8 10 rainbow. Reza Pavary, the chip leader beginning the day took a surprisingly long time to call with a set of 6's. Maybe Reza knew what was coming, as an elegant 9 settled in on the river, and Joe Beevers had doubled up.
The first really big name to bust out was Greg Raymer. Greg moved in with pocket 9s, and was called by Victor Ramdin, who was holding AK. A river Ace sent Raymer packing, and you might like to know he has cases for not only his trademark glasses, but also his WSOP bracelet, which he wears at the table. Raymer packed his precious personal items away, and headed for the door, finishing 33rd place, and picking up $47,180.
Grinder continued to build his stack, and even got a little help from a three outer. Nick Hanna moved in with AQ, and Grinder felt he had the price to call with Q8. No help until the river, when 'Nicky Muscles' was sent home with an eight. Nick Hanna picked up $47,108, which will buy a lot of Creatine.
The eliminations came not fast, but regularly for the next couple hours, and slowly but surely, the field was thinned. Legendary casino owner Bob Stupak made it all the way to 27th place. Young wonder David Williams caught a lot of bad luck, and only made it to 25th place.
Dewey Tomko, who had ridden a short stack all day, finally got tripped up. Dewey moved in with AK, and Rob Hollink called with Q9 of diamonds. Two Queens came, and Dewey didn't have to worry about being a short stack any longer.
Arnold Spee, who six weeks ago was virtually unknown, until he won the last WPT stop in Reno had been building an impressive stack all day. Arnold made a wrong move however, and moved all in with his 1.7 million dollar stack, only to run into a slowplaying Hasan Habib, who took a while, but called with a set of threes. At that point, there were 20 people left in the tournament, and Hasan was the chip leader with about 3.5 million in chips. Phil Ivey was second, with about 3 million.
Of course, Phil took the chip lead back 4 hands later after hitting running Kings against John Smith for about a million chip pot. The action was surprisingly fast at this point, and we knew it wouldn't be long until we were done at 18 players, which is when we would stop for the night.
But we never got to 18, as Tuan Le called two all ins preflop, and wound up starting with the worst hand of the three. Mark Rose moved in with AK, Bo Sehlstedt moved in over the top of him with KK, and Tuan called with 99. The flop was 9JJ, and we were done for the night, with 17 players left to vie for the 2.8 million dollar top prize. We will play until we get to the WPT TV table number of six tomorrow, but judging by how fast it went today, it wouldn't surprise me if we were at that number by 5pm. Chip counts are below. See you tomorrow.
Phil Ivey - $3,880,000
Tuan Le - $3,730,000
Hasan Habib - $3,255,000
Rob Hollink - $1,600,000
Chris Ferguson - $1,411,000
Michael Mizrachi - $1,334,000
Joe Beevers - $1,160,000
Sammy Arzoin - $1,128,000
Joseph Cordi - $1,069,000
John Phan - $1,050,000
Jeff Shulman - $759,000
Paul Maxfield - $685,000
George Miller - $502,000
Juha Helppi - $493,000
Tony Ma - $287,000
Sklansky - $205,000
Paul Testud - $80,000
Please visit our online poker room directory to see the best bonuses on the web!