World Poker Tour Championship - Day One, Flight two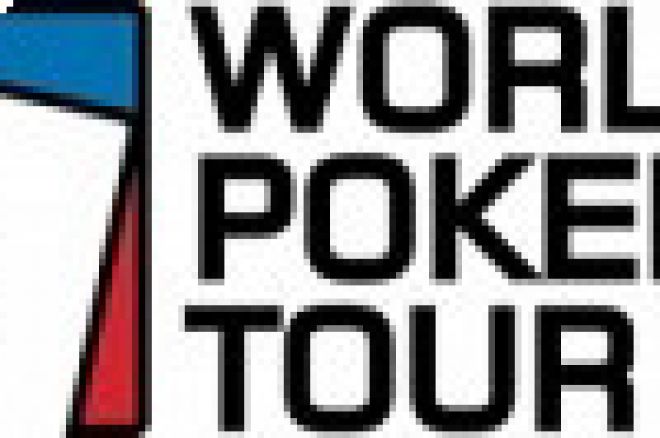 At the beginning of day one, flight 'b' of the World Poker Tour Championship, the 'number of players remaining' screen read 218. This is a bit deceiving, as there are still 178 active players remaining from yesterday, who will join today's survivors and play the tournament out to its conclusion for the rest of the week.
Plenty of play was the order of the day, as the starting chips were 1,000, repeat, 1,000 times the size of the big blind with 50,000 starting chips. I assumed it would start, and be as slow as it was yesterday, and we would nary see elimination for several hours. Boy was I wrong.
I happened to walk by Johnny Chan's table, and noticed he was in a pot. I stopped to look, and the next three minutes were pretty surreal. Johnny Bax raised, and Chan re-raised to 1,500. Bax flat called. The flop was 9 5 3 rainbow, Bax bet out 4,000, and Chan called. The turn was a 2, still no suits. Chan put 13,000 chips out into the betting area. After putting the bet out, Chan (wearing sunglasses) looked closer at the chips, and apparently realized he made a mistake. Chan attempted to take back 8,000 of the 13,000 chips he put out. A floor was called, and Chan was forced to put the bet in. Bax then moved in, and Chan called. Bax showed KK....Chan showed AA. Johnny Chan doubled up early, and Bax was out in fifteen minutes.
One thing that was really nice to see is Mike Matusow where he belongs...At the poker table. Mike was raking pots, and appeared to have his needle collection at the ready if needed.
Through the first break, only two players had been eliminated, and about the same amount of activity as the first day. Two notable late arrivals are Nick Gonzalez from the O.C., and Ron Livingston from Sex in the City, and a little movie called Office Space hadn't shown up through the first break. This was not contagious for all the movie/TV people, as Tobey McGuire was firmly planted in his seat for hand number one.
One thing that is nice about an 'Elite' field is that there aren't any real 'fashion disasters' or people looking to garner attention by their dress, or their outfits. The accessory of the day award goes to David Sutcliffe, who was sporting the 1980's San Diego Padres retro cap. That was about as out there as any (non logoed) clothing went.
The first 'name' player sent flying was none other than the 'Flying Dutchman', Marcel Luske. Marcel had been crippled earlier in the tournament, when his pocket Aces ran into pocket Kings, and he got very unlucky. Marcel didn't last very long after that. All in all, probably a successful trip for Marcel, as he won one of the preliminary events in this series, and is flying home with a few dollars in his pocket.
A very tense moment occurred on a hand that literally stopped the tournament in its tracks. A hand occurred between Alan Schein, and 2004 WSOP Pot Limit Omaha Champion Ted Lawson that caused a huge crowd to develop around the table. With a baby straight on the board, Lawson flipped his pocket Queens over, and prepared to split the pot with Schein. Schein threw his hand toward the muck without turning it up apparently declaring 'I play the board'. One of his cards touched the muck, and several players at the table wanted Schein's hand declared dead. Young Pham jumped about two feet out of his seat when the original floorman called over for a decision decided that the pot should be split. Nearly every player at the table had something to say about this, some of them with a lot of volume. This drew the attention of the room, and soon there was a crowd three deep watching the chaos. This forced them to actually stop the tournament clock, to wait for Tournament Director Jack McClelland to come over, and make the final decision. The dealer said that Schein did indeed declare he was playing the board, and he was awarded half the pot. Order was restored, and the clock restarted play resumed.
A moment I'm going to call 'Dude, where's my massage?' occurred next. The massage woman was working the room, and it was Tobey McGuire's turn next. As the woman walked over to Tobey, Daniel Negreanu swooped by, and asked "mind if I borrow her for 30 minutes?" Tobey agreed, and was moved back in the rotation 30 minutes.
A not so funny thing happened a few minutes later...The wind shifted. You might say, "but wait" the tournament is in doors...what does the wind matter. Well, the media area is outside, and when the wind shifted, the fountains at Bellagio drenched the media. Not only the media members, but the media members computers, video cameras, and other expensive electronic gear. Bad Times.
Pokernews writer Tony G was the next to go. Tony had lost a pretty big hand with Aces earlier in the day, and he never recovered from there. Tony was out early in level three. The European exodus continued, as with about an hour left in play today, Ram Vaswani was done for. The other side of the pond lost the next victim, as Mike Matusow took his needles, and went home.
Other notable exits today were Amir Vahedi, Scott Fishman, and Erik 'Erik123' Sagstrom.
Play was fast compared to yesterday, as there were only 168 players left in today. The full field resumes play tomorrow, and tomorrow will be 'Moving Day', meaning we will probably lose ½ the remaining field tomorrow. It will be sink, or swim.
There are still 344 players left, and some select chip counts are below. See you tomorrow.
Scotty Nguyen - 233,750
Eric 'E-dub' Weiner - 231,450
Steve Stolzmann - 200,625
Nick Frangos - 189,775
Sammy Farha - 156,575
Greg Raymer - 153,625
Erick Lindgren - 151,950
Alan Goehring - 151,800
Blair Rodman - 150,825
Thomas 'Thunder' Keller - 132,325
Ron Rose - 131,325
Joe Beevers - 128,400
Andy Bloch - 116,625
Barry Greenstein - 113,725
David Sklansky - 111,575
Michael 'Grinder' Mizrachi - 99,650
Juha Helppi - 95,325
David 'Devilfish' Ulliott - 92,800
Isabelle Mercier - 92,650
Erik Seidel - 84,600
Max Pescatore - 81,200
Antonio Esfandiari - 79,075
Chris 'Jesus' Ferguson - 77,075
Robert Mizrachi - 71,925
Daniel Negreanu - 71,500
Phil Gordon - 69,350
Huck Seed - 65,875
T. J. Cloutier - 65,825
Tobey Maguire - 65,425
David Williams - 64,825
Jennifer Harman - 60,075
Phil Hellmuth - 58,650
Allen Cunningham - 58,050
Chau Giang - 57,200
Dave Colclough - 55,875
Phil Ivey - 55,400
Chris Bigler - 52,775
Kathy Leibert - 50,775
Doyle Brunson - 50,425
John D'Agostino - 50,000
Joe Awada - 49,725
Mel Judah - 47,675
Humberto Brenes - 36,675
Surinder Sunar - 33,675
Johnny Chan - 33,325
Ted Forrest - 30,175
Robert Williamson III - 23,325
Howard Lederer - 23,175
Paul Darden - 20,600
Carlos Mortensen - 17,075
Men 'The Master' Nguyen - 15,725
Gus Hansen - 10,125
Please visit our online poker room directory to see the best bonuses on the web!