The result of the Pokernews $5,000 Freeroll with Noble Poker: Players Get Paid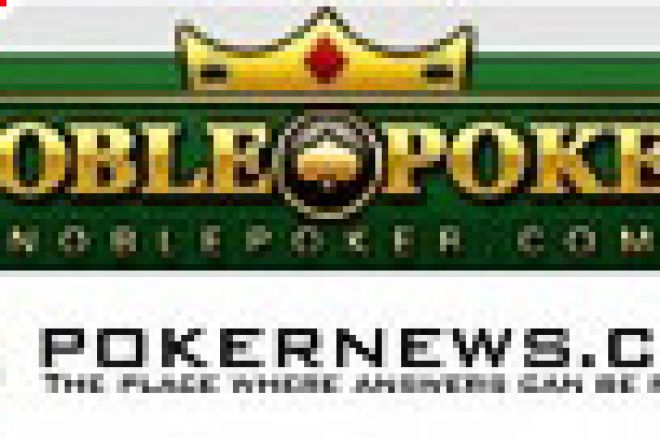 In a continuing effort to bring Pokernews readers the best value of any poker news site on the web, yesterday we held our latest freeroll - a $5,000 freeroll at Noble Poker.
The folks at Noble Poker cut players a tremendous deal. Players who deposited only $20 were eligible for this freeroll. This was the second Noble Poker Freeroll, and we continued to build, having nearly double the number of starters in this one we had in the first one.
At the end, it was player 'ccpsc' who was the last one standing. This player took his $20 deposit, and turned it into $1,250.00. Here is how the final table shaped up.
1st - ccpsc $1,250
2nd - bollotti8 $1,000
3rd - Q2girl $750
4th - BillBam $500
5th - leighbobs1979 $250
6th - NPR02485098 $200
7th - Showman $150
8th - Matty82 $125 (Matty won the first Noble FR for $1,250)
9th - Giggly $100
10th - Anamul $50
We would like to thank the people at Noble, who take the time, and put up their money so we can bring you, the Pokernews reader, this great value.
The Party doesn't end there, my friends. It was our goal to have one of these freerolls a month, and we will exceed that goal. By the end of the WSOP main event, we will have three Freeroll tournaments for you to play in. Pokernews.com wants to give you a chance to build your bankroll back up after "getting unlucky" at the WSOP.
The next Pokernews Freeroll will be at a little online poker room called Party Poker. Perhaps you have heard of them. This freeroll is the same deal as the last one. To be eligible, players must make a $20 minimum deposit, and they will be qualified to play in the freeroll. This freeroll will have a $5,000 prize pool, and a $1,000 bounty on World Poker Tour star Tony G. You MUST sign up for Party through this special Pokernews link to be eligible for the freeroll. This freeroll is only for new accounts. To be eligible, players must sign up for a new account by June 30th.
We will follow this freeroll up with two others in the month of July. Here at Pokernews.com, we strive to bring you the best values possible. We negotiate with online rooms to bring you the best deals. Check out our reviews of all the top online poker sites on the web, just to the right of this article.