Dan Schmiech defeats Gabe Kaplan to win WSOP Limit Hold Em title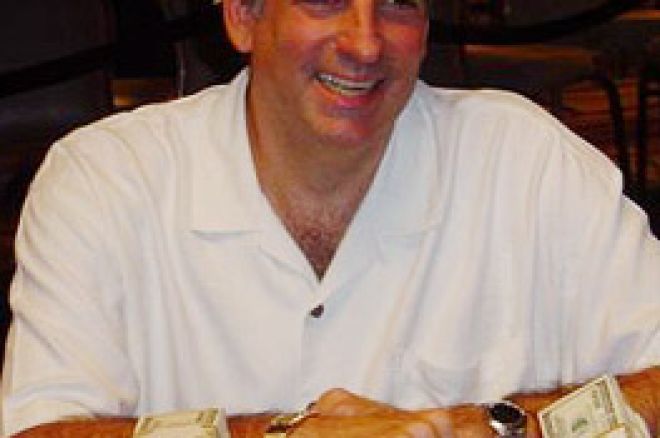 A very healthy field of 269 players put up $5,000 of their hard earned money to compete in event # 28 of the WSOP, Limit Hold Em. Usually, in a limit event, you would have some healthy stacks, and expect a bit of a long night. Since this event had been made a three day event, the blinds had actually escalated to the point that the biggest stack on the board only had about 45 big blinds in their stack. Obviously, the blinds would escalate, and you felt like we could see a lot of action in the early going.
Entering the final table the chip counts were:
SEAT 1: Joe Sebok $184,000
SEAT 2: Annie Duke $150,000
SEAT 3: James Kwon $227,000
SEAT 4: Gabe Kaplan $209,000
SEAT 5: Dan Schmiech $219,000
SEAT 6: Young Phan $144,000
SEAT 7: Luke Neely $94,000
SEAT 8: Jeff Shulman $38,000
SEAT 9: Greg "FBT" Mueller $89,000
You would think that Jeff Shulman would have been the first one to go, but Jeff won the first pot of the night, and actually stuck around for a while. We did have a lot of early action, and it was only a matter of time until someone would go out. The first player to bid adieu to the final table was Greg Mueller, who charged into the lead for the bad beat of the day award on the following hand. After a three bet preflop, all the money went in on a flop of 7 4 K. Greg turned over pocket nines, and Young Phan turned over pocket eights. The turn card was a five, which gave Young 4 more outs. The river was one of those four additional outs, as a 6 hit, and Young had made a runner runner straight, and left Greg Mueller wondering where he went wrong. Greg Mueller - 9th place - $25,285.
This win still left Young as the short stack on the table, and it wouldn't be long until Young was going to make his own case for bad beat of the day. Young made the grave mistake of messing with Mr Kotter himself. Gabe Kaplan, and Young some how wound up getting all the money in on a flop of 3 8 4, with hands of 10 3 for Gabe, and A 3 for Young. Young felt really good about the situation, until a ten on the river had Young suddenly feeling not so young. Young Phan - 8th place - $ 37,930.
Jeff 'Happy' Shulman was the next to go. Jeff had done a really good job of walking the tightrope to get to this point, but with the blinds at these levels, Jeff had to go sometime. Jeff took the best hand into battle against Annie Duke. Annie's A Q of spades was good enough to get a runner runner flush against Jeff, which made Annie Happy. Jeff 'Happy' Shulman - 7th place - $50,570.
Now down to six, the chip counts looked like this.
James Kwon - 345,000 in chips
Dan Schmiech - 260,000
Joe Sebok - 221,000
Annie Duke - 199,000
Luke Neely - 141,000
Gabe Kaplan - 88,000
Gabe Kaplan was all in three times over the next twenty minutes, but managed to escape both times. Still, it was a rush for the ages as Gabe went from only 28,000 chips at one stage to over 300,000 in chips.
The next player to go was Luke Neely. At one stage, Luke actually folded with one big bet left in his stack, and a pretty big pot in front of him. The one big bet turned into a couple double ups, and it looked like Luke might be trying to pull his Gabe Kaplan impression. But Luke could not prevent the inevitable, and eventually Luke's time had come. Luke was back down to one big bet, and he and Annie flipped their cards up, and Annie's two pair sent Luke home to his father. Luke Neely - 6th place - $50,570.
Next to go was Joe Sebok. Joe is top player Barry Greenstein's son, and Joe was trying to make the 2005 WSOP a father/son picnic. Barry had won the $1,500 Pot Limit Omaha tournament, and picked up his second WSOP bracelet. Joe was hoping to get his first WSOP title, but it was not meant to be. Joe had been all in a couple times already, and survived, but with the blinds so high, Joe had to pick a hand to go with, and he picked pocket threes. Annie was in the Big Blind, so she called the small raise with K 7. The flop of K 10 2 pretty much sealed Joe's fate, and when the turn & river blanked off, Annie had a big hug, and a smile for Joe. Joe Sebok - 5th place - $75,860.
Now down to four, we had a bit of a situation, as the blinds were 5k/10k (playing 10k/20k), and the chip stacks were.
James Kwon - 485,000 in chips
Dan Schmiech - 371,000
Gabe Kaplan - 269,000
Annie Duke - 229,000
It was pretty clear that the action was going to have to pick up, as the bottom two stacks could play maybe two hands from here on out, and the blinds were going to go up again.
Annie Duke held on as long as she could, but with the levels a dizzying 15,000/30,000, and only 1.3 million chips in play, it was going to get over, and get over quickly. Annie put her money in with Q J, and found a caller in Dan Schmiech with A 2. The board brought no Aces, Queens, or Jacks, and Annie Duke was free to go. Annie Duke - 4th place - $88,500.
Now down to three, the chip counts were.
Gabe Kaplan 575,000 in chips
Dan Schmiech - 371,000
James Kwon - 300,000
With the players now playing 20,000/40,000, the biggest stack on the board had 14 big bets. You knew this would end soon, and we lost our next player in about 15 minutes. After doubling up a couple times, James Kwon made a stand with A J, and Dan called with A 5 of hearts. The flop brought a five, and James was off to count his Quan. James Kwon - 3rd place - $113,785.
Now down to heads up, Dan had worked his way into a two to one chip advantage.
Dan Schmiech - 885,000 in chips
Gabe Kaplan - 400,000
For a minute, it appeared we might have our second WSOP champ in 72 hours known more for their TV and/or film career than their poker career. But it was not meant to be, and after Gabe was ground down a bit by Dan, Gabe put all his money in with top pair, and lost to Dan's two pair. We had a new WSOP Champ, and his name was Dan Schmiech.
2nd place - Gabe Kaplan - $222,515.
Champion - Dan Schmiech - $ 404,585
Ed Note: Noble Poker have our top rated bonuses.