David Chiu strikes Poker Gold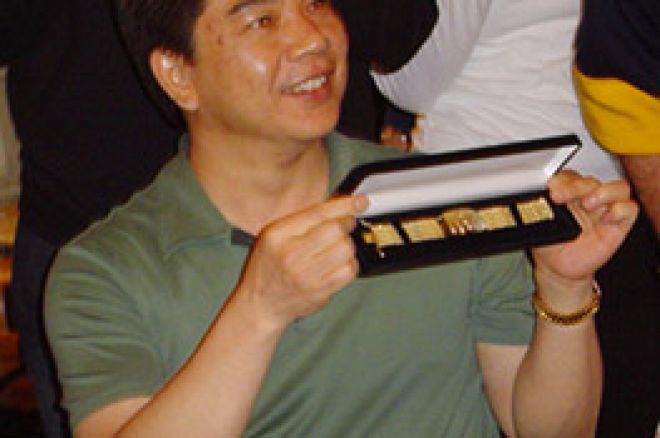 Watching split pot poker can be misery, or pretty exciting, depending on who is playing, and what the dynamic at the table is. If you have an active, chatty table, it can be fun to be a part of. If you have a bunch of quiet players, it can really be a grind.
When I saw the list of players who made the final table for the WSOP Event # 32 ($5,000 Omaha Hi-Lo) I was sort of fearing that I was in for a grind. There certainly were great players at this final table, including Allen (AKA the hottest guy in poker right now) Cunningham, who was sitting at his third final table of the WSOP (in his third different game). Allen, who is a really nice guy, and a heck of a poker player, is not really a chatter box.
When we all sat down, and cards were in the air, The chip counts were
SEAT 1: Russel "The Muscle" Salzer $223,000
SEAT 2: David Chiu $135,000
SEAT 3: Haim Kakoun $135,000
SEAT 4: Hiroshi Shimamura $113,000
SEAT 5: Stephen Ladowsky $109,000
SEAT 6: Daniel Shak $95,000
SEAT 7: Bueno Patrick $42,000
SEAT 8: Allen Cunningham $76,000
SEAT 9: Daniel Horowitz $196,000
The ESPN crew took the weekend off, so there would be no TV issues for three or four days. So, we were planted at a random table (Table 115 for those interested) and the coverage for this final table would be much more subdued, and relaxed.
When I walked into the Rio today, the first thing I noticed was a sea of people everywhere. This was reminiscent of the first day I got here, where event # 2 (and its 2,305 players) was in full swing. So, I asked myself what is going on? The answer was that there was not one, or two events being played today, but four. Four events in one day, and the tournament staff were starting to look worn out. First we had the Seniors event, which was a one day event, Then we had the $10,000 buy in Pot Limit Omaha event also playing. Lastly, we had day two of the $3,000 No Limit event playing out, and of course, in the middle of it all we sat at Table 115, the only table today that would produce a bracelet holder under the age of 50.
In addition to all four events going on, we had a ton of spectators. I have been surprised at the small number of spectators we have had so far given how 'big' poker has become. But today was the first glimpse of what we were going to see next week during the main event. A holiday weekend Friday had produced huge crowds, and it was actually difficult to navigate the floor with all this stuff going on.
I managed to work my way through the crowd to make it to my assigned final table today, and it was time for some poker. We had a couple short stacks at the table, and even though it was a split pot game, with the players playing $5,000/$10,000 you got the feeling we would see a couple people go pretty quickly.
The first guy to go was Daniel Shak. Shak had a wonderful ride getting to the final table, but it was time for Shak to go. When Russel Salzer flopped the nut flush, he checked to get Shak's last bet in, which he did. Although the board paired, Shak was looking for a low card on the turn or river, but the poker gods did not comply, and Shak fouled out. Daniel Shak - 9th place - $21,055.
Next to go was Bueno Patrick. Bueno stated as the short stack, but was feeling no bueno when he only had one bet left in his stack after folding a hand on the river. The next had was his undoing, as he ran into Steven Ladowski's A A 5 J, which held up when no low came for Bueno...which was definitely not Bueno. Bueno Patrick - 8th place - $31,585
Allen Cunningham had done a good job building his stack for about the first two hours of this final table, and it was looking like he might be around at the end. But Allen lost a monster pot when Russel Salzer scooped him good. It was only a matter of time for Allen from then on, and several hands later, Allen Cunningham played his last had with less than the big blind. Allen was looking low with 2 3 5 Q, but Hiroshi Shimamura had him covered both ways with A 2 K 10. The board bricked out, and Allen was out. But it was not without some redemption, as the money he took in this event made him the first player with over $1 million in cashes at this WSOP. Allen Cunningham - 7th place - $42,110.
Hiroshi Shimamura held on for as long as he could. Hiroshi got ground down, and eventually had to play. His A 2 4 9 would have been great, if the board put a low out there. A board of Q Q J 4 2 did not cooperate, and Hiroshi bid Sayonara. Hiroshi Shimamura - 6th place - $52,660
Now down to five, and it appeared really clear who was going to be the next to go. I'll leave it to you to guess.
Russel Salzer - 450,000 in chips
Haim Kakoun - 260,000
David Chiu - 240,000
Daniel Horowitz - 143,000
Steven Ladowski - 33,000
Indeed Steven Ladowski was the next to go. Steve got caught in a three way pot, where there was no way out for him. The interesting part about it was that Daniel Horowitz was also all in for all his chips. Steven was eliminated, but Daniel got ¼ of the pot, and was crippled, and would begin an odyssey of pots that I will describe below. For the moment though, let's talk about - Steven Ladowski - 5th place - $63,170.
Over the next ten hands, Daniel Horowitz played half of them, and survived every one. First, he was all in on the hand described above, and was quartered to put him down to 45,000 chips. Then, the next pot he played, he was quartered again to be cut down to 25,000. The next pot he took ¾ of the pot to get back up to 40,000. The next hand he doubled up + blinds to get to about 100,000. The hand after that would prove to be his last.
When Haim Kakoun made a straight on the river, and no low card came, Daniel's 45 minute "chop to win" ride came to an end. Daniel played valiantly, and fought it to the bitter end. When the end came, Daniel was not bitter. Daniel Horowitz - 4th place - 84,225.
Now down to three, the chip counts were:
Haim Kakoun - 430,000 in chips
Russel Salzer - 345,000
David Chiu - 335,000
The limits at this point were 15,000/30,000, and you don't have to play too many pots to fall pretty quickly if you get clipped. Haim Kakoun, who came into heads up play being the chip leader was clipped a couple times, and suddenly calling 911. Haim played his last pot of the evening with K Q 10 8, and got clipped for the last time when Russel and David stayed in all the way through the river, and finally Haim was done. David's A 8 took the high with Aces, and Eights, and David Chiu showed the nut low. Haim Kakoun - 3rd place - $105,280
Now down to heads up, the chip counts were.
Russel Salzar - 680,000
David Chiu - 450,000
When heads up play began, two things happened. First, David Chiu started to put on a clinic. Second, David Chui caught every card in the deck, and before Russel knew what was going on, it was over. Although he was ground down much more before this, Russel mucked his last hand when David Chui showed his A K of clubs for a runner runner nut flush. Russel played well, but couldn't fade the cards, or David's experience when push came to shove. Congrats to David Chiu.
David Chui - Champion - $ 347,410
Russel Salzar - 2nd place - $ 191,610
Ed Note: Noble Poker have our top rated bonuses.