Budweiser Is the Toast of the World Poker Tour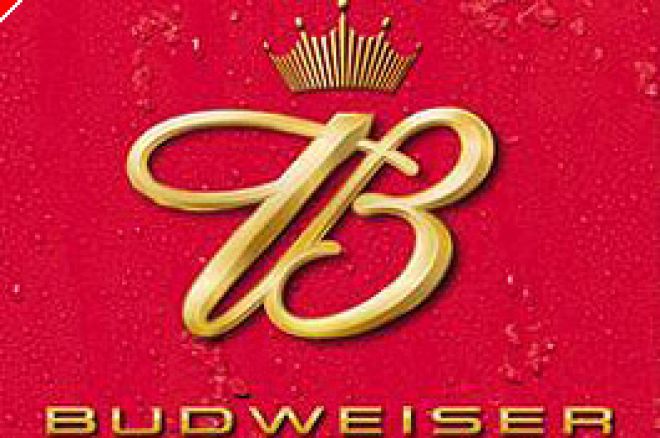 The 'King of Beers' has once again been chosen by the World Poker Tour (WPT) as the primary sponsor for its new fourth season, re-signing the company for the third straight year. Budwesier also plans to promote both WPT programming and of course, beer, at tournaments in select markets across the country.
According to vice president of corporate media of Anheuser-Busch, Peter Mcloughlin, WPT is the perfect fit for its Budweiser brand. "We are pleased to continue our three-year relationship with WPT Enterprises (parent company of WPT) and look forward to toasting another year," Mcloughlin said in a recent press release.
Mcloughlin also cites the WPT's broad audience as one of the key reasons for the decision to re-sign Budweiser as the tour's "Official Beer." "As the WPT repositions poker as a leading sport -not just a pastime - Budweiser is the ideal sponsor. Our long association with sports increases poker's recognition by the sports-loving consumer and television viewer," he said.
The WPT's season IV on the Travel Channel will feature Budeweiser commercial spots and viewers will see the Budweiser logo on the "table ring" area surrounding the final table and on in-show graphics for the popular "hole card camera" segments. The traditional toast to the victor of each WPT event will continue as the show's closing sequence.
According to CEO and WPT Enterprises, Inc. founder, Steve Lipscomb the match is a perfect fit. "The WPT has become the gold standard in poker and the Budweiser brand is the same to beer. It's a great match of two iconic brands," Lipscomb said.
In a shrewd advertising move, Budweiser will also hold "Texas Hold'em-style" tournaments (in areas where it is legal) that feature a shortened version of the popular game. Players 21 and over can participate in these events for free, with the winners of each tournament competing at the National Finals. The top two players at the final tournament will receive coveted-seats to the WPT Invitational, a celebrity filled pro-am event.
Ed note: It's not wrong to have a cold Budweiser while playing at Poker Blue go ahead!