Penn State Takes College Poker Honors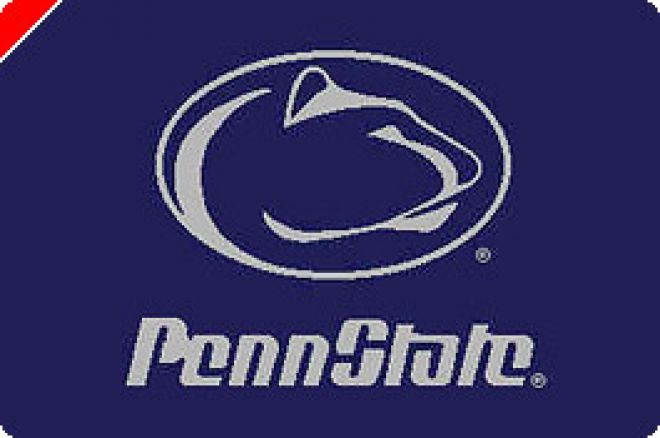 Penn State is known for its football team and famous head coach, Joe Paterno, as well as for its academic proficiency, but soon it will be known as a card shark's paradise with its recent ranking as the number one poker-playing campus in the world.
The State College, Pa., university received the impressive honor at the conclusion of the 2005 College Poker Championship. This free online tournament at collegepoker.com, drew 25,000 competitors worldwide with 612 coming from Penn State and the school earned the No. 1 poker-playing campus honor by advancing 10 players to the final round.
The tournament series, which runs from September to May, is open to any college student enrolled for the 2005-06 school year, awards scholarships as prizes for the top finishers.
Penn State set the bar high for other schools and showed that the land of blue and white, is a poker hotbed. 'I had no idea. I knew a lot of people played, but I didn't know the campus was this good,' said junior Ryan Smeltzer in a recent article by CentreDaily's Chris Rosenblum.
According to senior Matt Crowley, the school has plenty of action at any given time. 'It's pretty big. I'd say out of every circle of friends, there are guys and even girls who play. Most Tuesday nights, my one friend has $20 buy-in tournaments, and he can get up to 15 players.'
One has to wonder how the country's future leader's balance their hectic class schedules and the poker action. 'We have little study rooms in the dorms' said freshman Colby Welshans.
Freshman Matt Savory echoed Welshans' sentiments and talked of heavy action as students put in late nights perfecting their games. 'I've walked by there (Findaly Commons room) at 3:30, 4 o'clock on a Tuesday night, and there will be all kinds of people playing.'
Not everyone is thrilled with the school's recent honor. Dr. Dennis Heitzmann, director of counseling and psychological services at University Park, noted that there have been reports of compulsive gambling habits by students.
'I think it's safe to say there are more incidents of it. You stop short of saying there is an epidemic of it, but clearly there are incidents of individuals seeking help for problems of what could appear to be another addictive behavior,' Heitzmann said.
Despite the fact that the College Poker Championship is free and it helps to pay for student's college cost by awarding scholarship money as prizes, Heitzmann fears that it might hook the school's students. 'It's a click away. It's a diversion that's enticing.'
Ed Note: Go to school every day against Gus Hansen, 2005 European Champion Tony G, and Erik123 at Pokerchamps.