2005 US Poker TV Ratings: a Year-End Roundup, Part I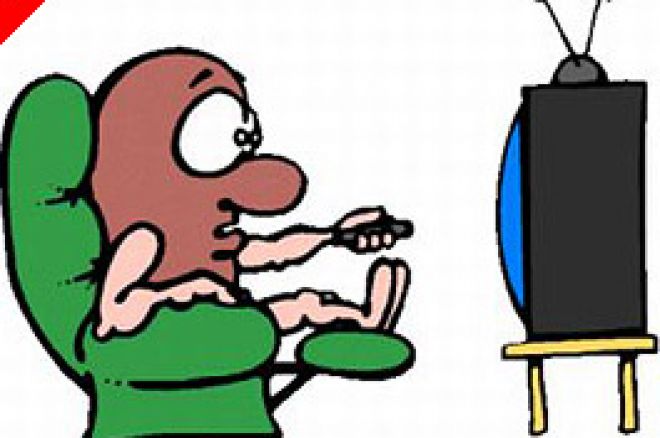 Editors Note: This is the first of a two part article about the state of TV poker in the United States. Please join us for Part II tomorrow.
Television ratings for poker broadcasts in the United States have generally declined in 2005 compared to 2004, though the ratings in 2005 remained higher than the ratings at the start of the televised poker phenomenon in 2003, according to TV ratings estimates collected by Neilsen Media Research.
The World Poker Tour (WPT), which kicked off the poker boom on US television when it drew an average of 600000 households for its first-run broadcasts on Wednesday evenings on The Travel Channel in 2003, saw its 2005 season average TV ratings for first-run broadcasts during March-June decline by 17% compared to 2004, falling from 910000 households in 2004 to 820000 households in 2005.
In an investor conference call in August, WPT Enterprises (WPTE) CEO Steven Lipscomb claimed that competition from the reality series American Idol on the FOX broadcast television network was the primary reason for the year-to-year decline in WPT TV ratings.
Not surprisingly, the World Series of Poker (WSOP) airing on Tuesday evenings on ESPN, which faced stiffer competition during the 2005 season than in the past as ESPN chose to lengthen the season so that the final episode of the 2005 WSOP World Championship Main Event would air during the November ratings "sweeps" period, experienced an average ratings decline of over 25%, from an average of 1.5 million households for 22 hours of coverage in 2004 to 1.1 million households for 32 hours of coverage in 2005. (The 2003 season averaged 1.0 million viewers for 7 hours of coverage.)
The first run of the final 2005 WSOP World Championship Main Event episode on November 15 drew 1.8 million households, down 25% from 2.4 million households tuning in for the final 2004 WSOP World Championship Main Event episode first aired on September 14, 2004.
Similarly, TV ratings for each of the 3 live poker tournament broadcasts on the FSN (formerly FOX Sports Net) system of regional sports networks have declined successively.
The American Poker Championship at Turning Stone Casino in Upstate New York, which aired live on most FSN regional networks in the Eastern Time Zone on Wednesday, July 14, 2004, remained FSN's highest-rated poker broadcast, drawing about 600000 households.
TV ratings for the FullTiltPoker.net Championship at Wynn Las Vegas, which aired live on most FSN regional networks in the Eastern and Central Time Zones on Wednesday, July 13, 2005, fell 18% compared to the Turning Stone live broadcast in 2004, drawing about 490000 households.
Facing competition from the National Football League (NFL) in many areas, the FullTiltPoker.net Invitational from Monaco, which aired live in its entirely on 6 FSN regional networks (with joined-in-progress or delayed broadcasts on most others) on Thursday, November 24, 2005 (Thanksgiving Day), drew about 280000 households.
The Poker SuperStars series, produced by hole card camera inventor Henry Orenstein's company HSOR, did manage to hold its 2005 TV ratings at the level set in 2004, averaging just under 400000 households during the weekly Sunday evening prime time broadcasts on FSN.
Other poker broadcasts on FSN, particularly those premiering in late-night time slots, generally have lower ratings than poker programming that air on FSN during prime time, but they generally performed slightly better than the programming that aired in the same time slot the year before.
For example, the UltimateBet.net Poker Challenge at Hollywood Park, a series of 6 single-table poker tournaments that featured over 30 relatively unknown professional and recreational poker players who qualified online, averaged about 200000 households during its first run via same-day tape delay on Saturday nights at 11pm-1am local time in June and July 2005, or about 20% more households than the programming that aired in the same time slot in June and July 2004.
Despite the year-to-year decline in TV ratings for tournament poker, top tier poker TV products remain viable businesses, as they consistently deliver hundreds of thousands of regular viewers in the 18-34 and 25-54 age groups to sponsors, both poker-specific advertisers such as play-for-free online poker "schools" and mainstream advertisers such as automobiles, food and beverages, and personal care products.
"(Poker) is perhaps the most durable piece of programming we have on (FSN)," said FSN Executive Vice President of Programming and Production George Greenberg. "People can watch it once, twice, and three times and it will hold up in its ratings... Our number one series on Sunday night is Poker SuperStars...and it rates very, very well...it has been our number one series on Sunday nights for two years in a row."
FSN has signed KFC Corporation (formerly Kentucky Fried Chicken) as a major sponsor of the third season of telecasts of HSOR's Poker SuperStars series, according to Greenberg. The KFC logo appeared prominently on the set of Poker SuperStars III.
In an article published by Television Week in October, Lipscomb pointed out that WPT telecasts earn TV ratings that are comparable to regular-season National Basketball Association (NBA) and Professional Golf Tour (PGA) national telecasts.
WPTE signed a major sponsorship contract with Anheuser Busch brewery prior to the start of the 2004 season. During the 2006 season, Anheuser Busch's flagship Budweiser Beer brand will be featured as the "Official Beer of the World Poker Tour".
In addition, General Motors signed a sponsorship contract with The Travel Channel that placed the logo of either Chevrolet or Hummer on the "Chip Count" scoreboard graphic on WPT telecasts during the 2005 season.
ESPN Original Entertainment (EOE) spokesperson Keri Potts said that tournament poker programming remains the second highest-rated hourly episode series ever produced by EOE, behind only EOE's first dramatic series Playmakers featuring a fictional professional football team, which averaged over 1.6 million households in August-November 2003.
(EOE's second dramatic series, the controversial poker-themed drama Tilt, averaged around 900000 households during its 9-week run in January-March 2005 and was not renewed for a second season.)
In comparison, EOE's reality series Bound for Glory featuring a Pittsburgh-area high school football team, which replaced the 2005 WSOP at the Tuesday 10-11pm Eastern Time slot starting in mid-September as the lead-in to the 11pm Eastern Time edition of ESPN's most profitable program SportsCenter, averaged about 600000 households, or over 40% less households than the 2005 WSOP was able to deliver in the same time slot in August.
Please look for part II of this piece tomorrow, as we look into the plans TV is making for poker in 2006, and how the 'non top tier' poker programming fared in 2005.