'Battleship Poker' Returns At EPT Grand Final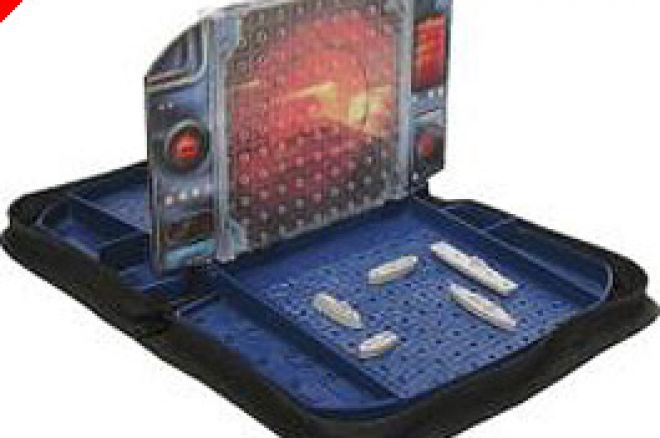 It was one of the highlights of the PokerStars Caribbean Adventure, besides young online player Steven Paul-Ambrose taking the championship. Online poker played face to face on laptop computers, giving the appearance that the two people were playing the childhood game favorite "Battleship", until one player was able to outlast the field and take what was proclaimed as the World Championship of Battleship Poker. It seems that once wasn't enough, as Battleship Poker has returned to the live/online world once again at the latest PokerStars event.
While the Season Two battle for the championship rages on at the European Poker Tour Grand Final in Monte Carlo, another poker war rages on the Mediterranean in the renewal of Battleship Poker. The two players sit facing each other with their laptops running and play heads up poker on PokerStars, which adds another level of complexity to the live/online game. The ability to actually put a face (and potentially read tells) on your online opponent in the live setting made the original tournament during the PokerStars Caribbean Adventure one to remember.
It also drew some of the biggest names in the game today. Some of the combatants in the tournament back in January were Team PokerStars members Chris Moneymaker and Isabelle Mercier, who were also joined by fellow pros Daniel Negreanu and the Mizrachi brothers (Michael, Robert and Eric). In the end, it came down to hyper-aggressive professional Gavin Smith and Traverse City, MI's Michael Banducci, with Banducci surprising many by taking the championship in the Caribbean.
In Monte Carlo, 32 players have ponied up $500 to take part in the latest installment of Battleship Poker for a prize pool of $16,000. The tournament is played concurrently during the run of the EPT Grand Final, making Monaco a very busy poker locale whether you are at the tables or online.
At the end of the day, it was Noah 'Exclusive' Boeken who took down the Battleship Poker Championship at the EPT Grand Final in Monaco. The final match lasted only about ten hands, and put Boeken into the "elite" rank of Battle ship Poker Champion.
Battleship Poker seems to be catching on with online and live players and should be a continued feature of PokerStars events in the future.
Ed Note: Don't play Battleship....Play poker! Sign up today at Poker Stars