Action!: Mansion Poker FSN Poker Dome Series set to Debut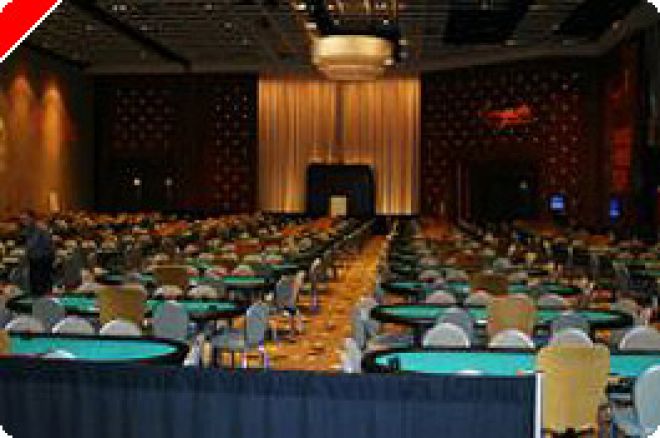 Details for the upcoming TV series The MansionPoker.net Poker Dome Challenge were released today. This Sunday, May 28th viewers will be able to see what producers feel is a new concept in televised poker.
The Dome has added a couple innovations to the standard TV poker formula, with a studio audience that can see the players hole cards, but cannot be seen or heard by the players at the table. The players are enclosed in a glass 'dome', with soundproof one way mirrors encasing them in their own little world.
FSN is bringing back the heart monitor for this series, and also some familiar faces in the broadcast booth. Unlike most poker series, there will be two sets of main announcers, and a cast of supporting players to add flavor to the telecasts. Announcer team one features Chris Rose from the Best Damn Sports Show, Period, and long time everything sports announcer Joel Meyers. Announcer team two is very familiar to poker viewers. Long time sports announcer Barry Tompkins will team up with FSN veteran announcer Michael Konik to provide another option so that both announcing teams don't have to quit their day jobs to work 43 weeks in a row.
Also part of the telecast is rising young poker star, and one of the funniest guys you will ever meet – Mike Gracz. Mike won the Party Poker Million a couple years back, and has been a stalwart on the tournament poker scene ever since. Gracz will split 'color' duties with Konik. Also on the telecast will be 'sideline' reporter Leeann Tweeden, also a veteran of many FSN telecasts. Reportedly, there are a couple professional players who will also be worked into the telecasts as correspondents.
Each week, six qualifiers will face off in a one table tournament. The winner of that tournament picks up $25,000, and advances to the semifinal round. The six winners of the semifinal table square off in another single table tournament, with the winner of that table picking up $50,000, and moving on to the final, where he or she will play a winner take all tournament worth $1,000,000.
The lineup for the premier show is set, and it features a couple players many in the poker world may be familiar with. Brian 'Rookie' Wilson, who won a World Series of Poker bracelet last year in Pot Limit Hold Em will lead off the line up for the premier episode.
Also on board is the very lovely Rhowena Colclough. If the last name seems familiar, it's because Rhowena is married to 2004 European Player of the year Dave Colclough. A model, and spokeswoman on U.K. Television, Rhowena has sharpened her poker game over the last couple years, and should be up for the challenge.
I asked Rhowena if she thought she would like playing in a dome, and she said "I think it's better not seeing the audience. I don't like to have crowds around me. It makes me feel under presure. If I can't see them I can forget about them and just play my game. The cameras don't bother me either, I am quite used to being in front of them."
Rounding out the field for the premier broadcast are Jonathan Sullivan, Australian Television Director Peter Lawler, Mathematician Paul Dreyer, and Frank LaCava.
If nothing else, the MansionPoker.net Dome Challenge should be interesting to see how these new innovations are handled, and how the crowd reacts to being able to see the cards live. The show premiers this Sunday, May 28th at 11pm local time on FSN.
Ed Note: Your seat to the Poker Dome Challenge awaits you for as little as a penny at MansionPoker