Intercontinental Poker Championship To Debut This Weekend On CBS
Earl Burton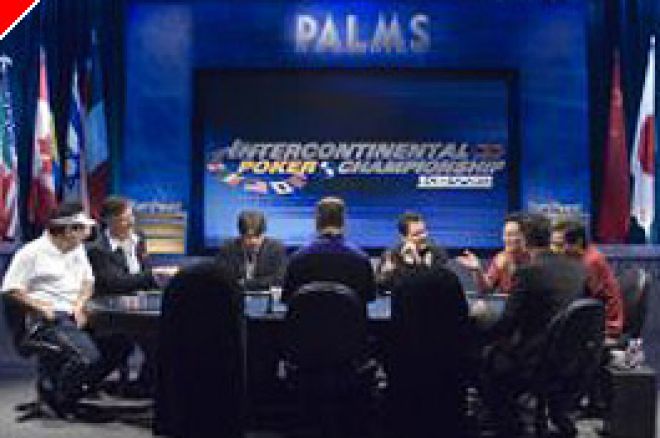 This weekend marks the debut of a new poker program on major network television. Starting on Saturday, June 17th at 5PM (Eastern Time) and continuing over the next six weekends, CBS's prominent sports programming "Sports Spectacular" will bring poker fans to the tube for the Intercontinental Poker Championship. The eight and a half hour event will bring together twenty one of the greatest players in poker today, pitting them against each other in a unique format that will bring together poker prowess and national pride at the tables.
To call it the "Olympics of poker", as creator Henry Orenstein said during a conference call on Wednesday, wouldn't be far from the truth. Each player in the event is not only putting his pride on the line but is representing his home nation as well. This made for a different type of tournament than many have seen on television before. "It was really interesting to see this event as it unfolded," said veteran poker announcer Gabe Kaplan, who will team with sportscaster Jeff Medders to bring the audience the action. "In other situations, the players are strictly playing for their buy-ins. In the Intercontinental, it was the first time I have seen national pride come into play during an event. It was exciting to watch and definitely brings a new element to poker today."
"That was something we definitely wanted to get into the show," echoed Orenstein, who is known as the "Father of the Hole Card Cam" and is responsible for the creation of this and many other poker programs. "We wanted to strengthen the popularity of poker for now and into the future. With this format, I think we have struck on something that will interest the world." Two of the players in the tournament, poker professionals Daniel Negreanu (who will represent Canada) and the legendary Doyle Brunson (who represents the United States), stated that the emphasis on the worldwide aspect of the tournament did add some stress to playing. "When you play for yourself its one thing, but there are definitely added pressures when you are playing for your country," Negreanu said. Brunson was additionally excited and surprised that poker had come this far. "I didn't, and no one else did either, think poker would become this big. It's gratifying to have been a part of helping the game reach this point," Brunson humbly added.
The tournament itself will present a different format than has been seen in other television productions. Twenty one players, including Brunson, Negreanu, Johnny Chan (China), Humberto Brenes (Costa Rica), David "DevilFish" Ulliot (England), Carlos Mortensen (Spain), Tony G (Australia), Sam Farha (Lebanon) and many others, were broken into three seven player groups. These three groups then played a single table tournament, with the winner moving on to the semi finals. The remaining three groups of six then play another set of single table tournaments with each winner moving on, presenting a "double elimination" tournament. "This allows for the quality of play to shine through," emphasized Orenstein, "and allows for a player to come back for a second shot after a bad beat." These six players then play down to two finalists, who then square off in a best of three heads up match to determine the winner. Up for grabs in the event is $350,000 to the champion and $150,000 to the runner up, but perhaps more important is the "playing for country" side to the story that is presented. "The format is exciting," Negreanu simply stated. "The tournament should take poker to the next level."
When asked about the future of the Intercontinental, all those in the conference were eager to look forward to next year. "It took about five weeks to negotiate with CBS to do the program," stated Orenstein, "and, as such, we wanted to make sure this first event had some great players in it. There were many who wanted to be a part of it, but there just wasn't the time to arrange it." Orenstein also spoke of the potential that next year's Intercontinental (talks are ongoing to bring the series back in 2007) could be more of nationalistic event with teams instead of individual players. "That would be a good idea," Brunson remarked. "Not only would there be personal motivation to do well, but then you would also have the added aspects of doing well for your team as well as your country. The camaraderie of poker would also be shown with a team format."
With the Intercontinental Poker Championship, it is only further demonstrated that poker is the world's game. "Everyone wants to be a part of poker," Kaplan firmly stated. Negreanu and Brunson also remarked on how poker has become a truly international event. "It's amazing how other countries look at poker. It's viewed more as a sport," Negreanu remarked. "Asia should be the next frontier in this game," Brunson commented. "I was in the Philippines and I had people coming up to me on the street there, believe it or not…it was amazing." Now poker can truly demonstrate its worldwide nature when the Intercontinental Poker Championship debuts on Saturday during CBS's "Sports Spectacular" and will continue until a champion is crowned on July 22nd. For more details on the Intercontinental Poker Championship, visit cbssportsline.com.
Ed Note: If you want a truly International online poker experience, we suggest Everest Poker, which has a strong international base.