2006 California State Poker Championship To Be All Hold 'Em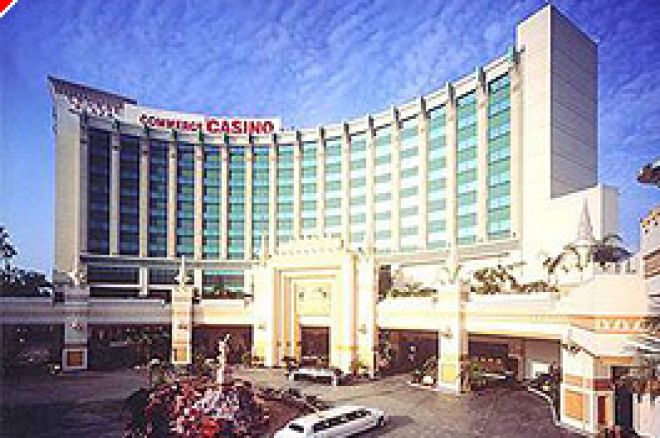 Demonstrating the continuing trend in the tournament poker world, the Commerce Casino in Los Angeles, CA, announced on Monday that the upcoming 2006 California State Poker Championship, which will run from September 5th to September 24th, will be an all Limit and No Limit Texas Hold 'Em affair.
In the past, the series of tournaments has normally held a wide assortment of events that included Seven Card Stud and Omaha, among others. With the trend continuing to move towards an entire schedule of No-Limit Texas Hold 'Em tournaments (as witnessed by the recent Bellagio Cup II in Las Vegas and many other events across the United States), the Commerce seems to be following the tide in the tournament poker world. This shouldn't affect the strong turnout that is normally associated with the event, however.
Many professional players call the southern California area home and the competition can be fierce. Current World Champion Jamie Gold is one player who calls the Commerce his home as well as WSOP bracelet holder Jeff Cabanillas, who vanquished Phil Hellmuth in an early event during the recently completed World Series. The defending champion of the California State Poker Championship is another professional player as well in Tony Ma.
"The California State Poker Championship is a great opportunity for a West Coast poker player to establish a name," said Cheri Dokken, Commerce Casino Tournament Director. "With so many of the talented pros calling Los Angeles home, it's a respected event that says you've arrived. The competition is strong and the rewards ample. With the high-quality poker at the California State Championship, it could be said we might even be incubating the next WSOP or WPT champion."
There will be a series of eighteen tournaments spread over the twenty days of poker at the Commerce. Included in the tournaments is the first-ever Turbo Short-Handed No-Limit tournament (which will cost $291/$9/$30), the first Ladies' No-Limit tournament in California Poker Championship history and a guaranteed $250,000 prize pool for the $291/$9/$30 No-Limit tournament to be held on September 9th. These events will all lead to the crowning of the champion of California in the $2500 Championship Event on September 24th.
With low buy ins, one of the finest casinos in the poker world and stiff competition, the California State Poker Championship is one of the better tournaments around and can be the springboard that an unknown player can use to make their mark in the poker world. For more information on the California State Poker Championship, be sure to visit commercecasino.com.
Ed note: If you would like, you can play all Hold Em, all the time at Ultimate Bet .