European Poker Tour – Barcelona Open Day 1A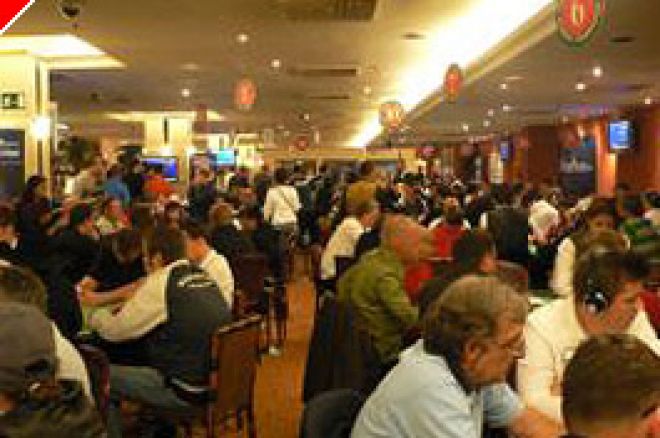 Staring out at the glistening Mediterranean, the entrance to the fantastic Casino Barcelona no more than 100 feet behind me, I decided that I had just seen a perfect snapshot of the growth of poker in Europe as the European Poker Tour kicked off its third season here in Spain.
The tournament has been sold out for days, and the crowd that gathered in the poker room of the casino showed a genuine excitement for watching poker. This having been my third season on the EPT, I can say that it's the first time I felt a buzz in the room from someone other than the players.
Then I walked inside the ropes, and heard what the people were buzzing about, and what the media room had been talking about for about an hour. Phil Ivey had shown up unannounced to play in his first EPT, and as he sat in seat three of his assigned table, the crowd lined the rail near him eager to watch the master at work. Ivey had played in a U.K. version of 'High Stakes Poker' yesterday in London, and apparently he decided to come across to Spain, and try his luck against Europe's finest.
With only 480 seats available for this tournament, and 'only' 118 of them being online qualifiers, it was a tough field indeed that Mr. Ivey and all would have to face today. Few players knew that the tournament had sold out in advance, and outside, there was a big line of people trying to get in, many of them who had flown from countries very far away. Apparently, the only words that got you a special late ticket into this tournament were the words "I'm Phil Ivey". Strange how well those words work. Through the first two seasons of the EPT, no tournament had more than 434 entrants, and that was with a smaller buy in of €4,000 (the first seasons buy ins were mostly €2,000), so the 'sold out' sign was met with more than a little frustration by the masses of people who couldn't invoke the 'I'm Phil Ivey' clause.
While this room won't have the name recognition that a WPT event might have for Americans, there is no shortage of talent in the tournament room. With a fairly small field by modern terms, and only about 25% of the field being online qualifiers, there was a lot of poker talent playing for the first prize of €600,000 (about $760,000).
Players starting day one 'A' were Phil Ivey, Humberto Brenes, Jeff Lisandro, Hendon Mobbers Ram Vaswani, Ross & Barny Boatman, Former EPT champion Rob Hollink, and many more. One name that stood out on the list is an online legend who just started venturing out into the tournament world. Johnny Lodden. Lodden regularly plays in the biggest online game on the web, and was involved in the biggest pot in the history of online poker, reportedly over $450,000.
One notable thing about the field is the decided lack of local players. A quick glance down the player list saw only 11 players from Spain out of the 350 or so that stated their country of origin. All in all, I would say there were about 20 players from Spain. No more.
Cards got underway at the very Spanish friendly time of 5:25pm, and it was announced that we would play 9 levels tonight. With breaks, and a dinner break, the collective media discerned we would be here until 4:30am. The only silver lining to that was that by Spanish law, everyone had to be kicked out by 5am. So, we all 'knew where we were at' with respect to our bedtime, and everyone soldiered on.
Two men drew my interest the most on this day, and I spent the bulk of the time watching one, or both. Phil Ivey was the star attraction, and was doing his Ivey thing most of the day. Playing a lot of pots, calling a lot of bets, looking at people with that slack-jawed 'I'm completely disinterested, but I'm still gonna bust you' look that only Ivey has.
The interesting thing about the Ivey 'thing' this day, is early on, he wasn't able to run over the table. I saw countless occasions where Ivey would flat call a bet on the flop in position, ready for the inevitable 'check-pounce' on the turn, only to face a bigger bet on the turn, and have to muck his cards, rather than rake the chips. This resulted in Ivey kind of 'hanging around' for the first five or six levels, his chip stack healthy, but by no means dominating. Then, about 1:30am, Ivey raked his second pot in a row, to get himself a chip stack clearly superior to most at the table, and that's when he put his foot on the gas.
Ivey led out at the next three consecutive pots after winning that key hand, and the 'vacuum' phase of Mr Ivey's evening had begun. Ivey was well on his way to being in the lofty 35,000 – 40,000 chips area, before he lost a couple decent sized pots toward the end, and ended the day on 24,800 – which is just less than average.
Lodden, on the other hand had quite a different adventure on this day. We could call it 'Mr Lodden's wild ride'. With all the gusto of a big time cash game player, Lodden was in a lot of pots, and early on, the chips went in the wrong direction for Lodden. Really Wrong. At one point, Lodden was apparently down to 300 or 400 chips off his initial stack of 10,000, and this was in level one. No Problem. Lodden tosses his chips in over the next few hands, and about 10 minutes after I had checked in on him, and found him back up to about 3,000 chips, I checked in again – and saw 15,000 chips in front of him. Now that's some gamboooling.
The wild ride continued for Mr Lodden, as whispers had him up over 50,000 for a while, and at the end of the day, he settled in with about 47,000 - not bad from a day low of 300 or 400 chips. .
Team Poker Stars player Humberto Brenes, who played a lot of pots with Lodden, had a fairly wild day as well. Up to about 24,000, then down to about 8,000, Humberto managed to claw back to about 27,000 chips, which is where he was right before the end of play.
At the end of day one 'A', the chip leader is Dan Pedersen, who is about 20% clear of the rest of the field with 118,400 chips.
Some of the names mentioned in the top paragraph did not have a particularly good day, and indeed the Hendon Mob were 0 for 3 on this day, with Ram out in the first few levels, and Ross & Barny lasting well into the night, but not into the next day.
All in all they played nine full hours of poker today, and it appears about 79 players made it into day two. Notables surviving into day two include Lodden, Jeff Lisandro, WPT Paris winner Roland De Wolfe, Brenes, and a cast of dozens.
Day one 'B' will bring us Mike 'The Mouth' Matuow, Joe Hachem, Gus Hansen, Isabelle Mercier, Carl Olson, John Gale, Kenna James, David Plastik, and a cast of European pros. The winner of this tournament will win about €600,000, and get to spend at least a small portion of it in one of the more cooler places in the world to hang out. See you tomorrow.
Chip counts ending day 1 'A'
Dan Bitsca Pedersen 118,400
Javed Abrahams 99,700
Johan Nord 84,400
Robin Keston 76,000
Andras Karkus 71,900
Kristian Ulriksen 70,300
A. Helland 69,700
Philip Thorel 57,600
Peter Dalhuisen 57,300
Bo Sehljtedt 50,300
Abu Davas 49,800
Johnny Lodden 47,100
Ian Woodley 46,700
Roland De Wolfe 44,700
Seval Hageland 44,700
Brice Van der Vollen 42,600
Fuat Can 41,000
Teemu Lahtinen 40,600
David Daneshgar 39,900
Alan Otte 39,900
Nick Gibson 39,500
Pierrard 38,500
Jin Cailin 37,800
Katja Thater 35,800
Jeffrey Lisandro 34,600
Leslie Kerrigan 33,500
JP Kelly 31,800
P Gould 31,200
Jon Dull 31,000
Hans Eskilsson 28,800
Humberto Brenes 27,000
Markus Boudewijn 26,900
Tony Chessa 26,600
Hubert Attali 26,200
Petri Pietila 26,200
Emile Petit 25,700
Daniel Elkeslassy 25,400
Peter Jetten 25,000
Phil Ivey 24,800
Patrice Boudet 24,300
Johan Bergquist 24,000
Aki Pyysing 23,700
Michael Kindle 23,100
Thomas Wahlroos 22,900
Frank Silverstein 22,700
Aaron Doraminson 22,100
Ben Grundy 22,100
Elie Marciano 21,500
Michel Alberti 21,000
Aki Huttunen 20,300
Erik Lindberg 20,200
Stephan Rotach 20,200
Mike Halioua 19,500
Markus Golser 19,400
Nemeth Akos 18,800
Luca Pagano 18,600
Vincent Van Rooyen 18,600
Vladimir Temelkovski 18,300
James Davenport 18,000
Iago Lopez 16,800
Leopold Chow 15,400
Per Strom 15,000
Greg Hobson 14,900
Duarte 14,200
Martin Mikkelsen 13,700
Andreas Hurtig 11,100
Alan Sass 10,900
Antoni Romanello 10,800
Thierry Passeron 10,700
Thomas Billum 10,500
Thierry Mulin 10,200
Marga Gonzalez 10,000
Stephen Pearce 8,700
Allan Dyrstad Allan 8,000
Tony Lindstedt 7,700
Manuel Cuberos 6,900
Birgitta Joahnsson 6,700
Jules Kuusik 5,100
Franck Bensimon 5,000