European Poker Tour – London Day 1 'A'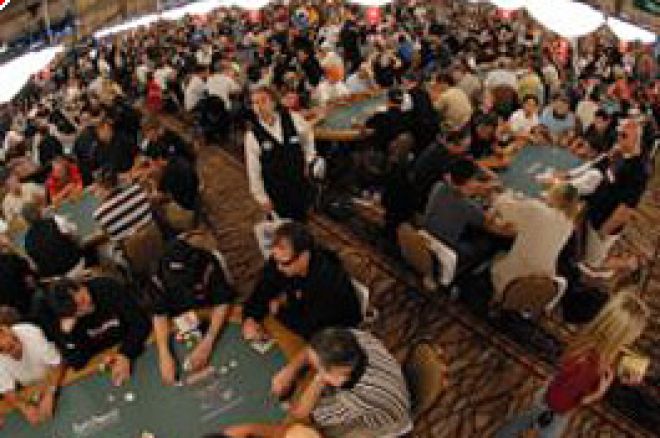 The Vic in London is bustling on a Thursday night as ½ the sold out field of 400 packed themselves into the available playing room for day 1 'A' of the European Poker Tour's London stop.
Fresh off the sold out success of the Barcelona Open, where a packed casino watched Phil Ivey come close, but fall just short to the super aggressive final table play of Bjorn-Erik Glenne, the EPT rolled through its second stop in as many weeks.
Having spent the summer in Las Vegas, with 200 + poker tables in one room, and players stretched as far as the eye can see, its interesting to see a tournament that has to use three rooms to play its 20 tables out. The tables were jammed into the three available rooms, and there wasn't a whole lot of room for media (or cocktail waitresses for that matter) to maneuver. Add into the mix the fact that people in the adjacent casino rooms are allowed to smoke (and everyone seems to be taking advantage of that), and you have one packed, smoky room. While they do put on a fantastic tournament here at the Vic, for a California boy that is used to wide open spaces and smoke free air, this is an interesting place to work.
One player who didn't seem to be affected was Phil Ivey. Phil surprised everyone last week (including tournament organizers) by turning up to play in Barcelona, and he was back for more this week in London. Joining Phil on Day 1 'A' were Kenna James, Ram Vaswani, Victor Ramdin, Dave Colclough, Johnny Lodden, Harry Demetriou, Barcelona Champ Bjorn-Erik Glenne, Jeffrey Lisandro, Isabelle Mercier, Luca Pagano, David Plastik, and a cast of dozens.
Play started at 3pm local time, and away we went. One table that was particularly noticeable right away for its 'murderers row' was table 11, where seat three, four and five were occupied by Ram Vaswani, Kenna James, and Dave Colclough. It came as no surprise that will all the action created at this table, one of these three would go early, and Kenna James obliged, being one of the first to leave the field.
The play was not as fast as we had seen in some of the other EPT events, and by the dinner break, only a few players had been eliminated. David Plastik, Dave Colclough, and Harry D all bit the dust early, and there would be no repeat for Barcelona winner Bjorn-Erik Glenne, who left sight pretty early.
A couple people shot out to a big lead, and spent the rest of the day trying to hold on to that lead. Victor Ramdin had about 40,000 chips when the average was probably somewhere around 13,000 or so. Johnny Lodden shot out quickly to about 25,000 chips, and spent most of the day beating up on his tablemates, all the while sitting back in his chair listening to whatever was on his iPod at that moment.
Phil Ivey's day was really similar to the day one he had in Barcelona. He sort of hung around all day, made quads once or twice, and managed to keep his chip stack at the point where is was neither in terrible danger, nor a major threat (except for the guy who was playing the stack, who is always a threat).
One light moment that I will call the 'beautiful people should stick together' moment occurred when Luca Pagano was super short on chips, and after Luca threw away a hand on the flop, putting him down to about 2,500 or so. There was some needling coming Luca's way from the far end of the table, and of all people, it was Isabelle Mercier, who was riding a stack of her own of about 30,000+ at the time giving Luca a hard time in her own charming way. Luca wasn't having a bit of it, as he wasn't having a particular good day, and you could see the steam coming out of his ears. Isabelle let Luca simmer for about 2 or 3 hands, then went up and gave him a hug, and kiss on the cheek.
Play got particularly fast through the middle levels, and the players were dropping at an astounding rate, and by the beginning of the last level, we were down to about 70 players.
Play slowed down a bit as the night drew to a close, but near the end Johnny Lodden won a huge pot to put himself into the dominate chip lead with only a few minutes left in play.
As play wound down, we were down to 54 players. Johnny Lodden is far and away the chip leader of the event, and has a stack that has about a 50% lead on the next closest competitor, the Hendon Mob's Barny Boatman. Assuming we play at the same pace tomorrow, and judging by how quick the bustouts were on day two in Barcelona, I would think a paring a 110 person field down to 8 will be a bit easier than the 163 we had in Spain.
Some of the more notable players with chips include the Boatman brothers of the Hendon Mob, both of whom are north of 50,000. Phil Ivey has 42,000, player of the year candidate Shannon Shorr has about 60,000 chips. Tom Parker-Bowles (son of Prince Charles wife Camilla Parker-Bowles) has a royal stack of about 52,000 chips. Isabelle Mercier may still be apologizing to Luca Pagano, but she doesn't have to apologize for her stack, which is well north of 30,000.
Here are the official chip counts from day one 'A'. We have another 202 players registered for today, and play begins at 3pm local time.
Johnny Lodden 126,700
Barny Boatman 87,100
Torben Sneibjerg 83,100
Michael Muldoon 73,900
Stuart Rutter 61,500
Shannon Shorr 60,200
Ivar Rivenaes 60,000
Simon Zach 58,900
Ross Boatman 56,500
Tim Flanders 55,500
John Kabbaj 54,100
Molander Molander 53,300
Tom Parker-Bowles 52,100
Samir Shakhtoor 51,700
Damien Lemercier 50,700
Ferenc Bardha 46,200
Alli Mallu 46,100
Ashley Hayles 46,000
Phil Ivey 42,200
Andrew Bradshaw 38,900
Jeffrey Rodgers 37,200
Alon Huberman 36,800
Isabelle Mercier 36,000
Vik Kanwar 35,200
Andrew Robl 33,700
Samuel Hapak 33,100
Mick Cook 32,900
Michael Ellis 32,800
Ram Vaswani 28,300
Feminella Tommaso 28,100
Jeffrey Buffenbarger 26,900
Frank Bastow 25,700
Will Davis 25,300
Alan Betson 25,100
Jan Sjåvik 24,400
James Akenhead 23,900
Tim Vance 21,200
Joseph Campbell 20,400
Gary Chatterton 20,100
Kevin Parkes 19,800
Hans Eskilsson 19,100
Jani Saari 17,500
Neil Channing 17,400
S Elorfi 17,300
Adam Heller 15,800
Peter Hendriks 15,700
Peter Hedlund 15,600
Ricki Nielsen 15,100
Robin Keston 14,700
William Fitzpatrick 14,500
Micky Wernick 12,600
Frank Pini 12,500
Dennis Skaarup 11,000
Anthony Adderley 9,600