WCOOP #7, $200+15 Limit Hold'em: Canada's 'yaaaflow' Claims Bracelet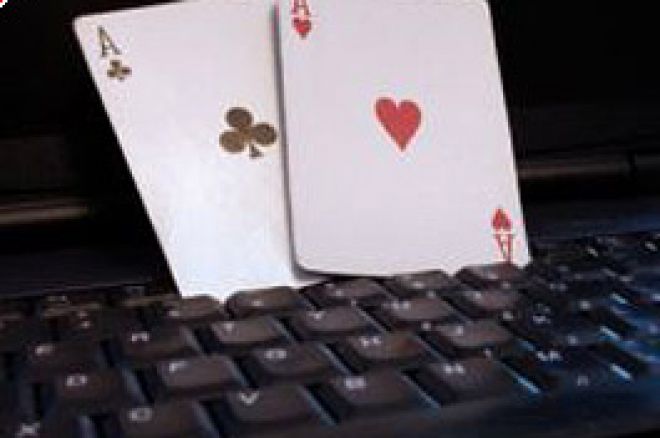 Is limit hold'em the forgotten step-sister of the no-limit game, the dominant poker version of recent years? Don't tell it to the masses who showed up for Event #7 at Poker Stars' fifth annual World Championship of Online Poker. This event, with its $200+15 entry fee, was expected to draw a thousand or so entrants, as reflected in the event's $200,000 guarantee.
Turnout was a tad higher than that. 1,872 Stars players were on hand when this one began, producing a healthy $374,400 prize pool, with first place offering over $70,000. After about ten hours of play, Denmark's 'tow75' led the way to a final table dominated by non-U.S. players, with about $820,000. The other eight were strung out behind him, all the down to 'MikeMcD,' who brought up the rear and was the first player eliminated from the final nine.
On that hand, MikeMcD got the last of his chips in pre-flop against 'wheelz21.' MikeMcD held pocket sixes against wheelz21's A-10, but a ten flopped and no other helpers arrived. wheelz21's higher pair sent MikeMcD out in ninth.
At the top of the standings, the lead changed hands as tow75 dropped several pots to the closing challengers. London, England's 'dalzini' and Edmonton's 'yaaaflow' both took down large early parts, and both topped a million in chips and took turns in the lead. 'MADEin' also moved forward, and wheelz21 won a pot worth nearly $400,000, and the surges knocked two75 down to fifth, now under $600,000.
Below that, though, the stacks were getting short. 'UH Big Tex,' 'in_da_riva' and 'Frejdig' each slid down to around $200,000 in chips, after suffering long dry spells without taking down a pot. The first to fall was Frejdig, who started his last hand with pocket tens and committed himself to the pot against tow75 after a K-5-3 flop, but flow75 held K-Q and made a second pair when a queen fell on the turn. The river jack missed both players, and Frejdig was out in eighth. The hand pushed tow75 back into a short-lived second, but with blinds of $10,000/$20,000, the leaderboard shuffled itself almost every hand.
Two short stacks remained, UH Big Tex and in_da_riva, and they each moved their $120,000 or so after an interesting 6-5-4, two-diamond flop. in_da_riva held A-J, but UH Big Tex had A-Q. The five of diamonds came on the turn, and the ten of diamonds on the river, putting four diamonds on the board, but neither play owned a diamond and UH Big Tex's A-Q held strong. in_da_riva departed with seventh-place money.
With a quarter million in chips, UH Big Tex seemed off life support, but he was knocked right back to the edge in one of two $400,000-plus pots taken in succession by yaaaflow, who moved above $1.4 million in chips and into a commanding lead. On the hand against UH Big Tex, yaaaflow rivered a jack for winning trips, a card which may well have been a two-out catch, as the pre-river action had been fierce.
The hand left UH Big Tex, the last U.S. player at the table, with about $40,000 in chips, and at the start of an amazing run. First came a tournament life-saving double-through (plus blinds), when UH Big Tex's J-7 connected for two pair; later came a hand where he paired his ten on the flop, and was called down (and all-in, for another double-through), by yaaaflow, who held pocket threes; and then came back-to-back big pots against wheelz21 and tow75 worth $750,000 combined. On the last of those hands, UH Big Tex made the nut flush on turn and collected $380,000.
The surge moved UH Big Tex into the middle of the standings, ahead of both tow75 and wheelz21, and after winning yet another big pot, UH Big Tex administered the proverbial coup de grace to wheelz21. By this time wheelz21 had become the desperate short stack, and with blinds of $15,000/$30,000, was pot committed after a 9-high flop fit well to his K-9 pocket, making top pair and a solid kicker. UH Big Tex, however, held pocket kings, and the turn and river missed both players. wheelz21 exited in sixth, and with the pot, UH Big Tex moved over $1.2 million and into the lead.
For a few hands the five remaining players stayed tightly clustered around the million-chip level, but UH Big Tex's run wasn't done; with tye taking down of big pots against yaaaflow and tow75, UH Big Tex ran the surge all the way to $1.8 million before leveling off. yaaaflow, for his part, was mixing it up more often than not and won several other pots, moving over $1.6 million. Later on, when yaaaflow's pocket kings cracked tow75's pocket aces, he moved over $2 million, with UH Big Tex not far behind. The remaining three were well back and faced short-stack situations.
The first to fall was the original final-table chip leader, tow75, whose demise came against the still-surging UH Big Tex. Down to $100,000, tow75 raised from the button with Q-J of hearts, but the aggressive UH Big Tex forced the all-in with a re-raise, holding K-J of diamonds. By the river the board held three diamonds, completing UH Big Tex's flush, and tow75 was out in fifth.
The very next hand saw MADEin depart in fourth. Before the flop, MADEin three-bet the pot, holding pocket fours, and yaaaflow made the call, holding the A-J of hearts. Already pot-committed, MADEin was dead to two outs after yaaaflow's needed ace flopped, and the rest of the board offered no relief. MADEin claimed fourth-place money for his extended run.
Three players remained --- yaaaflow with $2.2 million, UH Big Tex at $1.9, and dalzini hanging on with just over $500,000. The three called a break to discuss a deal, and all three quickly found the numbers produced by Poker Stars' chip-count formula to be acceptable. The three-way chop left $10,000 and the bracelet to play for, and action resumed.
dalzini, already the severe short stack, continued to claw but was up against the tactics of yaaaflow and UH Big Tex --- both played the endgame loose and aggressive and attacked virtually every pot. The end for dalzini came when his A-7 fell to UH Big Tex's J-2 on a T-4-4-J-6 board.
Heads up, UH Big Tex and yaaaflow engaged in a wild, see-saw battle, with UH BigTex first building a 3:1 margin, then falling behind yaaaflow by a similar amount. The two battled for over a hundred hands, all part of the ebb and flow common to limit-format events. The final surge flowed yaaaflow's way, denying UH Big Tex the final piece of his potential felt-to-first comeback. yaaaflow's last run included three different rivered straights, including a huge chopped pot where the river (an eight) completed a nine-high straight board on the board and counterfeited UH Big Tex's two pairs.
On the last hand, UH Big Tex's remaining chips went in pre-flop, backing his K-10 pockets. yaaaflow made the call with A-5. The flop was 8-T-5, putting UH Big Tex ahead, but the clinching ace appeared on the turn, and the river four didn't matter. After the three-way cash chop, yaaaflow collected over $60,000 and the WCOOP bracelet for the win.
WCOOP – Event #7 - $215 Limit Hold'em. Final Results.
*1st: ($60,419): yaaaflow
*2nd ($46,378): UH Big Tex
*3rd ($30,608): dalzini
4th ($20,030.40): MADEin
5th ($16,660.80): tow75
6th ($12,916.80): wheelz21
7th ($9,360): in_da_riva
8th ($7,413.12): Frejdig
9th ($4,492.80): MikeMcD
*Final dollar totals based on three-way deal for remaining prize money