European Poker Tour Dublin Day 2 – Moving Day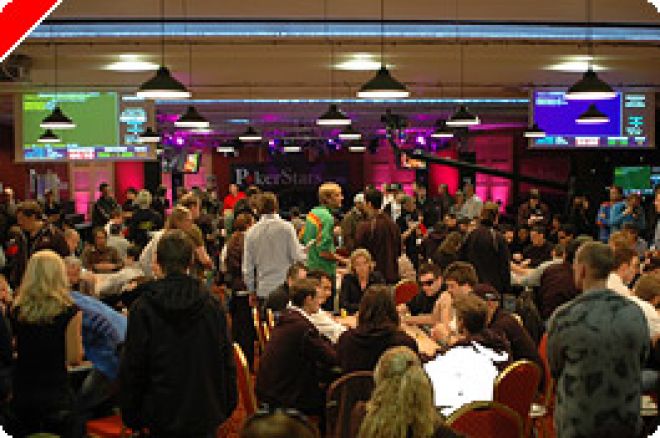 Day two at the European Poker Tour is always fast and furious. Today was no exception, as we lost 21 of the 109 players in the first 35 minutes of play! Players were shucking and jiving, and trying to position themselves to either have chips, or have a nice afternoon.
Some of the highlights of day two action:
'Maybe I'll look at my cards next time' With blinds at 600/1,200, Ade Bayo raises to 2400 in the dark. One player calls. The flop comes 7 9 J. Ade bets another 4,000 – still in the dark – and his opponent folds. Ade then sneaks a look at his cards to find 8 10, and that he had flopped the nuts. Ade shows the table, and says "If I had known I hit the flop, I would have played the hand differently" He keeps talking about the hand for about 10 more minutes until Roland De Wolfe jokingly tries to stuff a shirt in Ade's mouth to quiet him.
The Bad Timing Award: Ramzi Jelassi raises to 3000, Christoffer Stahle re-raises for 9000 and Jelassi moves all-in. Christoffer immediately calls. Jelassi wasn't happy to see Christoffer's A-K, because he was only holding A-8. But, there is always hope in poker, and both players wait for the flop. The K K 9 flop affirms Ramzi's ill-timed move, and he is out the door before the river hits.
The lucky guy award: Rob Yong couldn't believe his opponent had moved in on him when he had a set of nines. His opponent had a set of sevens, and was 'certain' he had the hand, until Rob flipped over his nines, and raked the chips.
Things got interesting as the players began to smell the money, and the television table with 12 players left – 8 get to be on TV.
Luca Pagano is eliminated at 12th when he pushes all-in with As-Js against Willy Tann's pocket Kings. No help for Luca, and he heads back to Italy with €25,870 in his pocket.
Marcel Baran pushes his Kc-Qs and George McKeever calls with Ac-10c. The board of 3d-Jc-7c-4s-4h sends Marcel home in 11th place, with €25,870 in his pocket (some of which we later saw go to Greg Raymer, as Marcel jumped into a cash game with the 2004 champ afterward).
William Thorsen, with Qc-9s forces a short stacked Finnur Hrafnsson to go all-in with 5h-5d. Qd-8d-4d on the flop; Js on turn and Kc on the river finishes Finnur's hopes of appearing at the final table, but he had €31,410 for 10th place to ease his pain at his near miss.
We only needed one more elimination to reach the final table, and the bubble boy was crowd favorite Willie Tann. Willie moved all in with Ac-Js, but ran into Roland de Wolfe's Ad-Kc. The flop of 9s-Kd-4d essentially decided things, and Willie was our bubble boy. €31,410 for 9th place sounds great, but Willie played really well all week, and might have deserved better.
The poker gods must have been in charge of the EPT calendar, because after a late night, the players will get an extra hour sleep as the clocks roll back for fall. At 3pm local time, the following eight players will gather to decide this championship.
Roland de Wolfe (England) 1,352,000
William Thorsson (Sweden) 773,500
Gavin Simms (Ireland) 442,000
Rob Yong (England) 365,000
David Tavernier (France) 360,500
Nick Slade (England) 269,000
George McKeever (Ireland) 194,000
Patrick Bueno (France) 140,000
Check back here tomorrow for the final table results. For more on some of the side action at the EPT, read on…See you tomorrow.
EPT Dublin Notes
There was also a €500 tournament that was played Saturday, which was sold out with 210 players. Greg Raymer was the 1st player to be eliminated. Raymer got all his chips in the middle on one of the first hands, and his opponent had flopped a set of threes on him. Raymer had outs, but none of them came, he Greg received what must have been the biggest ovation of the week.
Marcel Luske reached the final 3 players of the €500 tournament, and I had the opportunity to watch him play, and talk for much of the day, and spin his charm on the other players. At one point, the gracious, and grateful Luske noted: "We should all be very happy to be able to play this kind of tournaments, because there are thousands of other players that wished they could be here, so we should all play this with great pleasure and happiness". Marcel, when asked by the waitress if he desired something else, he quickly responds that would like her tie, because it would perfectly match his suit. All the players at Luske's table were having the time of their lives.