WPT World Championship, Day 5: Mortensen Faces History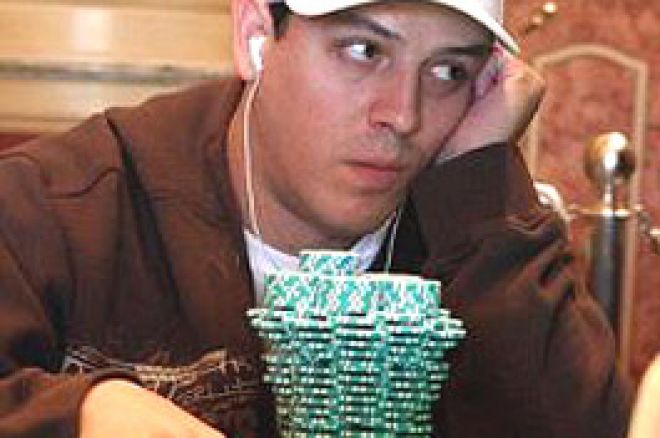 June 1, 2002 was a historic date for poker. That's when the World Poker Tour taped their very first episode here at Bellagio — nearly a year before anyone ever heard of an accountant named Chris Moneymaker. With 146 entrants, that first WPT event was won by an aggressive young Danish player named Gus Hansen who earned $550,000.
Five years and 99 episodes later, the WPT World Championship has firmly established itself as one of the top two poker tournaments in the world. Phil Hellmuth called this the only tournament more important to him than a WSOP bracelet. (Not counting the Main Event, of course.) And we all know how desperately Hellmuth wants to win his 11th bracelet.
At the start of Day 5, Hellmuth was still in action, hoping to become the first player in history to win both the WSOP Championship and the WPT Championship. Shortly after the field reached the final two tables, Phil raised preflop with pocket jacks, and called the reraise of Thomas Wahlroos. Hellmuth checked in the dark before a rainbow flop of 8-6-2. Wahlroos bet, Hellmuth moved all in, and Wahlroos immediately called — with pocket aces. For a man who claims he can dodge bullets, Wahlroos shot him right between the eyes — Phil Hellmuth finished in 18th place.
Hellmuth wasn't the only big name to have a bad day. Roland de Wolfe was hoping to improve on his 4th place finish from last year, but his day ended early when he moved all in with A-J and ran into Jimmy Tran's A-K. De Wolfe took 26th place.
Most people don't know this, but a young player named Paul Wasicka went very deep in last year's WPT World Championship, finishing 15th. Most eyes were on poker babes Erica Schoenberg and Vanessa Rousso as they worked their way toward the final table. But Wasicka wasn't overlooked a few months later, when he finished second to Jamie Gold at the WSOP Main Event, winning over $6.1 million.
Wasicka continues to prove that he isn't just a one-hit wonder. He's already earned over $1 million in tournaments in 2007, including a 4th place finish at the WPT's LA Poker Classic, and a victory in the prestigious NBC National Heads-Up Championship. But like Hellmuth and de Wolfe, this was not his day. Wasicka moved all in with A-10, and his short stack wasn't enough to scare off Kirk Morrison, who called with K-Q. A king on the flop ended the tournament for Wasicka in 24th place.
Other notable eliminations include Jim "KrazyKanuck" Worth (16th place), Sorel "imper1um" Mizzi (15th place), David Levi (13th place), and Can Kim Hua (12th place).
It was shortly after 5:30 pm when Grant Lang was eliminated in 11th place, and the remaining players consolidated to the final table. Here were the standings at that point:
1. Paul Lee - 8,994,000
2. Thomas Wahlroos - 7,186,000
3. Guy Laliberte - 3,410,000
4. Carlos Mortensen - 3,394,000
5. Tim Phan - 2,356,000
6. Kirk Morrison - 1,783,000
7. Mike Wattel - 1,434,000
8. Jimmy Tran - 1,327,000
9. Scott Fischman - 1,265,000
10. Tommy Vu - 1,083,000
As you can see, the leaderboard was top heavy, with slightly over half the chips in the top two stacks. With that much chip disparity, you might expect some relatively quick eliminations. You'd be wrong.
It took about 5 1/2 hours to trim the field from 27 down to 10, an average of one elimination every 20 minutes. It would take another 5 1/2 hours to drop from 10 to 6 — an average of one elimination every hour and 20 minutes.
Jimmy Tran was the first to go, and it took a bad beat to send him home. He was all in preflop with pocket queens against Paul Lee's pocket fives, but a five on the flop ended Tran's tournament in 10th place, earning him a career-high $185,645.
Tommy Vu was down to just 623,000 in chips when he moved all in with K-3, but Mortensen called with A-J and turned an ace to seal the deal. Vu, who made a name for himself in real-estate infomercials many years ago, earned $216,585 for 9th place.
Scott Fischman had a healthy stack when Wahlroos was all in preflop with pocket queens against Fischman's aces. But alas, Wahlroos had a spade in his hand, and Fischman did not. The board came
, and Wahlroos rivered a spade flush to stay alive. Fischman's chip stack was suddenly a lot less healthy.
Two hours later, Fischman was in a critical chip situation, and moved all in from the big blind with 7-5, hoping he had live cards. Unfortunately, he was dominated by Morrison's pocket fives. Fischman picked up an open-ended straight draw on the turn, but the board of J-4-2-6-A was nothing but a tease. Fischman went home in 8th place, earning $247,525.
Fischman's elimination came right before a 15-minute break, and play didn't resume until after 11:00 pm. The TV bubble is one of the tightest periods of a tournament, and it can take several hours to bust that 7th-place player. It looked like it would be a long night.
Or maybe not.
Ten minutes after the break, Wattel raised to 420,000, Lee called, and Wahlroos moved all in for 4.5 million. Wattel folded, but Lee thought for a bit before calling with
. Wahlroos was shocked that Lee made that call after he had shown so much strength; he could easily have A-Q dominated. But he didn't. It was Wahlroos that was dominated, holding
.
The flop came
, and Wahlroos picked up a flush draw, able to win with a ten or any spade (11 outs). But the last two cards were
, and the young gun from Helsinki, Finland, was eliminated in 7th place, earning $247,525.
THE WPT FINAL TABLE
With the elimination of Wahlroos, the WPT Final Table was set. Here are the official chip counts and seating positions:
Seat 1. Kirk Morrison - 4,194,000
Seat 2. Guy Laliberte - 4,690,000
Seat 3. Carlos Mortensen - 6,501,000
Seat 4. Mike Wattel - 2,887,000
Seat 5. Paul Lee - 11,828,000
Seat 6. Tim Phan - 2,162,000
Interestingly, Phan is the only final tablist who bought into this tournament for the full $25,500. Laliberte, Morrison, Mortensen,and Wattel all won their seats in satellites, while Paul Lee earned his entry by winning a $2,000 no-limit hold'em preliminary event earlier this month.
This is no group of rookies. Between them, the final tablists have four WSOP bracelets and three WPT Final Tables; altogether they have over $7.25 million in poker tournament winnings.
Here's some background information on the six final table players, in chip count order:
Paul Lee (11,828,000) is the chipleader heading to the final table; he has over 36% of all the chips in play. Before this month, he had never cashed in a tournament with a buy in over $1,000, usually playing smaller events. But he won the $2,000 preliminary event mentioned earlier, and with a big performance here, look for him in higher buy-in games soon.
Carlos Mortensen (6,501,000) is the 2001 WSOP champion, and could be the first player to win both the WSOP Championship and the WPT Championship. (Sorry, Hellmuth.) Mortensen has two WSOP bracelets, and has made two WPT Final Tables, including a victory at the Bellagio's 2004 WPT Doyle Brunson North American Poker Championship. El Matador has over $4.4 million in career tournament earnings, and he'll join the exclusive $5 million club with a 4th place (or higher) finish here.
Guy Laliberte (4,690,000) has only been playing poker for 18 months, and he has no tournament cashes on record. As the founder and CEO of Cirque du Soleil, he's been a little busy; Forbes magazine estimates his net worth at $1.5 billion, so it has been time well spent. If this Quebec native wins the $3.97 million first prize, his net worth will increase by just 0.0026%. This is clearly a "Guy" who doesn't care about second-place money.
Kirk Morrison (4,194,000) is a long-time poker professional that you may not be familiar with. He won a WSOP bracelet in seven-card stud in 1998, and finished 3rd in a WSOP limit hold'em event all the way back in 1994. He took seven years off from tournament poker before returning in 2006, but he seems to be coming back strong.
Mike Wattel (2,887,000) is a professional poker player who has made nine final tables at the WSOP (six in the last three years), including a 1999 bracelet for Omaha 8 or better. A tournament regular, this could be the breakout performance of his career.
Tim Phan (2,162,000) will be appearing at his second WPT Final Table; he finished 4th in the Bicycle Casino's 2005 Legends of Poker. He also had a high-profile 24th-place finish at the 2005 WSOP Main Event. Even a sixth-place finish would be the highest cash of his career, but Phan is an aggressive young player who aims for first.
There are multiple storylines to follow during the final table. Will Phan and Wattel hit the rail early or find a way to double their stacks? Will Paul Lee ride his mountain of chips to victory? And will Carlos Mortensen make history by winning both major poker titles?
The final table begins at 5:00 pm PST, and seating is limited. If you can't watch it from the stands, return to PokerNews.com for live hand-by-hand coverage of all the action, from the opening blinds to the final river card.