WPT World Championship, Day 3: Money Day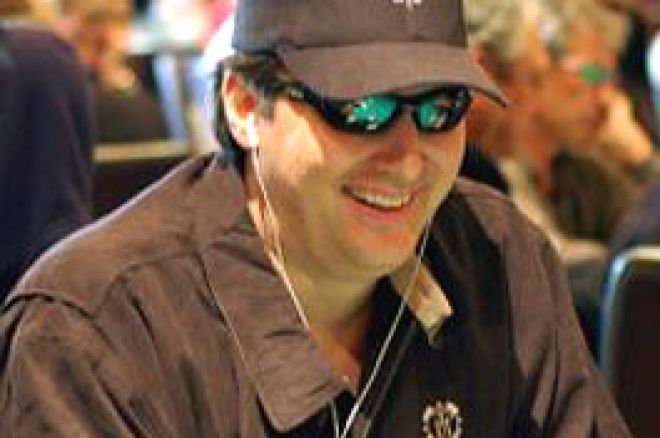 Wall Street brokers would be thrilled to invest $25,500 and cash out $46,410 three days later; it's a fantastic rate of return. But this is Las Vegas, not Wall Street. Poker pros don't play for a 82% return on their money; it's about final tables, million-dollar prizes, and championships.
With 214 players still in the hunt on Day 3, and the top 100 finishing in the money, it was clear from the beginning that Tuesday would be the money day. But most players had their sights set on Friday's final table, where the top three finishers would earn over a million dollars. Unfortunately, most of them wouldn't make it that far. Day 3 seemed particularly brutal. Consider:
Day 3 began with Martin de Knijff, who won this event in 2004. He didn't reach the money.
Day 3 began with Jamie Gold, the reigning WSOP champion. He didn't reach the money.
Day 3 began with J.C. Tran, the hottest player on the tournament circuit right now. He didn't reach the money.
Day 3 began with James Van Alstyne, who reached this final table last year, finishing 5th. He busted out in 81st place.
Day 3 began with six women — Jennifer Harman, Isabelle Mercier, Liz Lieu, Melissa Hayden, Erica Schoenberg, and Day 1 chipleader Anna Wroblewski. None of them survived the day, and only Hayden (80th place), and Wroblewski (70th place) finished in the money.
That's what happens when you lose nearly 75% of the players.
When the field reached 103 players, play shifted to hand-for-hand. The always-entertaining Humberto Brenes was in critical condition with just 11,000 in chips, but fortunately for him, the money bubble burst quickly, including big-name casualties Robert Mizrachi and Amnon Filippi.
Surviving the bubble gave Brenes new life. Shortstacked for most of the tournament, Brenes doubled up a couple times, and was brimming with confidence. With over 100,000 in chips, Brenes moved all in from the small blind with
, and Tom Pniak called from the big blind with
. The flop came
, and Brenes threw his arm in the air and cheered, "A queen! Humberto!" But his celebration was short-lived, as the
fell on the river, giving Pniak a set. Brenes's comeback was cut short, but he still congratulated Pniak and left with a smile.
When the money bubble burst, the field continued to shrink quickly, as 51st place paid the same as 100th. There were 11 minutes left in Level 15 when the field reached 54 players, and play was halted so the six-table redraw would coincide with the end-of-day redraw. Here are the top 5 chipleaders, along with a few notables:
1. Phil Hellmuth - 1,827,000
2. Raymond Davis - 1,704,000
3. Loi Phan - 1,419,000
4. Kirk Morrison - 1,327,000
5. Roland de Wolfe - 1,287,000
8. Carlos Mortensen - 939,000
22. Scott Fischman - 617,000
23. Eric Hershler - 613,000
24. Paul Wasicka - 558,000
54. Patrik Antonius - 38,000
Phil Hellmuth entered the day in second place, and kept himself in position near the top of the leaderboard all day. If you thought that would keep Hellmuth in a good mood, you'd be wrong. After losing a pot to Shawn Buchanan, he treated fans and fellow players to one of his trademark outbursts. Hellmuth flopped a pair of sixes, but Buchanan turned a pair of sevens to win the pot. Hellmuth was apparently offended that Buchanan raised preflop with K-7 and made a continuation bet when he missed the flop. "How can you bluff 200,000 against the best player in the world?" Another player defended Buchanan by saying, "Who's stacking the chips, Phil?"
Even with all the casualties on Day 3, there are still several compelling stories to follow in these final days of the tournament. Can Roland de Wolfe reach the final table in back-to-back years? Will Eric Hershler convert his recent victory at the WPT Commerce into a season-ending championship? And will Patrik Antonius be moving all in on his first or his second hand of the day?
No player has ever won both the WSOP Main Event and the WPT World Championship, the two most prestigious titles in poker. With 54 players remaining, both Phil Hellmuth (1989 WSOP champion) and Carlos Mortensen (2001 WSOP champion) are not only still alive, but in the top ten. It could be a historic final table if either of them makes it.
Day 4 begins at 12:00 noon on Wednesday, and play will likely continue until the field reaches 27 or 18 players. Stay tuned to PokerNews.com for continuing live updates, chip counts, photos, and video interviews.