Lucky You: The Las Vegas Premiere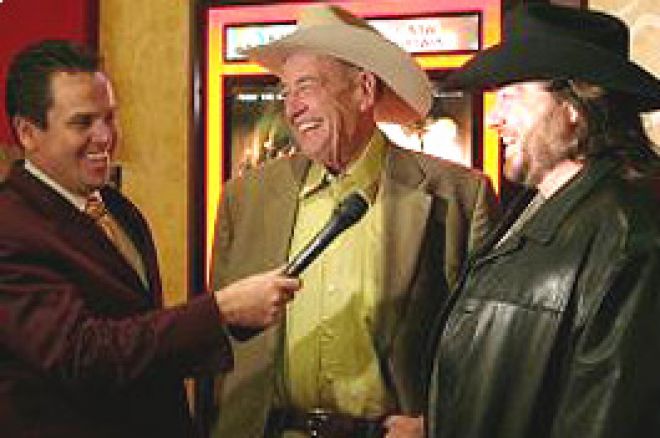 Hollywood loves making movies about the latest craze. When break dancing was big in the early 1980s, we got "Breakin'" (1984) and "Breakin' 2: Electric Boogaloo" (1984). When the internet came to prominence in the mid-1990s, we got films like "Hackers" (1995) and Sandra Bullock in "The Net" (1995). Since 2003, when poker was thrust into the mainstream culture, Hollywood gave us poker films like — well, nothing.
Hollywood has occasionally turned to poker in recent years, showcasing it in movies like "The 40-Year-Old Virgin" (2005) and the latest James Bond film, "Casino Royale" (2006). But that doesn't make them poker films. "Lucky You," which opens in theaters nationwide this weekend, is the first true poker film since "Rounders" (1998) — and that makes it the first true poker film since televised poker exploded in 2003.
"Lucky You" premiered in Las Vegas at the Red Rock Casino Thursday night. There was a New York premiere earlier in the week for the actors and the mainstream media, but this night was for the poker players, many of whom had roles in the film.
The Red Carpet
This wasn't a classic Hollywood premiere, and there were no limos pulling up to crowds of fans in front of the theater. The red carpet was just 15 feet long, and it was inside the casino at the entrance to the theater. While there was no sign of Robert Duvall, Eric Bana, or Drew Barrymore (the stars of the film who attended the New York premiere), fans got to see the likes of Doyle Brunson, Daniel Negreanu, Erick Lindgren, Chau Giang, Greg Raymer, Scotty Nguyen, and Mike Matusow.
Legendary tournament director Matt Savage was also there, interviewing players on the red carpet. Savage has close ties to the film — he was a consultant to the filmmakers, and also played a fictionalized version of himself as the tournament director of the World Series of Poker.
Even with the celebrity status achieved by top poker players the past few years, many of them are still uncomfortable with the paparazzi. They still did their part to promote the film however, giving interviews and posing for pictures before heading into the theater.
Mike Matusow was his usual animated self, questioning how he could be on the set for 15 hours and end up in the film for just 8 seconds. Matusow, like most of the players in the film, weren't so much characters as they were set pieces, a chance for the audience to see recognizable faces and believe that this was the real poker world in Las Vegas.
Moments before the film began, Todd Brunson read a message from the producers to the premiere audience. It was a standard thank you speech, showing appreciation to all the players and poker insiders who assisted with the film. Brunson kept the mood light by humorously inserting his own name several times.
"Lucky You" - The Movie Review
Unless you're talking about a documentary, poker movies aren't actually about poker — it's just the environment where the characters exist. Unfortunately for "Lucky You," those characters aren't very interesting. (Be wary of potential spoilers ahead.)
The main character is Huck Cheever (played by Eric Bana), a down-on-his-luck poker player who needs a $10,000 buy-in to the main event of the 2003 World Series of Poker. Why 2003? The filmmakers wanted to use the just-about-to-explode feeling of the poker world at that time. Place the movie in 2005 (when the production began), and the poker world would have been considerably different.
The opening scene is strong — we're introduced to Huck as he's pawning a digital camera and negotiating a good price for it. But the movie goes downhill from there. Huck randomly meets Billie (played by Drew Barrymore), a naive wannabe singer from Bakersfield, California, and they quickly hook up as she gets her first taste of the excitement of gambling as a poker player. The relationship turns sour once Huck lies to her, asks her to cheat in a prop bet, and steals from her. But like a guest on "The Jerry Springer Show," she inexplicably returns to her destructive boyfriend.
Huck lives in the shadow of his father, famed poker player L.C. Cheever (played by Robert Duvall). L.C. is a legendary two-time world poker champion, and he seeks a third championship to cement his place on page one of poker's record books. He figures this is his last shot, because "the tournament's getting too big. Luck is too much of a factor now." (One of Huck's friends sums it up this way: "It's just you against a thousand computer geeks.") L.C. seems to spend most of his time following his son around Las Vegas, because no matter where Huck goes, his father coincidentally appears.
Huck's motivation remains murky throughout. He spends the entire film trying to raise the $10,000 to play in the WSOP main event, but we never know why. Does he need the prize money? Does he want to prove he's the best in the world? Does he just want to escape from his father's shadow? The entrance fee is so important to him that he's willing to lie, cheat, and steal, but when he finally manages to get the money from a backer, he foolishly loses it to his father in a matter of minutes. (Backers don't like when that happens, and Huck pays a price.)
When the WSOP main event begins, Huck has his seat, but he barely seems to care. The tournament moves quickly, and Huck's poker face keeps us from understanding how he's feeling, or why. In one of the few touching moments in the film, Huck watches as the other final tablists receive congratulations from their friends and family — and he has nobody but his cold-hearted backer.
The backdrop of the film is spectacular and authentic. The Bellagio poker room and Binion's Horseshoe have been recreated so perfectly that you'll assume they were filmed on location (for most scenes, they weren't), and the appearances by top players lend even more credibility. However, there are several poker hands that will make poker realists cringe in the film — particularly a scene at the final table where Huck mucks a winning hand (eliminating himself from the Main Event of the WSOP in the process) after his father turns over the second best hand.
A few of the players have larger-than-cameo roles. Jennifer Harman loses to Huck in a satellite, so she's been given a different name. David Oppenheim and Johnny "World" Hennigan both make the final tables, but under different names (and Hennigan's name is particularly funny). While Harman, Hennigan, and Oppenheim all did fine work in their acting debuts, most of the others remind you why poker players aren't actors, and appear somewhat stiff and uncomfortable on camera. Even Sam Farha, who plays himself, has trouble believably delivering lines that are completely in character. He's much more believable on "High Stakes Poker."
There are definitely some fun moments in the film. There's a Brian Zembic-like character who makes a living with crazy prop bets — and yes, he has man-breasts. In one of his many attempts to raise $10,000, Huck attempts a running-golfing prop bet that was reminiscent of a similar scene in the Kevin Costner film, "Tin Cup." Look for Marco Traniello in an early scene, humorously cast as a non-poker playing extra because this was filmed before he became a respected player himself. And Farha got a big laugh when he complained about being bounced early in the 2003 WSOP from "some online player who had never played a live tournament before" — a clear reference to Chris Moneymaker.
Speaking of Moneymaker, he doesn't appear in the film. Even though it's set with real players, it's a fictional 2003 WSOP, not a documentary of the real one.
The film opens this weekend alongside "Spiderman III". At least there won't be any stress about opening in the coveted #1 slot — "Lucky You" is crossing its fingers for #2. By the time "Lucky You's" target audience gets tired of "Spiderman III," I expect this film will already be nearing its DVD release. And that's when I recommend that the curious among you take a look at it.