Brett Parise Wins APPT Manila Main Event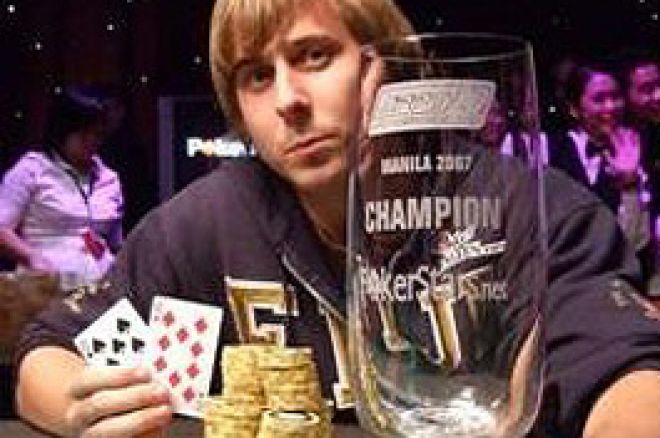 For 22-year-old Brett Parise, the roller coaster ride to the APPT championship began before he even left home. The California college student received his passport a mere two hours before boarding the plane for the Philippines after winning his seat in the APPT Manila Main Event in a PokerStars freeroll. After three days of play and a nearly three-hour-long heads-up match, the young American prevailed over a global final table to take down the PokerStars Asia Pacific Poker Tour trophy and the $179,775 first-place prize money.
Of the nine competitors that remained in the field as Day 3 of the APPT Manila Main Event began, one common thread ran through many of them: inexperience. Two of the final table players had never played in a live tournament before, and several others had never played in a tournament this big before. Van Marcus, who started Day 3 as the chip leader, was a notable exception to that rule, with a 2007 WSOP final table in Pot Limit Omaha and two final tables at this year's Aussie Millions event under his belt.
The chip counts were as follows to start the final table:
Van Marcus - 738,000
Roger Spets - 413,000
Derick Hernandez - 287,000
Nicholas Bamman - 240,000
Bas van Liere - 207,000
Maor Feldinger - 199,000
Ira Blumenthal - 184,000
Brett Parise - 173,000
Kazuhiro Sato - 109,000
The short-stacked Sato wasted no time getting his chips in the middle, as he pushed all in on the sixth hand of the day with
. Derick Hernandez quickly called with pocket queens, but an ace on the flop doubled up Sato and left Hernandez with a big dent in his stack. Hernandez' streak continued on the very next hand, when he pushed all-in over the top of Brett Parise's pre-flop re-raise. Parise called, and tabled
. Hernandez held
, but was drawing thin when the flop came
, giving Parise middle set. No ace came on the turn or river, and local favorite Hernandez was eliminated in ninth place for $11,386.
Sato's aggressive play doubled him up early, but crippled him in a hand shortly afterwards with Maor Feldinger. Feldinger called Sato's preflop raise to see a flop of
. Feldinger check-raised Sato all in, and Sato called after a moment's thought. Sato's
was no good against Feldinger's
, and Sato was crippled when no help came on the last two streets.
The next hand saw Sato eliminated by Ira Blumenthal, who held pocket jacks to Sato's
. Sato couldn't catch up and went to the rail in eighth place ($14,981). Bas van Liere was the next to fall, as he ran his
into Maor Feldinger's
. No ace arrived for the Dutchman, and he was eliminated in seventh place for $20,974.
After the rapid-fire bustouts of the first few levels, play slowed down considerably until Roger Spets, making the final table in his first live tournament, shoved his short stack in with
, doubling through Parise's
on a final board of
. Still the short stack, Spets shoved again on the very next hand with pocket sixes, running into the pocket jacks of Ira Blumenthal to depart in sixth place for $26,966, a good return for his first foray into live tournament play.
At the dinner break, Ira Blumenthal had claimed the chip lead, and the stacks looked like this:
Seat 2: Nicholas Bamman - 464,000
Seat 4: Brett Parise - 372,000
Seat 5: Ira Blumenthal - 694,000
Seat 6: Maor Feldinger - 525,000
Seat 9: Van Marcus - 496,000
Players became more tentative after dinner, and Australian pro Van Marcus used that to his advantage, applying pressure pre-flop to pick up orphaned blinds and antes. He soon dragged a monster pot from Maor Feldinger just before Feldinger was eliminated. Feldinger's final hand was a pre-flop shove from the button with
, which missed the board of
, and fell to Nicholas Bamman, who had called Feldinger's push with
. Feldinger collected $35,955 for his three days in the Philippines.
Van Marcus started Day 3 as the chip leader, but fell behind early and was never able to recover. Just a few hands after Feldinger busted in fifth, Marcus saw his all in pre-flop raise called by Parise, who had Marcus well covered. Marcus tabled
, and was dominated by Parise's
. The board brought
, and Marcus was eliminated in fourth for $44,944.
Nicholas Bamman lasted through two hours of three-handed play before pushing pushing all-in over the top of Parise with pocket kings. Parise called with
, and the flop of
left Bamman well in the lead, looking to dodge an ace or another seven. The turn brought a heartbreaking
, and the
on the river was irrelevant, sending Bamman back to Princeton, NJ in third place ($62,921).
Heads-up play was a cautious back-and-forth affair as the 22-year old student from California and the 45-year-old attorney jockeyed for position for nearly three hours before a winner could finally be determined. Parise led his opponent in big-field tournament experience, having played in the Mixed Hold'Em event at the 2007 WSOP, but Blumenthal held his own as the evening wore on. Finally, a short-stacked Blumenthal pushed all-in preflop with
, and Parise called instantly with
. The board brought drama in the form of
, giving Blumenthal an inside straight draw, but neither the
on the turn nor the
on the river would complete Blumenthal's draw, giving Parise the championship trophy and the first-prize money of $179,775. Blumenthal collected $113,858 for his second-place finish.