Online Poker Weekend: 'hockeystud94' Conquers Stars Million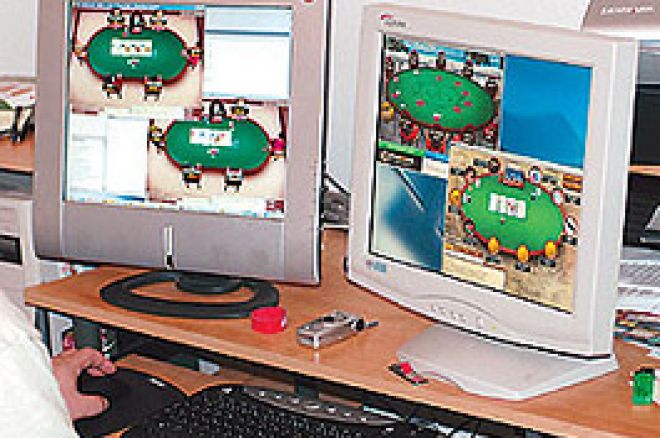 While Full Tilt's FTOPS Main Event offered the biggest prizepool of the weekend ($2,289,000), it was PokerStars' Sunday Million that attracted the most players, registering an impressive 6,459 entrants. Once again, Stars had no trouble surpassing their million-dollar guarantee, generating a prize pool totaling $1,291,800, with first place worth over $185,000.
J.C. 'PrtyPsux' Alvarado, who has a knack for crushing massive online fields, made yet another deep run on Sunday, this time on PokerStars. Just one week removed from a fourth place finish in Event #6 of the FTOPS, worth $72,138, Alvarado reached the final table of the PokerStars Sunday Million and added another $12,918 to his bankroll for his eighth-place showing.
PokerStars Sunday Million
It took almost nine hours for the 6,459 player field to dwindle down to the final nine. When the final table began, 'hockeystud94' was top dog with just over 14 million in chips, while 'Dunk_17' brought up the rear with 2.8 million. Amazingly, within ten minutes of the start of final table play, Dunk_17 jumped from worst to first in chips after doubling once through 'ZillaalliZ1,' and again through 'sharp' just a few hands later, when Dunk_17 had flopped top set holding pocket sevens on the
board against sharp's pocket tens. sharp picked up four additional outs when the
fell on the turn, but the
on the river sealed his fate and he would settle for ninth place.
J.C. 'PrtyPsux' Alvarado lost the majority of his chips making a move on 'ArbahChamesh's' big blind holding
; ArbahChamesh insta-called and had J.C. dominated with his
. The board brought some drama, giving J.C. two pair on the turn, but the
on the river sent the pot the other way. Two hands later, a short-stacked Alvarado shoved with
and was called by hockeystud94 who showed
. The board filled out
giving hockeystud94 a king-high straight, sending Alvarado home in eighth place.
Seventh belonged to ZillaalliZ1, whose pocket threes lost a classic race to 'jeanette_33's'
when the
fell on the river. jeanette_33's good fortune was short-lived, however, as he was eliminated on the very next hand by hockeystud94, who spiked a fifth spade on the river for a queen-high flush to best jeanette_33's two pair (tens and twos). hockeystud94 then went on a tear, eliminating both ArbahChamesh and 'SevenToes' within minutes of each other. ArbahChamesh made his move with
and ran into hockeystud94's pocket aces, while SevenToes' pocket twos fell to hockeystud94's rivered Broadway straight.
'wwwBTHEREcom' wound up with third place prize money after his
failed to improve against Dunk_17's pocket jacks in a pre-flop all-in race. hockeystud94 held a little more than a 3-2 chip advantage over Dunk_17 at the start of heads-up play, at which time they agreed to the following deal: $136,000 to hockeystud94 and $116,516.66 to Dunk_17, leaving $30,000 on the table for the winner.
The heads-up match lasted approximately ten minutes before the final hand was dealt. hockeystud94 made it 1.5 million to go before the flop and Dunk_17 called. The flop came
, after which both players checked. The turn brought the
and Dunk_17 checked to hockeystud94 who bet two million. Dunk_17 then check-raised to 5.5 million and was met by a re-raise from hockeystud94 who put Dunk_17 all-in. Dunk_17 made the call and showed
for top pair, while hockeystud94 revealed
for a double gutshot straight draw. The river brought the
, a $30,000 card for hockeystud94 who clinched the Sunday Million with a queen-high straight.
Final standings:
*1st ($166,000): hockeystud94
*2nd ($116,516.66): Dunk_17
3rd ($69,628.02): wwwBTHEREcom
4th ($54,255.60): SevenToes
5th ($41,466.78): ArbahChamesh
6th ($29,711.40): jeanette_33
7th ($21,314.70): ZillaalliZ1
8th ($12,918): PrtyPsux
9th ($8,009.16): sharp
* — reflects the results of a two-way chop
PartyPoker $300,000 Guaranteed
Over at PartyPoker, 1,393 players bought into the $300,000 Guaranteed Sunday tournament, down from 1,485 last week. This meant a nice $21,400 overlay in place for the participants. The top 200 places paid, with first place potentially worth $60,000 barring no final-table deal.
'GENund' entered the final table as the chip leader with 1.2 million in chips, followed closely behind by 'LittleZcam' with 1.1 million. 'Loser_kid_13' would be the first casualty of the ten-handed final table. He lost almost all of his chips holding pocket kings in a monster three-way pot against 'MrJoeyGee' and LittleZcam, who had pocket aces and pocket kings respectively. MrJoeyGee's aces held up and Loser_kid_13 was left with just 20,000 in chips. On the next hand, Loser_kid_13 moved all-in with
and was called by GENund, whose pocket fives held up, sending Loser_kid_13 to the rail in tenth place.
GENund claimed his second victim shortly thereafter, eliminating LittleZcam in ninth place when his
was able to outdraw LittleZcam's pocket jacks, as the board filled out
. Eighth place was decided moments later as 'evorG' got all of his money in holding pocket kings against 'Raul_Oliv's' pocket eights, but the
fell on the river giving Raul_Oliv the winning set. Next to go would be 'She_DiDIt,' who ran into 'Gustavsson's' pocket aces while holding
. The board brought no help for She_DiDIt, who settled for seventh-place prize money.
'carreiram' made his final move with
and was looked up by Raul_Oliv who revealed pocket sixes. Raul_Oliv spiked a third six on the flop and that was it for carreiram, who would end up in sixth place. Last to go would be 'ramboldt,' whose pocket sevens were run down by GENund's
, as the board filled out
. GENund's third and final knockout of the day hoisted him into the chip lead. Following ramboldt's elimination, the four remaining players agreed on a chip-count chop.
Final standings:
*1st ($36,761.26): GENund
*2nd ($34,673.21): Gustavsson
*3rd ($31,668.23): Raul_Oliv
*4th ($26,947.30): MrJoeyGee
5th ($13,800): ramboldt
6th ($10,350): carreiram
7th ($7,950): She_DiDIt
8th ($5,250): evorG
9th ($4,050): LittleZcam
10th ($2,850): Loser_kid_13
* — reflects the results of a four-way chop