Preliminary Action from the NPL UK Open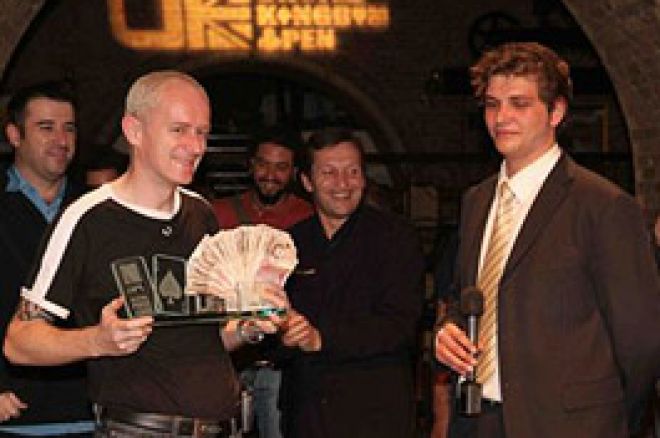 The National Poker League UK Open is underway. The first stop on its 2007 World Circuit Tour is being hosted by London's Loose Cannon. The £2,500 buy-in Main Event kicks off today, but there's already been a lot of action.
Event #1:
Mike Conway went into the final table of Event #1 with the second smallest chip stack, but emerged with the win and £5000. Conway was able to build his stack quickly when Eion Kennedy, the short stack, pushed in with pocket sixes. Conway's AQ found a queen on the board, sending Kennedy home in sixth place and giving Conway a little breathing room. David Colclough was eliminated in fifth place when his A-J had the misfortune of catching top two pair on a flop of A-J-9. Unfortunately for Colclough, Steve Razab hit a set of nines on the same flop. Jason Ho looked like he was in good shape with his pocket kings facing Tony G's pocket eights, but an eight on the river sealed Jason Ho's fourth-place finish. Tony G's luck, however, didn't hold. Tony G was bested in a confrontation with Conway and exited in third.
Mike Conway had a 6-to-4 chip advantage over Steve Razab when heads-up play began. On the 26th hand, all the chips went in the middle when both players made a straight. While Razab's wheel looked nice, it was no match for Conway's six-high.
Event #2:
The second event at the UK Open marked David Colclough's second straight final-table appearance. And this time Colclough battled it out to the end to take home first-place prize money of £5600. Albert Sapiano met an early demise when he pushed his short stack in with pocket nines; finishing in sixth place when Stuart Nash's A-K found a king on the board. But Nash's victory was short-lived when his pocket eights failed against Colclough's K-Q. The flop was innocent enough, but Colclough caught a runner-runner two pair to send Nash out in fifth place. Hugh Mullally liked his hand of A-K, until he saw it was up against Jason De Freitas' pocket aces. All went as expected and Mullally departed in fourth place. Paul Ephremson, the short stack of the remaining three players, got it all in with pocket fives against Colclough's A-7. An ace on the river had Ephremson claiming a third-place finish.
David Colclough and Jason De Freitas were almost equally matched in chips at the start of heads-up play. It also appeared they were equally matched in determination as they battled for over 120 hands. In the final hand, De Freitas pushed in with A-7 and looked good against Colclough's K-8. De Freitas looked even better when the flop brought him a seven. The turn, though, delivered a king for Colclough. An ace on the river could have saved De Freitas, but it was yet another king to seal Colclough's victory.
Event #3:
Mel Judah took top honors and £7,500 in the UK Open's third event. Jody Vernon marked the final table's first departure when his A-J was dominated by Judah's A-Q pre-flop. The board left them as they started, and Vernon finished in sixth place. Judah also did the dirty work when he called Chris Andreas' pre-flop all-in; Judah had the upper hand with pocket fives while Andreas hoped for some help with A-T. Judah hit his set on the flop and it never got any better for Andreas, who exited in fifth place. Hermes finished in fourth place when his Q-9 couldn't improve against Sonny Osman's pocket threes. Nick Persaud, who entered the final table as chip leader, then decided it was hammer time. In a raising and re-raising test of wills, Persaud eventually got it all in pre-flop against Mel Judah. Persaud showed the all powerful 7-2 against Judah's A-K. Persaud looked almost omniscient as the flop came Q-J-2. But the river brought a ten and a Broadway straight for Judah and sent Persaud home in third place.
Osman had battled his way to heads-up from a short stack, but Judah had him out-chipped by about 20,000. It looked like Osman was finally going to be about to turn the tables when his A-Q went up against Judah's Q-2, suited in spades. Osman had things well in hand on the rainbow flop of Q-J-3, but runner-runner spades delivered a flush for Judah and had Osman settling for second place.
Action continues today in the £2,500 main event. For the latest updates from London's Loose Cannon Club, click here.