Online Poker Weekend: Jon 'PearlJammer' Turner Takes Second in Sunday Million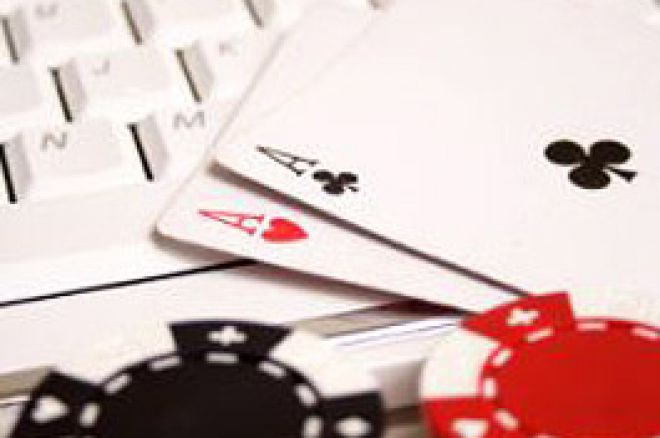 The extended holiday weekend meant for a slight dip in overall attendance at Sunday's online majors, with numbers at PokerStars' Sunday Million off by 15% and a rarity available at Full Tilt, a sizable overlay. The players who were on hand in these events, however, still chased some big money, with Jon 'PearlJammer' Turner making a deep run at Stars to follow up his successful 2007 WSOP season.
PokerStars Sunday Million
Yesterday's Sunday Million at PokerStars attracted the largest field of the weekend, drawing 6,031 entrants. The tournament smashed its million-dollar guarantee by over $200,000, offering $173,451 and change to the winner. Internet star Jon 'PearlJammer' Turner headlined the final table, just three million chips behind the tournament leader, 'chrisbond,' who came in with slightly less than 11.5 million.
It didn't take long to lose the first player, 'Loonbat,' whose
lost a race against 'Dynamite321's' pocket nines. The board read
at the turn, and it looked as though Loonbat would double through, but the
fell on the river, giving Dynamite321 a queen-high straight and the first big pot. Next to go would be 'Does888,' who also lost a race to pocket nines, only this time they belonged to 'Mikelars.' Does888 missed all of his outs when the board filled out
and he would settle for eighth-place prize money.
Dynamite321 went back to work in a big way, putting a bad beat on chrisbond to seize the chip lead; he would never relinquish it. This pivotal hand saw chrisbond get all of his money in with pocket queens, well ahead of Dynamite321's pocket sevens, including the
. The flop came a relatively safe
, but the
on the turn gave Dynamite321 nine additional outs to win the hand. Sure enough, the
fell on the river, giving Dynamite321 a spade flush and a monster chip lead. Dynamite321 then went on a mini-heater, knocking out 'fwilliams007' and 'drball' within four minutes of each other. fwilliams007 lost with pocket jacks to Dynamite321's
when an ace came on the flop. Shortly after, Dynamite321 utilized his own pocket pair of jacks to best drball's
as the board filled out
.
Dynamite321 lost a little bit of momentum after doubling up Jon 'PearlJammer' Turner, whose pocket jacks held up against Dynamite321's pocket sevens in a pre-flop all-in duel. The hand narrowed Dynamite321's lead over the field to just two million in chips, but his elimination of 'Anna508' just two minutes later put him right back on pace. Anna508 shoved with
and was called by Dynamite321, who showed two black eights. The first four cards off the deck were all spades, giving Dynamite321 yet another winning flush and a bigger chip lead. Three-handed play carried on for five minutes before the next casualty. Mikelars, who seemed to fly under the radar for much of the final table, finally got involved with a pocket pair of tens against Dynamite321's
. The board filled out
, giving Dynamite321 the winning two pair.
The heads-up match between PearlJammer and Dynamite321 lasted about 14 minutes, long enough for the two to agree on a save that would give the second-place finisher $100,000, instead of the $90,344 originally slated, meaning first place would be worth $163,795 instead of $173,451. Dynamite321 played the role of the big stack formidably against an extremely tough heads-up opponent in Turner. The final hand saw PearlJammer commit the remainder of his chips to the pot holding
on the
board against Dynamite321's made full house – he had pocket twos. Turner would need a nine or a seven on the river to stay alive, but neither would come, giving Dynamite321 this week's PokerStars Sunday Million title.
Final standings:
1st ($163,795.94): Dynamite321
2nd ($100,000): Jon 'PearlJammer' Turner
3rd ($65,014.18): Mikelars
4th ($50,660.40): Anna508
5th ($38,719.02): drball
6th ($27,742.60): fwilliams007
7th ($19,902.30): chrisbond
8th ($12,062): Does888
9th ($7,478.44): Loonbat
Full Tilt $750,000 Guaranteed
Over on Full Tilt, the $750,000 guaranteed tournament fell $83,600 shy of reaching its quota, leaving a rare overlay in place. Still, a large field of 3,332 entrants battled it out for a six-figure grand prize worth over $130,000. 'savikoti' owned the chip lead at the start of final-table play, sitting on just over 1.9 million in chips, while 'dapalma150' brought up the rear with just under 600,000.
The first elimination came just six minutes in as 'TWEB31's' pair of tens on the
flop could not hold off 'skullified's'
. The
came on the turn, giving TWEB31 two pair, aces and tens, but also completing skullified's straight. TWEB31 failed to boat up when the river brought the
and he was eliminated in ninth place. Seven minutes later, 'Orange Iguanas' sent 'TashaOtter' to the rail in eighth place after his
ousted TashaOtter's
. The board filled out
, giving Orange Iguanas the king he needed to win the hand.
Orange Iguanas would also claim the seventh-place finisher, 'MiCiLL,' making a very strong full house holding pocket kings against MiCiLL's
as the board came
. Next to go would be savikoti, whose pocket sevens were demolished by skullified's
after the board came
. Fifth place was decided rather unjustly by a nasty bad beat put on dapalma150, courtesy of 'BallaHolic952.' dapalma150 got his money in with pocket aces against BallaHolic952's
, but the board filled out
, giving BallaHolic952 a six-high straight and the checkmark for the hand.
Next on the chopping block was 'xGODF4TH3Rx,' whose
could not outrun Orange Iguanas' pocket tens and xGODF4TH3Rx took home fourth place money. Just five minutes later, skullified was mortified by Orange Iguanas and his pocket aces. skullified held
while the board was an attractive
and shoved all-in, only to be called by Orange Iguanas who revealed his aces. skullified picked up additional outs when the
came on the turn, but the
on the river locked it up for Orange Iguanas, setting up a heads-up match between Iguanas and BallaHolic952.
At the start of heads-up play, Orange Iguanas had the advantage with approximately 6.2 million in chips to BallaHolic952's 3.8 million. The heads-up match lasted just five minutes and ended with Orange Iguanas catching a jack on the river while holding
to best BallaHolic952's pocket sevens; the community cards were
. Orange Iguanas picked up over $130,000 with the win, while BallaHolic952, who claimed to have ties to Theo Tran, took home a respectable $80,250.
Final standings:
1st ($132,787.50): Orange Iguanas
2nd ($80,250): BallaHolic952
3rd ($52,500): skullified
4th ($41,400): xGODF4TH3Rx
5th ($31,050): dapalma150
6th ($23,025): savikoti
7th ($17,250): MiCiLL
8th ($13,500): TashaOtter
9th ($10,050): TWEB31
PartyPoker $300,000 Guaranteed
For a third straight week, the number of entrants in the $300,000 guaranteed tournament at PartyPoker improved from the week prior. This time around, 1,472 players came to play, up from 1,423 just one week ago. The top 200 finishers cashed, but $174,300 of the total $300,000 prize pool went to the top ten spots.
At the start of final table play, 'Pointer2' and 'SHIP_IT_BITCHH' each had just over 1.3 million in chips and were virtually tied for the chip lead, while 'Haaqez_CK' was the low man on the totem pole with just over 260,000. 'nabo11' was the first to make a move, shoving all-in pre-flop with
, but he was insta-called by 'NicoGrozden,' who held pocket aces. The board brought no help to nabo11, who was eliminated in tenth place. Moments later, a short-stacked 'tolumax' shoved with
and was called by 'Vegard8' from the big blind who held a meager
. The board came
, giving Vegard8 trip threes and tolumax was eliminated in ninth place.
The first half of final-table play was a two-man show, as NicoGrozden and Vegard8 claimed the first five knockouts. Haaqez_CK was the next to go after his
was outraced by NicoGrozden's pocket threes when the board filled out
. NicoGrozden then knocked out a short-stacked Pointer2 in seventh place, making trip aces against Pointer2's eight-high. Vegard8 then took over executioner duties, sending 'english_' to the rail in sixth place when his
held up against english_'s
; Vegard8 made two pair to win the pot when the board came
.
NicoGrozden's run was eventually cut short by SHIP_IT_BITCHH, whose
bested NicoGrozden's
on a board of
, eliminating NicoGrozden from the tournament in fifth place. Vegard8, on the other hand, was not quite finished. Vegard8 would go on to knock out both 'iikori' and 'luckystraw' in fourth and third, respectively. iikori went out holding
against Vegard8's
when the board came
. luckystraw hit the flop hard on his elimination hand, making top two pair (kings and queens) on a board showing
. Unfortunately for him, Vegard8 was sitting on the stone cold nuts,
, for a Broadway straight. luckystraw was unable to boat up and was eliminated from the tournament in third place.
Vegard8 held a slight chip lead over SHIP_IT_BITCHH at the start of heads-up play. During the first hand, SHIP_IT_BITCHH asked Vegard8 if he wanted to discuss a deal, which Vegard8 declined. Unfortunately for Vegard8, not even five minutes into the heads-up match, SHIP_IT_BITCHH got all of his money into the pot preflop with king-five against Vegard8's ace-jack and went on to make quad kings! The final hand ensued after a number of lead changes. Vegard8 showed
while SHIP_IT_BITCHH revealed
when all the money went in and it looked as though they'd chop it up. However, the flop came
, leaving Vegard8 drawing to a six or running straight or flush cards. The turn and river came blank, blank and SHIP_IT_BITCHH took down the $60,000 grand prize.
Final standings:
1st ($60,000): SHIP_IT_BITCHH
2nd ($33,000): Vegard8
3rd ($20,700): luckystraw
4th ($16,350): iikori
5th ($13,800): NicoGrozden
6th ($10,350): english_
7th ($7,950): Pointer2
8th ($5,250): Haaqez_CK
9th ($4,050): tolumax
10th ($2,850): nabo11