WCOOP – Event #5, $530 NLHE: 'AB_illusive' Pulls Out Comeback Win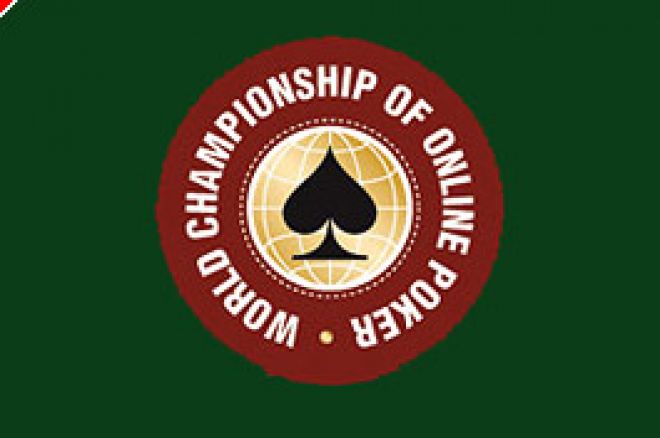 Through its first three days, the PokerStars World Championship of Online Poker (WCOOP) has seen extraordinary attendance from players all over the world. WCOOP Event #5, $530 No-Limit Hold'em, proved to be no exception to the current craze, with over 6,000 players registered. The event had a guaranteed prize pool of two million dollars and for the fifth time this weekend the guarantee was shattered; this event finished with a $3,012,500 purse.
Many professional poker players, including well known online names, were in the field for Event #5, including Joe "JoeHachem" Hachem, Katja Thater, Daniel "KidPoker" Negreanu, Greg "Fossilman" Raymer, Bill Chen, PearlJammer, Jimmy 'gobboboy' Fricke, Luca Pagano, SCTrojans, t soprano, and ch0ppy.
Nearly 2,000 players were eliminated within the first two hours of the event, and it took six hours for mc_palermo to bust on the bubble. After 15 hours of play, only 18 players remained. gobboboy was eliminated in 15th place when 'debrisfish,' on the button, raised to 400,000 with the blinds at 50,000/100,000 and a 10,000 ante. gobboboy made the call from the big blind and the flop came
. Both players checked the flop but when the
fell on the turn, debrisfish bet out 400,000 after gobboboy checked. gobboboy check-raised to 1,000,000 and debrisfish fired back to 3,700,000. gobobboy called, putting all his chips in the middle and showed
while debrisfish held
. The
on the river gave both players aces up, but debrisfish's king kicker was enough to eliminate gobboboy in the biggest pot of the night to that point, worth 6,813,944 chips. Aaron 'GambleAB' Bartley busted in 14th, just after gobboboy's exit.
After 17 hours had passed, both 'fredmainiac' and 'wNwNw1' closed in on the 10,000,000-chip mark and seemed to hold a firm lead over the remaining 12 players. With the blinds at 80,000/160,000 and a 16,000 ante, 'tpreston' moved all-in under the gun pre-flop for 778,012 more and fredmainiac raised to 1,396,024 in early position, to which everyone else folded. tpreston was eliminated in tenth place as his
made two pair on a board of
, while fredmainiac's pocket nines spiked a set on the turn.
The final table was set, with fredmainiac as the frontrunner with nearly twenty million in chips. The rest of the final table included 'dankhank,' '666 INRI,' Lee 'Bill Ivey' Gaines, 'glynda,' debrisfish, wNwNw1, 'AB_illusive, and Sebastian 'taktloss47' Ruthenberg.
666 IRNI was the first player eliminated from the final table after fredmainiac raised to 480,000 pre-flop and 666 IRNI pushed all-in for 979,443. fredmainiac called and showed pocket queens while 666 IRNI showed
. Although hitting four to a flush on the turn, it also gave fredmainiac a full house and 666 IRNI was drawing dead to the river. fredmainiac seemed to be in full control of the table, topping twenty million in chips with eight players still remaining.
Things started to turn badly for fredmainiac when he called an all-in by Bill Ivey on a flop of 8-6-5 with
against Bill Ivey's pocket kings. A few hands later, he lost another all-in on the river after flopping top two pair on a board of
against taktloss47. taktloss47 held
and refused to fold the hand, especially when the
spiked on the turn, giving him the straight and flush draw. The river brought the
where he moved all-in and got a call from fredmainiac. These two pots, combined, dropped fredmainiac down to just six million in chips.
debrisfish was the next to be eliminated when he moved all-in pre-flop for 1.7 million under the gun. glynda made the call from the big blind and showed
while debrisfish showed
. The board came
and glynda's set of tens eliminated debrisfish in eighth.
Shortly after, dankhank moved all-in preflop for 1,602,700 and was called by taktloss47 from the big blind. dankhank showed
and was up against taktloss47's
. The flop came
and dankhank was left drawing to an ace. The turn was the
and the river was the
, and dankhank was eliminated in seventh.
After playing for nearly 19 hours, a few of the players began discussing the idea of a deal. A few hands were played out, and it became clear that glynda, sitting on a relatively decent stack of six million, wanted to stick it out.
With the blinds at 125,000/250,000 and fredmainiac, after being chip leader for most of the final few hours of the tournament, had been trimmed down to nine million in chips. He faced a raise to 599,999 from AB_illusive from middle position and raised back to 1.5 million. AB_illusive made the call and the flop came Js-6h-2s. AB_illusive checked the flop, then after fredmainiac led out for 1,250,000, check-raised to 4,444,444. fredmainiac fired back all-in for 3,093,920. AB_illusive made the call and showed
while fredmainiac turned over
for top pair top kicker. fredmainiac's bad luck continued, as the turn was the
and he was drawing to only the two remaining jacks, neither of which showed. The eighteen-million pot signaled good things for AB_illusive, while marking the end for fredmainiac.
Bill Ivey was the next player eliminated when AB_illusive led out again, pre-flop, for 599,999. Bill Ivey, from the small blind, moved all-in for a remaining 2,560,001 and AB_illusive made the call. Bill Ivey showed
and was up against AB_illusive's
. The flop of
gave no help to Bill Ivey, and the
on the turn left him drawing to a non-heart ace. It didn't come on the river, and Bill Ivey was eliminated in fifth place.
Just moments later, wNwNw1 was facing what appeared to be a great flop. wNwNw1 had raised preflop to 750,000 with the blinds still at 125,000/250,000 and then called a raised by taktloss47 of 1,250,000. The flop came
and taktloss47 moved all-in for 21,446,795 and wNwNw1 called his remaining 4,051,415. wNwNw1 showed
for top pair along with an open-ended straight draw, while taktloss47 showed
for top set. The turn paired the board with the
, giving taktloss47 kings full of tens, and leaving wNwNw1 drawing dead. The meaningless river was the
and taktloss47 eliminated wNwNw1 in fourth place.
Glynda, short-stacked with only 4.5 million in chips compared to taktloss47's thirty-one million and AB_illusive's twenty-five million, was eliminated in third place after calling a preflop raise by taktloss47. The flop came
and taktloss47 led out for 600,000, while glynda moved all-in for a remaining 3,339,163 and was called by taktloss47. glynda showed
while taktloss47 showed pocket rockets. The turn was the
and glynda was drawing dead.
After the hand, and after 20 hours of play, taktloss47 asked AB_illusive if he wanted to see what the numbers would look like for a deal. A deal was confirmed, with AB_illusive receiving $248,649 and taktloss47 getting $260,185. With $150,000 and the bracelet on the table, play continued on until a winner was reached.
taktloss47 went on to grind away at AB_illusive even further, at one point winning eleven straight hands. Trying for twelve pots in a row, taktloss47 hit two pair on the turn, but AB_illusive made a straight. The river brought no help to taktloss47 and AB_illusive doubled up. He would double up again after taktloss47 missed a flush draw. But the hand that crippled AB_illusive was when his top pair of jacks lost in a 20,000,000 pot after taktloss47's made trip sevens on the river. The end was seemingly near for AB_illusive until his A-J spiked an ace and cracked taktloss47's pocket kings. AB_illusive went on to take down three straight pots of 10,000,000 chips or more and took back over the chip lead. taktloss47, though, came back from behind after both players made trip jacks, with AB_illusive holding Q-J and taktloss47 holding K-J. Two hands later, the two players were almost even in chip stacks.
With the blinds at 250,000/500,000 and a 50,000 ante, AB_illusive raised to 1,333,333. taktloss47 pushed back for another fourteen million and was all-in, and AB_illusive called with his remaining 12,480,291. After twenty-two hours of play, and a spectactular heads-up match, the flop couldn't have been any more fitting. With AB_illusive holding
, and taktloss47 holding
, the flop came
, giving AB_illusive a set and taktloss47 a flush draw. The turn brought the
and the river closed out the event with the
, leaving AB_illusive's set on top. AB_illusive came in first place, winning an additional $150,000 as well as the PokerStars WCOOP bracelet for Event #5.
Final results:
1. AB_illusive - $398,000
2. taktloss47 - $260,185
3. glynda – $162,373.75
4. wNwNw1 – $126,525
5. Bill Ivey - $96,701.25
6. fredmainiac - $69,287.50
7. dankhank - $49,706.25
8. debrisfish – $30,125
9. 666 INRI - $18,677.50