WCOOP – Event #7, $215 LHE: 'Cardinal7' Claims Limit Title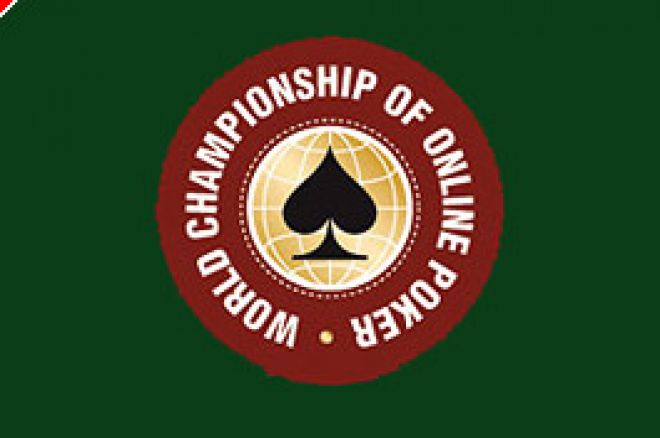 Taking place on the fifth day of The PokerStars World Championship of Online Poker (WCOOP) was Event #7, $215 Limit Hold 'Em with a $100,000 guaranteed purse. This year's event had 2059 entrants, topping last year's 1872, which made for a total prize pool of $411,800 to be divided out among the top 270 places.
Many well known players turned out for the event, including Humberto 'Humberto B' Brenes, Chad 'lilholdem954' Batista, Kevin 'BeLoWaBoVe' Saul, and THAY3R, as well as the final four finishers from last year's event; 'Yaaflow,' 'UH Big Tex,' 'Dalzini,' and 'MADEin.' Yaaflow, last year's winner, came in 115th place this year, and UH Big Tex took 267th.
'Bullstopper' was this event's bubble boy, following nearly five hours of play to reach the money. After 12 hours of play, the event was condensed down to just two tables. The last hand before the final table came when 'Cardinal7' raised from the button pre-flop and 'PapaPapsilon' called from the small blind while 'Pahligno,' on the big blind and with only 71,126 left in chips, raised. Both Cardinal7 and PapaPapsilon called and saw a flop of
. PapaPapsilon checked, while Pahligno bet out. Cardinal7 raised and PapaPapsilon folded while Pahligno called for his remaining 11,216. Pahligno showed
while Cardinal7 showed
for a pair of fives. The turn and river were of no help to Pahligno and he was eliminated in tenth place.
The final table was made up of lilholdem954, 'Nirvana76,' Cardinal7, PapaPapsilon, 'superbrono,' 'Itchy,' '011180,' 'cfinnn,' and 'TheMasterJ33.' Cardinal7's luck continued at the final table as he eliminated Nirvana76 in ninth place. Pre-flop, Cardinal7 raised in late position and was called by Nirvana76. The flop came
and after Cardinal7 checked, Nirvana67 raised. Cardinal7 reraised and Nirvana67 capped the betting, which put him all-in. Cardinal7 made the call and showed pocket queens while Nirvana67 showed
. Nirvana67 looked to be in good shape, until Cardinal7 spiked a queen on the turn for a set. Nirvana67 failed to improve and was eliminated.
Cardinal7 continued to run hot, as he raised from middle position, with the blinds at 10,000/20,000, and was reraised by cfinnn. Cardinal7 raised back, capping the betting, and cfinnn called. The flop came
and Cardinal7 bet out. cfinnn raised to 39,680 and was all-in. Cardinal7 called and showed pocket kings while cfinnn showed
. The turn came the
and the
on the river gave Cardinal7 a full house, kings full of twos. cfinnn was eliminated in eighth place while Cardinal7 neared one million in chips, right behind lilholdem954 and TheMasterJ33.
011180 was eliminated in seventh place when he raised pre-flop and was re-raised by lilholdem954. 011180 called the raise and the flop came
. lilholdem954 bet the flop and 011180 raised. lilholdem954 reraised, putting 011180 all-in for his remaining 10,719 in chips. 011180 decided to call and showed
versus lilholdem954's
. Another four fell on the turn and 011180 missed his flush draw on the river.
Short-stacked and in the big blind, Itchy decided to make his move after TheMasterJ33 raised pre-flop. Itchy, in the small blind, re-raised and was all in for 74,371. Cardinal7, in the big blind, called for the remaining 44,371 as did TheMasterJ33. The flop came
and both Cardinal7 and TheMasterJ33 checked. The turn brought the
and both players checked. The river was the
and TheMasterJ33 bet out, to which Cardinal7 folded. TheMasterJ33 showed
for a pair of kings, while Itchy showed pocket queens.
After 40 more hands, all five players left were almost dead even in chips, with TheMasterJ33 in slight lead with 1.7 million. Lilholdem954 eventually became the short stack at the table after superbrono's pocket threes rivered a straight and left Lilholdem954 with only 220,000 in chips. Lilholdem954 quickly began raising every pot and although he rebuilt part of his stack back up, it dwindled down to 200,000 again after running into PapaPapsilon's pocket aces. "Goodnight all, I'd rather be in bed ne way," he said as he failed to rebuild his chip stack. His
would run into TheMasterJ33's
on the following hand and lilholdem954 was eliminated in fifth place as the board came running spades.
With all four of the remaining players basically trading chips for around an hour, the steep blinds of 50,000/100,000 finally began to wear on the chip stacks. superbrono raised from under the gun and was called by both PapaPasilon and Cardinal7. The flop came
and Cardinal7 led out. superbrono called for his remaining chips while PapaPapsilon called as well. The turn brought the
and both players checked. The river was the
and both players checked again. Cardinal7 showed
for a pair of fives while PapaPapsilon mucked. Cardinal7's pair of fives were good enough to eliminate superbrono in fourth place.
Cardinal7 continued his reign of elimination by bumping out PapaPapsilon just a few hands later. Cardinal7 raised pre-flop and was re-raised by PapaPapsilon. Cardinal7 called and saw a flop of
. PapaPapsilon led out and Cardinal7 called. The turn brought the
and PapaPapsilon led out again, but this time was raised by Cardinal7. PapaPapsilon called and the
spiked on the river. PapaPapsilon checked, but Cardinal7 bet out and PapaPapsilon called for his remaining chips. Cardinal7 showed
for trips and PapaPapsilon was eliminated in third place with pocket eights.
With TheMasterJ33 in first place by only a million in chips, a deal was discussed which would give TheMasterJ33 $53,630 and Cardinal7 $47,933 and leave $20,000 in the middle for the eventual winner. Both players agreed and play continued on for the bracelet as well as the remaining $20,000.
TheMasterJ33 continued to lead in chips, and with the blinds at 60,000/120,000, Cardinal7's chip stack of 1.5 million appeared to be in trouble. But it didn't take long for Cardinal7 to break even with TheMasterJ33, and once the blinds raised to 80,000/160,000 Cardinal7 moved out to a three-to-one chip lead. The last hand of the night came when Cardinal7 raised pre-flop and TheMasterJ33 re-raised. Cardinal7 called and the flop came
. TheMasterJ33 led out and was quickly raised by Cardinal7. The betting quickly became capped and the turn brought the
. TheMasterJ33 again led out, but this time was all-in for his remaining 46,979. Cardinal7 called and showed
while TheMasterJ33 showed
for a wheel draw. The river brought the
, eliminating TheMasterJ33 in second place and making Cardinal7 the winner of Event #7.
Final Results:
*1. Cardinal7 - $67,933
*2. TheMasterJ33 - $53,630
3. PapaPapsilon - $28,990.20
4. superbrono - $23,472.60
5. lilholdem954 - $18,407.46
6. Itchy - $13,877.66
7. 011180 - $9,759.66
8. cfinnn - $6,053.46
9. Nirvana76 - $3,623.84
* reflects two-way chop, $20,000 to eventual winner