WSOP Circuit Event, Tunica, MS — Day 2: Hawkins Leads, Morgan Seeks First Live Title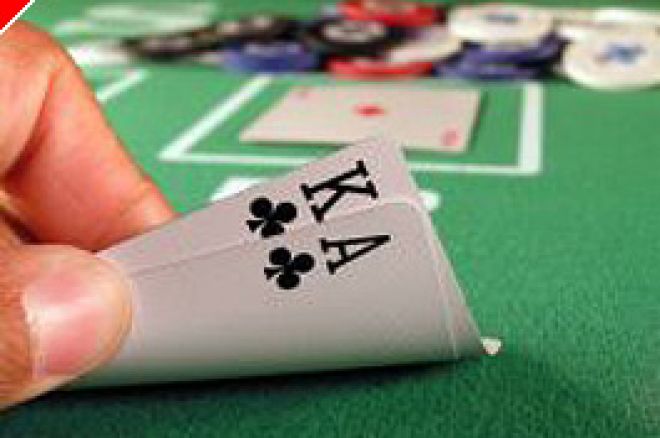 Day Two of the World Series of Poker (WSOP) Circuit event in Tunica, MS is in the books, and the nine players who survived will meet back in the poker room of the Grand Casino Resort at noon local time this afternoon to compete for over half a million dollars in prize money. The lion's share of the loot, $213,288, will go to the tournament's eventual winner, along with a $10,000 buy-in to the 2008 WSOP Main Event, $1,000 in expense money and a gold Circuit ring.
Here's a look at the final-table lineup, along with their respective chip counts:
Terry Hawkins — 245,800
Brian Rutland — 234,700
Jordan Morgan — 207,900
Jerry Saucier — 199,800
Mark Garner — 124,000
Jeff Cohen — 120,000
Glyn Banks — 119,100
Steve Hyvonen — 93,600
Gil George — 36,700
Two notables making the final are Jordan 'iMsoLucky0' Morgan and Glyn Banks. Morgan, widely recognized as an online poker superstar, has legitimized himself as a live tournament player, having recorded three second-place finishes in major events, including a runner-up finish to Alex Jacob last year at the United States Poker Championship – the tournament for which he is best known. Though it's hard to argue with his early accomplishments, Jordan has yet to take down a major live tournament title; today, he's set himself up for the opportunity to do just that.
Glyn Banks' name might ring a bell for those who follow poker down South. Nicknamed "Ratchet," Glyn is a local favorite hailing from Smithville, Tennessee. Last year, he finished third in this same event, taking home $94,445 in prize money. Banks has recorded eleven notable cashes in Tunica alone and hopes to improve on last year's deep run. Glyn cashed twice at this year's WSOP and placed 169th in the 2005 WSOP Main Event.
Neither Morgan nor Banks had an easy road to the final table. For much of Day Two, Morgan was stuck in between two of the tournament's big stacks, belonging to Steve Hyvonen and Brian Rutland. As if that wasn't enough, once play became 18-handed, Jordan sat directly across from Shannon Shorr, who maintained a healthy stack for most of the day. Banks, on the other hand, hitched a ride on a roller coaster to the final table, nursing a short-stack along the way, though according to Dennis "Ironman" Perry, who won the January version of the Tunica circuit event earlier this year, short-stack play is one of Banks' specialties.
Play slowed for a brief moment when three tables merged into two, which gave me the opportunity to ask Perry who he liked to take down the event. "Ratchet," Perry replied. "Glyn Banks. He's tough if he can keep them kings from getting cracked. He's one of the best short-stack players I know," said Perry. At the time the Ironman offered his prediction, Banks had less than 20,000 in chips and was easily the smallest stack in the field – for a moment, I thought Perry was out of his mind. Then, slowly but surely, Glyn chipped up to 100,000 chips and made his friend look like a genius. At the end of the day, Glyn bagged up 119,100 in chips, which is just 34,000 shy of the average.
Players dropped like flies during the first half of Day Two play, but once the field was narrowed to 18, nobody wanted to go home. It took almost an hour and a half to lose the first money-finisher of the day, which ended up being Mike "Hurricane" Haney. Short-stacked, Haney committed the last of his chips to the pot with pocket tens and ran into the pocket queens of Mark Garner. Haney got no help as the board filled out
and was eliminated from the tournament in 18th place.
Next to go was Richard Damian Gum of Granite City, Illinois. Gum had moved all-in over the top of a pre-flop raise made by Garner and found himself heads-up against Samuel Chun, who had moved all-in behind Gum; Garner got out of the way. At the showdown, Gum revealed
and was in pretty bad shape against Chun's pocket kings. The community cards came
, bringing no help to either player and Chun's kings were good enough to take down the pot, sending Gum home with 17th-place prize money.
Moments later, 2007 WSOP bracelet winner Michael Spegal was felted by Shannon Shorr. A short-stacked Spegal moved all-in from early position after the flop came
and was called by Shorr who flipped over
; Spegal showed
and would need to hit one of his hole cards to stay alive. The turn and river came
, bringing no help to Spegal who would settle for a respectable 16th-place finish.
About 20 minutes before the dinner break, Terry Hawkins doubled through Samuel Chun in a pivotal hand that propelled Hawkins into the chip lead. On a board showing
, Hawkins led out with a 20,000 bet. Chun sat still for quite some time before quietly announcing "all-in." The bet puzzled Hawkins, who went into the tank for a solid three minutes before eventually making the call with
. "Nice call," said Chun, who reluctantly flipped over
. The turn brought a falsely dramatic
, which appeared to give Chun additional outs to a flush, but the card also filled Hawkins' boat, leaving Chun drawing dead. After the hand, Hawkins stacked up over 200,000 in chips while Chun was left with just over 10,000.
Shannon Shorr played some very solid poker throughout the day, but one unfortunate hand cost him a trip to the final table and sent him home in 15th place. Shorr made it 9,000 to go before the flop and Brian Rutland, who had limped in with pocket twos, made the call. The flop came
and Rutland checked to Shorr who bet 12,500; Rutland called. The turn brought the
, which was the biggest action card that could've come off the deck. Having made a full house, Rutland open-shoved all-in and Shorr, holding the
, made the call with a king-high flush. Shannon sat motionless, realizing he was drawing dead. After the hand, Rutland stacked up nearly 250,000 in chips and appeared virtually unstoppable. Shorr picked up $9,216 for his 15th-place finish.
Seconds after Shorr's elimination, Samuel Chun lost the last of his miniature stack after moving all-in on a draw, holding 9-4 on a
board. Unfortunately for Chun, Terry Hawkins had already made his flush and sent Chun home in 14th place. Of the 13 players who survived to the dinner break, Rutland and Hawkins were the kings of their castles (or chip leaders at their respective tables), while James Lindsay brought up the rear with right around 25,000 in chips. Harrah's treated the 13 remaining players, each allowed one guest, to dinner at the Grand Buffet (special thanks to Jerry Matlock for allowing me to be his guest).
The next elimination came about fifteen minutes after the dinner break. James Lindsay, the tournament's short-stack, was dealt
in the big blind and was thrilled when the flop came
. James led out with a 5,000 bet and was called by both Steve Hyvonen and Jerry Saucier. The next card off the deck was the
and this time it was Saucier who led out with a bet, and a big one at that, 20,000. Lindsay then moved all-in, Hyvonen folded and Saucier made the call, showing
for a seven-high straight and a flush draw. "Pair the board," Lindsay said as the dealer exposed the river card, the
. Lindsay received $9,216 for his 13th-place finish.
Shortly after, Jordan Morgan won a critical pot against former chip leader Steve Hyvonen that completely changed the dynamic of the tournament. Morgan had pocket aces, Hyvonen had pocket queens and the flop came
. All of the money got in on the flop and the turn and river came
. Morgan improved to 190,000 chips after the hand, while Hyvonen dropped to less than 30,000.
On the neighboring table, Terry Hawkins was busy increasing his chip lead and eliminating Pat Atchison from the tournament in 12th place. Terry made it 12,000 to go preflop and Atchison moved all-in behind him for approximately 45,000 more. Terry wasted no time calling the bet and turned over a pocket pair of aces; Atchison showed a mere
. The board filled out
, offering no help to Atchison, who collected $10,533 for 12th place.
Tony Burton's run at the final table was cut short by Mark Garner, whose
outraced Burton's pocket sevens. All of the money went in pre-flop and the community cards came
, giving Garner two pair, jacks and fives. Burton's elimination prompted a redraw as the final table players convened at the feature table.
The final hand of the day was easily the most dramatic, as the lead changed hands on every street throughout the course of the hand. Jerry Matlock open-shoved from middle position holding
; Steve Vynonen, who was the lone caller, tabled
. While Jerry was ahead pre-flop, the
flop gave Vynonen two pair and the lead in the hand. The
fell on the turn, which completed Matlock's gutshot straight draw and he regained control of the hand. Incredibly, the
, one of Vynonen's four outs to win the hand, came on the river, filling Vynonen's full boat and winning him the pot. Though Matlock bubbled the final table, he walked away with $10,533 for his troubles.
Today's final table was originally scheduled for 2:00 p.m. local time, but was moved up to noon by the tournament staff in order to help accommodate anyone with a late flight out of town. PokerNews will be there to capture all of the highlights and results, and we'll have a full report available shortly after the conclusion of final-table play.
Final-table payout structure:
1: $213,288
2: $111,911
3: $65,830
4: $52,664
5: $39,498
6: $32,915
7: $26,332
8: $19,749
9: $13,166