Vince Neil to Host Third Annual 'Off the Strip' Poker Tournament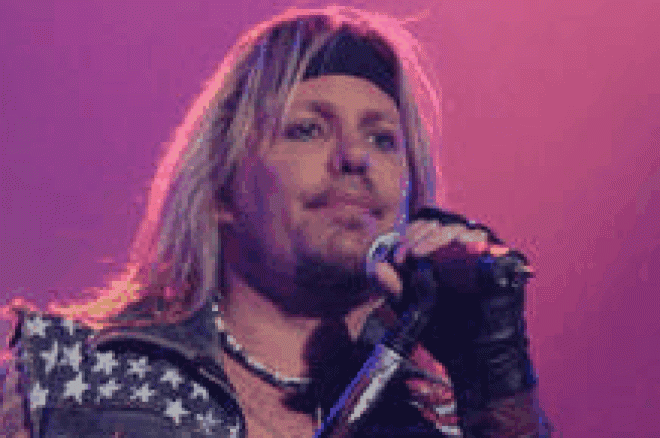 Vince Neil has been a fixture on the charity poker circuit for the past few years, appearing in support of many a worthwhile cause. Once a year, the Mötley Crüe singer asks that people in the poker world come out and support a cause near and dear to his heart, and this year's event is approaching fast. Neil recently announced his plans for third annual 'Off the Strip' poker tournament, again to be held at The Joint at the Hard Rock Casino in Las Vegas on Saturday, November 3rd.
The first two 'Off the Strip' events featured poker pros and everything else from porn stars to local 'entertainers' all sitting down to play poker for a good cause. The events have been very successful thus far, with the first-ever 'Off the Strip' tournament raising over $170,000 and last years second annual event easily eclipsing the first year's mark for donations generated.
The tournament has an interesting twist as far as the prize payouts go. There is a guaranteed $50,000 cash prize pool, which will be culled from the buy-ins and re-buys. Everyone who makes the final table will be paid, and the winner will walk off with some cold cash. The event has a $500 buy-in, along with a $50 fee, and offers re-buys and add-ons for the first couple levels of play. The event will cap at 150 players, and tournament organizers expect to easily make that number this year.
Along with the poker there is a charity auction, which will offer plenty of poker, rock, and other memorabilia. In keeping with the Vince Neil / Mötley Crüe vibe, the live charity auction will be hosted by 'sexy stars from the adult film world,' which, if nothing else, should keep the event on a lighter note.
All the proceeds for this event benefit the Skylar Neil and TJ Martell Foundations. Skylar Neil was Vince's daughter, who died of cancer at a very young age in 1995. Neil has been dedicated to raising money since his daughter's death, and holds several charity events a year in her name to further help the cause.
Parties interested in this event can check in with the box office at The Joint at the Hard Rock Casino in Las Vegas, or check out skylarneil.org for more info.