Women's Poker Spotlight - Oceans Eleven Hosts Ladies Championships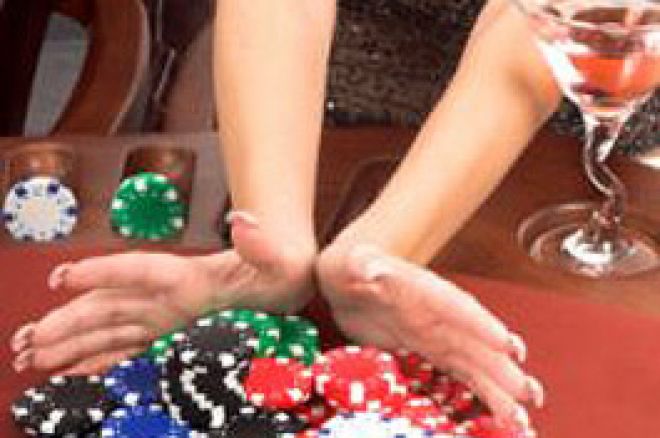 Oceans Eleven in Oceanside California along with sponsor the LipsTour recently held a three day series of championship tournaments of no limit Hold Em, limit Hold Em and Omaha. Honorary hosts for the events were Linda Johnson and Jan Fisher, who presented seminars to help the ladies in the games they might not have been familiar with.
The three day championship event started off with a no limit event that drew 158 players. Judy Raney from Tulsa Oklahoma won the event. The second event was a tag-team event that players were allowed to play with their spouses, partners or simply play by themselves. The game started out as limit and changed every other level to Omaha high/low. The final table then changed once again to no limit and Omaha. Vicky Davidson and Jay Daub from California won the title.
The Championship no limit event was attended by 198 eager ladies with dreams of winning the grand prize of $13,460 and a seat package consisting of entries into the 2008 WSOP Ladies event, The Commerce Ladies Event, The Bicycle Ladies Event, Hawaiian Gardens and next years Oceans event for the 2008 championship. The winner, Karen Black from California was very excited to win her first ladies title. Karen has been playing poker for 8 years with her best cash in the 2006 $1000 NL buy-in event at the WSOP, where she finished 11th.
As is every year, the Ivy Ranch is the sponsored charity of this event. A charity supported by donations and resident occupation, the ranch offers independent and assisted living for the disabled. This year the ladies of poker were invited to participate in a project at the ranch with hands on experience of beautification projects in gardening and painting on the grounds.
Oceans Eleven turned out the best three day party in the eleven-year history of presenting the California Ladies Championship series. This year's theme of Latin Nights was by far the most lavish and entertaining of all. From talent night, Cuban conga drums and beautifully decorated buffets - the evening entertainment could rival any Las Vegas event. From top to bottom, the Ladies California Championship was a fun and well run event.