College Poker Life: UCLA, Los Angeles, CA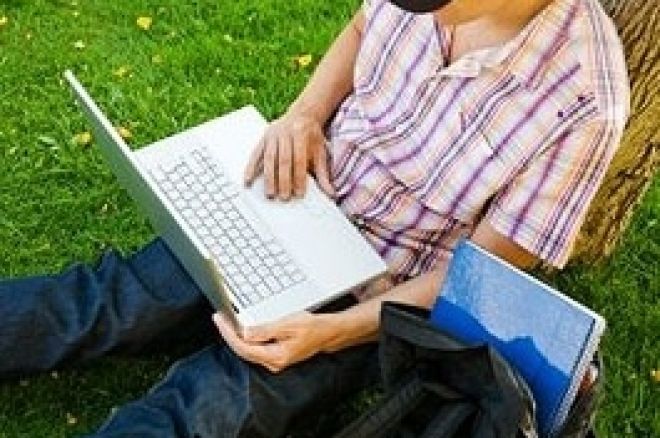 While the semester is almost over for students at the University of California - Los Angeles, many of the poker options available across campus are just beginning. The end of the semester typically brings about the end of most campus poker options for students across the nation, but the same is not true for students attending UCLA. Whether you're looking for freerolls, events, or a solid place to start building your bankroll, the city of Los Angeles has just the right game for you.
Various forms of poker clubs and tournament events have existed at UCLA over the years, yet this is the first year in which the Poker Club at UCLA has started to hold regular meetings. The club is a member of the Global Poker Strategic Thinking Society (GPSTS.org), the group founded by Harvard Law Professor Charles Nesson, with chapters at Harvard, Brown, Stanford, Carnegie Mellon, Cornell, University of Michigan, and George Washington University to date. (Other chapters may still be in the developing stages). While the club officially started at the end of last year, its first formal meeting takes place on November 29th and is something students certainly won't want to miss. The first meeting is sponsored by the GPSTS and will focus on women in the world of poker, as well as the psychology of the game.
There will be a panel of three speakers, including pro Annie Duke, a professor of woman studies, and a professor of psychology. The event will start at 7:30pm and marks a great opportunity for students and players to listen and learn about the game of poker. Students also won't want to miss out on the UCLA Poker Club vs. the University of Southern California (USC) Poker Club, taking place on the following day, November 30th.
While both of these events are spectacular opportunities for students and players, the focus of the Poker Club at UCLA will ultimately be on regular, monthly meetings in which discussions on one aspect or theory of poker are the main objective. Currently, the club is looking at holding regular monthly tournaments which are free to members, though the club may have membership fees, which will go towards the purchase of big prizes for top-place finishers, including iPods, video games, and the like. The President of the Poker Club at UCLA, Matt Dodge, is also looking at tournaments run on a point system as an alternative to having to charge membership fees. And while tournaments will be a large factor of the club, Matt doesn't want them serving as the main goal. Instead, the club will focus more on promoting the education of poker, as well as applying poker skills to real-life situations.
UCLA has been home to professional poker players Allen Cunningham and Chris "Jesus" Ferguson. Ferguson graduated with a Ph.D in computer science from the school, while his father, Thomas Ferguson, has been a professor in the math department for over 50 years. Starting last year, the Statistics Department at UCLA has held an annual Tom Ferguson Invitational Poker Tournament. This year's tournament took place on September 25th and was held in the form of a duplicate poker tournament. The tournaments have been free and open to department members and friends, with around 30 players attending and prizes being donated by the department for the top four finishers.
If you're an UCLA student looking for poker action outside of freerolls, you won't have to look too far, as there are many home games, on and off campus, where you can hone your skills while also trying to build your bankroll. Several of the on-campus games will be for very small stakes, so if you're serious about trying to build up a big bankroll, you may just be better off trying to organize your own, larger-stake game. There are bigger games off campus, including the regular $50 buy-in tournament, and many of these games will serve as your best chance to turn a profit.
But if you're the type of player looking for casino action, then look no further than the Morongo Casino and Resort. While there are several local card room hot spots around the UCLA area, if you absolutely must play at a casino, the Morongo is just the place for you. The drive may be a bit long for college students, but it is absolutely worth it. Their poker room houses 22 poker tables and runs regular limit hold'em, Omaha hi/lo, and 7-card stud games.
During the month of November, the casino put on two $20,000 guaranteed no-limit events, one on the 9th and the other on the 30th. For only a $140+20 entry, this event is a must for students looking for great, high-level tournament action. Along with the $20,000 guaranteed event, the casino is also holding a $10,000 guarantee on November 26th. This tournament has a buy-in of just $30, but requires entrants to have played in at least 30 hours of live casino poker play before the start of the tournament. Players amassing over 30 hours of play will receive an additional 1,000 in chips for every ten hours extra that have been played. Like many card houses in California, the Morongo has an age restriction of 18 years or older, making it truly ideal for any college student.
So whether you're looking for casino options, freeroll events, or regular home games, you won't be disappointed by the UCLA campus. The state of California is a great place to find many viable and unique places to play poker, and the UCLA campus is certainly no exception. While this semester may be near its final weeks, UCLA students still have plenty of poker in their future.