Women's Poker Spotlight: The 2007 Liz Flynt (Ladies) Poker Classic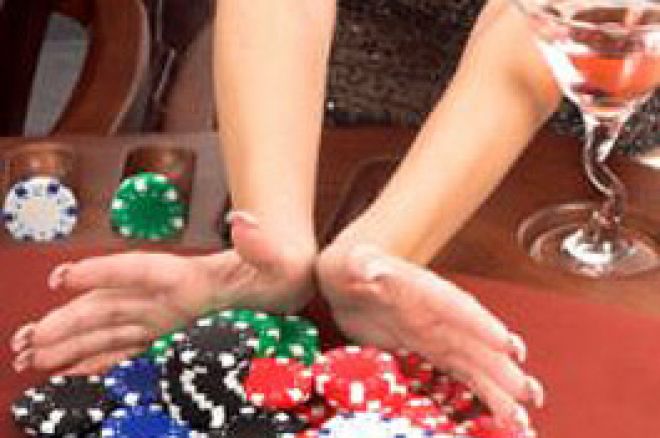 October 20th turned out to be a momentous day in the history of ladies-only event poker. This has been an annual event for several years, one that local ladies look forward to. But this year the tournament was different, as reflected in the name: "Ladies" was removed from the event title. Men were allowed to play this year due to a pending lawsuit with the Hustler Casino.
The $100+$25 event, with one rebuy and a guaranteed prize pool of $15,000, drew 105 players of which 31 were men. That's right, once again the men have felt their feminine side surfacing to draw them to play in a ladies-only event. I can only envision the stock soaring at Milwaukee's Best Light, but the poker gods didn't see the bright light at the Hustler Casino. Something else was amiss here, but what? Amid the rumblings, Larry Flynt, the owner of the Hustler Casino in Gardena, California, made a rare appearance at his wife Liz's hosted poker event.
Mr. Flynt opened the event by welcoming everyone, then explaining the current situation that caused the casino to allow registration into the event by men. It seems that the Hustler Casino is involved in a situation that will cause them to defend their ladies-only events, while also addressing another situation that caused Mr. Flynt's attorneys to advise against advertising "ladies only". While the situation is still unclear, it appears that once again Larry Flynt is defending his constitutional rights according to his own views and beliefs. The Ladies Only event obviously is related only on the basis of debate. In an earlier article I stated the California anti-discrimination law that would be enforceable in many situations like this. California law states that all business establishments must provide all services and advantages to customers without discriminating against age, color, religion, ancestry, national origin, disability, medical condition, or gender. With the usual Larry Flynt flair, he vowed to fight this lawsuit to the highest courts. Larry, you have about 300,000 women in your support corner! Good luck!
Jose Canseco Spotted at Caesar's Ladies Classic
The first Caesar's Classic ladies event drew 121 ladies to play for a prize pool of $129,000. Winner Mary Louise took home the $34,000 first-place prize. In another part of the tournament room, a satellite was being played for seats into the Caesar's Classic main event. I spied Jose Canseco giving it a go for a main-event seat. Maybe he didn't know there was a Ladies Only event going on at the other end of the room, or he's learned his lesson!