PokerStars.net EPT Prague, Day 3: Norinder Heads Final Table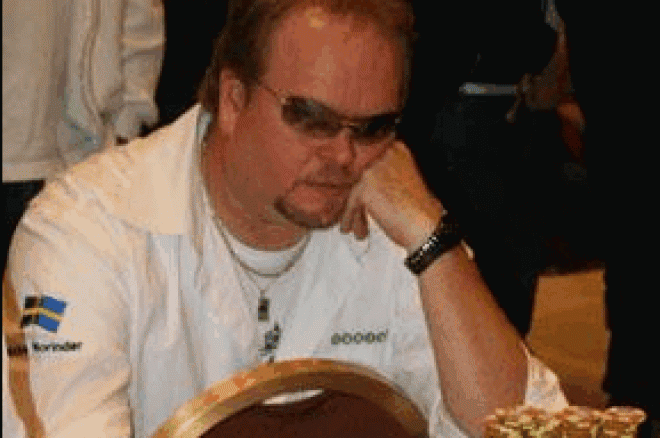 The 32 players left in the PokerStars.net European Poker Tour Prague Main Event as Day 3 began wasted no time in busting plenty of players on their way down to the nine-handed final table. Half the field was eliminated in the first two hours of play, led by Nicky Goodall, who busted on the first hand of the day.
Juha Lauttamus opened for a raise, and Goodall went all in over the top. Nedzib Suman re-raised all in and Lauttamus got out of the way. Goodall tabled
to Suman's
. The board ran out
and Goodall was busted before he could even get his seat warm. Lauttamus was later involved in a massive hand with Tommy Pavlicek and Mikael Norinder. On the turn the board read
and the bets and raises flew around the table until all the chips were in the middle, with Norinder having the others covered. The players revealed:
Norinder –
for trip nines;
Pavlicek –
for a full house;
Lauttamus –
for the flopped straight flush.
Lauttamus' hand held up to eliminate Pavlicek and take the chip lead for a short time, as the mayhem continued.
Jose Navarro learned the hard way on Day 3 that no chip lead is safe. After starting the day in front, he was eliminated midway through the day in 17th place. Navarro went all in over the top of Kristian Kjondal's preflop re-raise with
and Kjondal called with
. The board ran out
and Kjondal hit one of his four outs to bust Navarro.
After Navarro's elimination, players redrew for seats on two tables, but Adrian Koy busted in 16th before the redraw could be finished. The seating order for the final two tables looked like this:
Table 1
Mikael Norinder 320,000
Cyril Bensoussan 110,000
Markus Gosler 950,000
Gino Alacqua 155,000
Juha Lauttamus 430,000
Mike McMcdonald 160,000
Nikolas Laikos 226,000
Table 2
Johannes Strassmann — 155,000
Christer Johansson — 150,000
Nedvib Suman — 390,000
Sebastian Kink — 115,000
Dag Palovic — 1,000,000
Kristian Kjondal — 650,000
Arnaud Mattern — 255,000
Thierry Labat — 400,000
Mikael Norinder was extremely active in the early stages of two-table play, busting Cyril Bensoussian when he made a four-flush on the river, then turning a flush against Mike McDonald to bust the Canadian in 14th place. Theirry Labat was next to fall when he ran
into Kristian Kjondal's aces preflop. No help on the board for Labat, and he busted in 13th. Norinder then stayed hot by busting Nikolas Liakos with his second pair of pocket fives of the day. This time his Presto was good against Liakos'
and the Swede was busted in 12th. Sebastian Zink was next to be eliminated when he ran
into Arnaud Mattern's
on a nine-free board. Zink went to the rail in 11th place, setting the stage for the final-table bubble.
After all his action early in the day, it was only fitting that Mikael Norinder be part of the last hand of Day 3. All the money went in preflop and Norinder was heads-up with Christer Johansson. Norinder hit the flop with his
, cracking Johansson's
on a flop of
. The case queen did not come on the turn or river for Johansson and he busted in tenth.
Mikeal Norinder will take the chip lead into the final table, with a slight lead over Arnaud Mattern. The chip counts and seating assignments looked like this as Day 3 drew to a close:
Seat 1 - Juha Lauttamus: 567,000
Seat 2 - Kristian Kjondal: 740,000
Seat 3 - Gino Alacqua 660,000
Seat 4 - Markus Golser: 352,000
Seat 5 - Mikael Norinder: 1,036,000
Seat 6 - Nedzib Suman 216,000
Seat 7 - Dag Palovic: 759,000
Seat 8 - Johannes Strassmann: 245,000
Seat 9 - Arnaud Mattern: 980,000
Join PokerNews on Friday for live updates as these final nine players take their shot at a PokerStars.net EPT title.