2008 L.A. Poker Classic Kicks Off This Week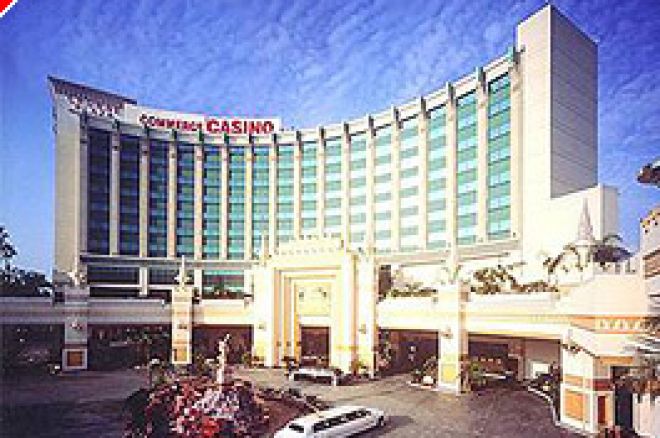 The L.A. Poker Classic is just about to "shuffle up and deal." The LAPC starts on January 24th and will offer 30 events over the next six weeks at California's legendary Commerce Casino. Last year's events drew over 13,400 entrants, and the Commerce is expecting another big turnout, projecting a total prize pool of nearly $17 million.
Buy-ins for the events will range from $335 all the way up to $10,000, for the WPT Championship. As always, the LAPC looks to have something for everyone with its diverse schedule of no-limit hold'em, limit hold'em, Omaha hi/lo, stud and stud hi/lo events. For players who like their action on the fast side, this year's schedule offers a number of turbo and shootout events. For players that like to share the wealth, there is a 'tag team' event. Even spectators will get their due when the LAPC caps off its schedule with a GSN-televised celebrity invitational.
Here is the complete schedule for the 2008 LA Poker Classic:
Event# Date Title (Buy-in)
#1 1/24 No Limit Hold'em ($335)
#2 1/25 Limit Hold'em ($335)
#3 1/26 Omaha Hi/Lo ($335)
#4 1/27 No Limit Hold'em ($335 +Rebuys) ($250,000 Guaranteed)
#5 1/28 7 Card Stud ($545)
#6 1/29 No Limit Hold'em ($545)
#7 1/30 No Limit Hold'em Shootout ($545)
--- 1/31 Special Super Sat Day ($1,020) (11:30 AM & 6:30 PM)
#8 2/1 No Limit Hold'em ($545)
#9 2/2 Ladies No Limit Hold'em ($1,065)
#10 2/3 7 Card Stud Hi/Lo ($335)
#11 2/4 No Limit Hold'em ($1,065)
#12 2/5 Omaha Hi/Lo ($1,065)
#13 2/6 Turbo No Limit Hold'em (6 Handed) ($545)
#14 2/7 No Limit Hold'em ($1,585)
#15 2/8 Limit Hold'em ($1,065)
#16 2/9 No Limit Hold'em Shootout ($1,065)
#17 2/10 No Limit Hold'em ($335 + Rebuys) ($250,000 Guaranteed)
#18 2/11 No Limit Hold'em ($2,595)
#19 2/12 No Limit Hold'em ($1,065)
#20 2/13 Limit Hold'em ($2,595)
#21 2/14 No Limit Hold'em Tag Team ($545)
#22 2/15 No Limit Hold'em ($2,595)
#23 2/16 Limit Hold'em ($1,585)
#24 2/17 No Limit Hold'em Shootout ($545)
#25 2/18 7 Card Stud ($1,065)
#26 2/19 No Limit Hold'em ($545)
#27 2/20 No Limit Hold'em ($1,585)
#28 2/21 No Limit Hold'em ($1,065)
--- 2/22 Special Super Sat Day ($1,020) (11:30 AM & 6:30 PM)
#29 2/23 WPT Championship ($10,000)
#30 3/1 WPT Invitational